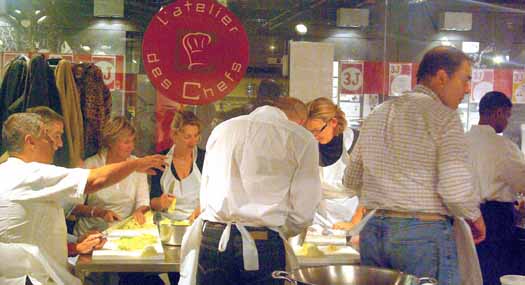 We used to have a professional dancer friend from New York who always signed up for a dance class when she visited Boston. We thought it was an amusing quirk–until we discovered that most dancers take classes when they travel. At worst, they get a good workout. At best, they learn something new.
In that same spirit, I signed up to make my own lunch in Paris with a half-hour express class through L'atelier des Chefs (Chefs Workshop), which offers a whole array of cooking classes for home chefs and, judging by my classmates, for bachelors who are cooking for themselves for the first time and women who would like to relieve them of that chore.
Most classes take an hour to half a day to prepare a three course meal or learn the secrets of sweet pastry. But the popular lunch-hour classes have students make a simple meal with enough time left over to eat before they go back to work. L'atelier des Chefs supplies the tools, ingredients, and kitchen. You supply enthusiasm and an appetite.
I signed up from home through the all-French web site (www.atelierdeschefs.com) for a class in the Galeries Lafayette department store, near the Opera stop on the Metro and the most central of the school's locations. The kitchen turned out to be a glassed-in cubicle in the kitchenware department, steps from shelves of the same knives, cutting boards, saucepans, and woks we would use to make honey-soy laquered fish fillets with stir-fried vegetables.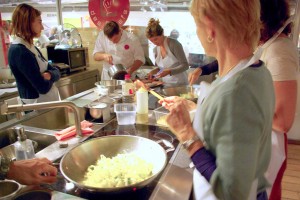 All the classes are taught in French, and my instructor apologized for speaking no English. I apologized for speaking such amusing French, and proceeded to nod a lot in the next half hour. Fortunately, cooking is best learned by watching and copying.
This uncomplicated dish was well suited to our group of varied cooking experience. Three women had taken several classes from L'atelier des chefs and could have made the dish with their eyes closed. Two young women and a man in business attire were learning self-sufficiency cooking and had to be shown how to hold a knife.
Even with seven of us, the instructor carefully corrected our vegetable cutting techniques, swiftly taught the precision knife nips to remove bone tips from a commercial fish fillet without messing up the shape, and made sure that we each shared in the stir-frying. Five minutes into the stir-frying, we put the honey-soy coated fish into the oven so fish and vegetables would be ready at the same time. As the fish came out, each of us probed the fillets with a finger to learn exactly how perfectly cooked fish should feel. It was an impressive amount of technique for a short class.
After a demonstration in plating (complete with a decorative drizzle of balsamic vinegar), we sat down to eat and the instructor passed sliced baguettes and poured glasses of wine. (Ah, lunch in France.) My weak French made me a less than scintillating dining companion, but it was adequate enough to understand that the instructor was explaining how to generalize our new skills for different fish and vegetables. Besides, the women were more interested in the handsome chef and the obvious bachelor.
For details on classes and locations, see the web site www.atelierdeschefs.com. Cost ranges from 15-72 euros.


HONEY-SOY LAQUERED SEA BASS WITH STIR-FRIED VEGETABLES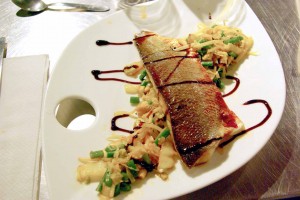 Fresh baby corn is usually available in Chinese markets. If substituting canned baby corn, add to the stir-fry after the bean sprouts.
Serves 6



Ingredients
2 tablespoons honey
2 tablespoons balsamic vinegar
2 tablespoons soy sauce
6 fillets of sea bass, about 6 ounces each
salt and pepper to taste
3 tablespoons olive oil
1 small onion, cut in half, then into thin vertical slices
10 ounces Chinese cabbage (one medium head), cut in 3/4 inch chiffonade
4 ounces French green beans (about 1 cup), cut in half-inch slices
4 ounces fresh baby corn (about 1 cup), halved, then cut in 1/2 inch slices
10 ounces bean sprouts (about 2 cups)
zest and juice of 1 lemon
balsamic vinegar for plating
Directions
1. Preheat oven to 400 degrees F.
2. Heat honey, balsamic vinegar, and soy sauce in sauce pan over medium heat, stirring until completely dissolved.
3. Carefully remove any remaining bones from fish fillets. Trim off the thin (belly) section of fillet and discard (or reserve for making fish stock). Add salt and pepper to flesh side of fillets. Place fillets skin-side up on lightly oiled baking sheet or silicon baking mat. Brush with honey-soy mixture.
4. Heat oil in wok and add sliced onion and Chinese cabbage. Cook two minutes over high heat, then add the green beans. Cook one minute more and add the baby corn. Stirring constantly, cook mixture another minute. Add bean sprouts and cook one additional minute. Stir in lemon zest and juice and remove from heat.
5. After adding green beans in step 4, place fish fillets in the oven and roast for 5-6 minutes, depending on thickness. Fillets are done when just barely firm to touch.
6. To plate, create a vertical line of vegetables across plate. Top with fish fillet and decorate with lines of balsamic vinegar.