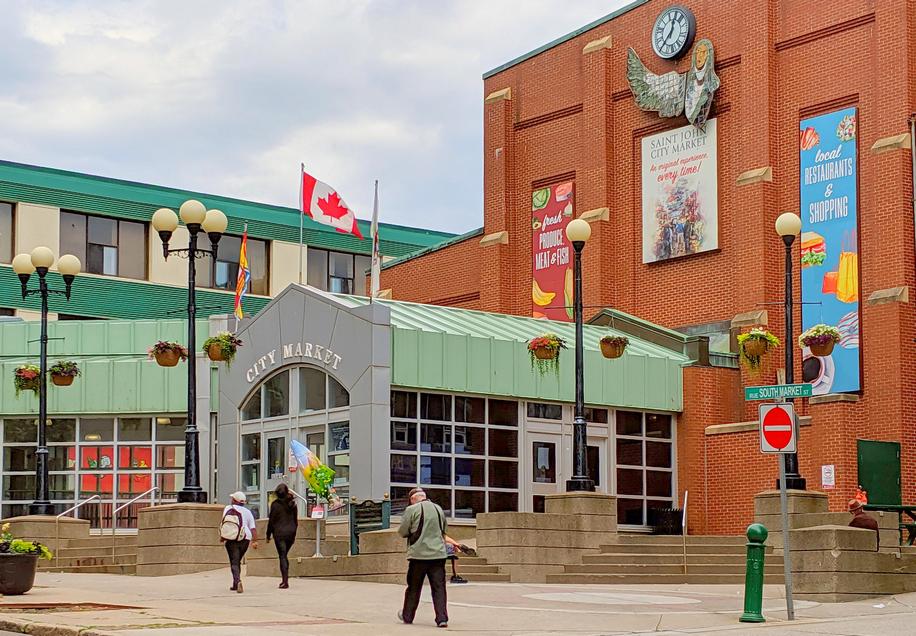 One of the first places we visit when we arrive in a new city is the public market. Sure, we're curious about what's in season, what the fishermen are catching, and what local food specialties we might discover. But it's more than that. People who make a living nurturing their neighbors are among the friendliest folk you could hope to meet. We always feel welcomed and at home after spending some time chatting with food market vendors.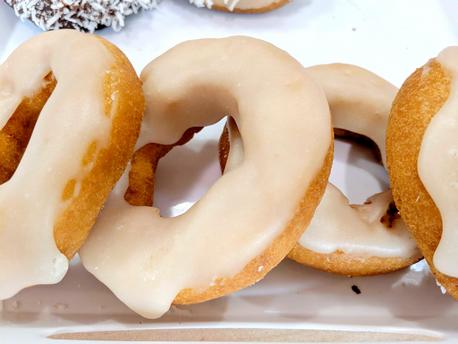 That's why we found ourselves in the Saint John City Market (http://www.sjcitymarket.ca) on the first morning of a short trip to this small New Brunswick city. Given the hour, we made our first stop at Uptown Donuts, where Melissa Whiting from Grand Bay, New Brunswick, has been brightening mornings since September 2018. She learned donut-making from an 80-year-old baker in her home town, just outside West Saint John. "I wanted to bring a little bit of the small town to the city," she said. Her cake donuts with a maple glaze are her most popular. We could see why. The spice cake donut was light and delicate. The glaze was intensely flavored and sweet enough to give us an all-day sugar rush.
Shopping for some New Brunswick flavors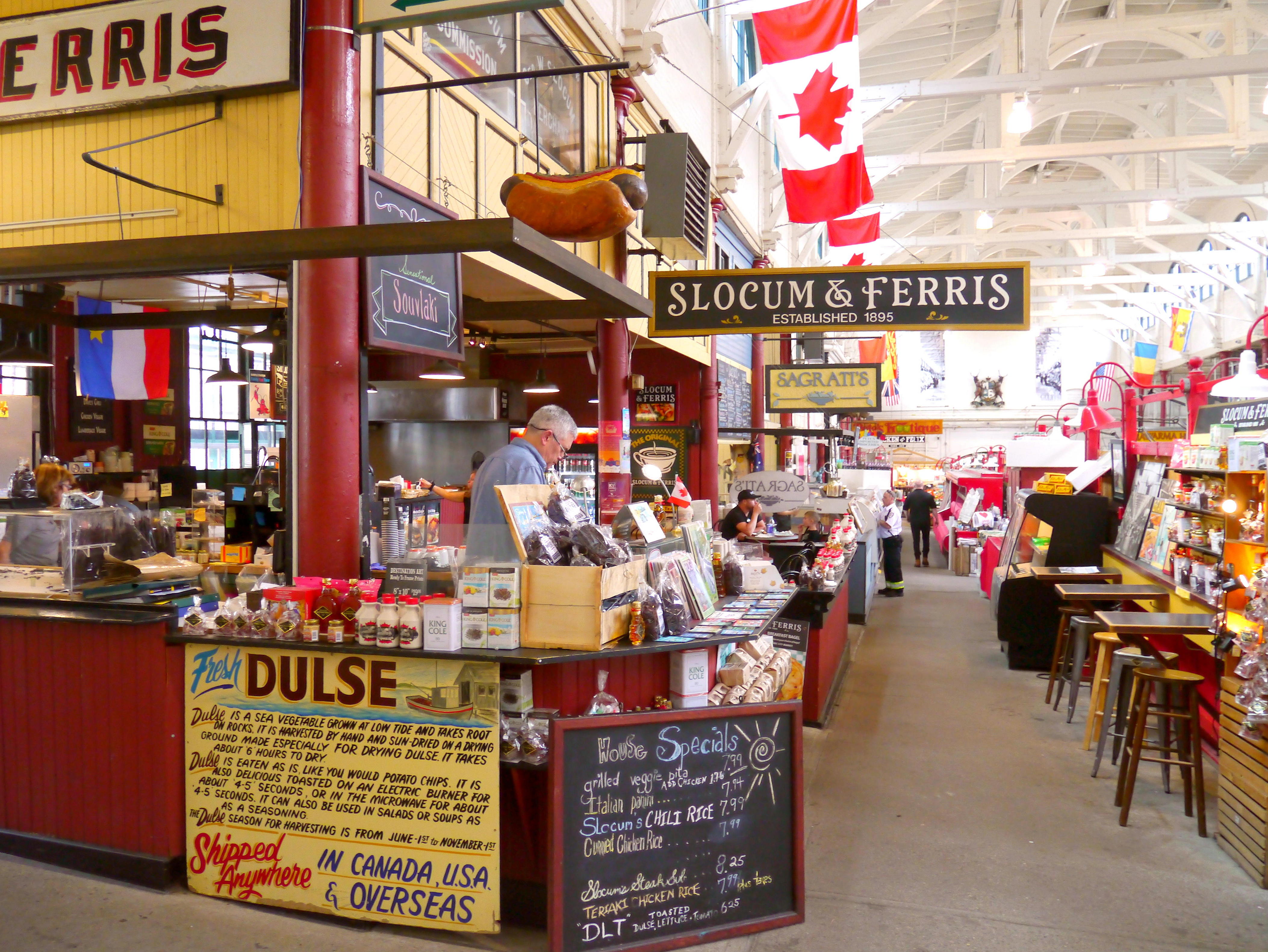 Honestly, Saint John Market is not the most spectacular market we've ever visited. But it does have its own charm, along with the distinction of being the oldest continuing farmers' market in Canada. Opened in 1876, the market is still the heart of the city's revitalized historic core. It's also a National Historic Site. Its handsome ceiling, shaped like an inverted ship's hull, reflects Saint John's shipbuilding heritage.
The wide variety of goods from the British Isles (from Branston Pickle and HP Sauce to Scotland's signature soft drink, IRN Bru) is a reminder that Saint John was founded by British Loyalists fleeing the United States during and after the American Revolution.
The cavernous market is pretty evenly divided among local craftspeople and food vendors down the middle, and small eateries on the sides. In mid-July, the produce stands overflowed with strawberries, beets, green and wax beans, carrots, peas, onions, Swiss chard, and kale.
Slocum & Ferris, a small grocery and lunch spot established in 1895, carries an extensive line of local maple syrup, preserves, and honey. For the last 60 or 70 years, the market shop has also promoted dulse, a deep purple seaweed harvested and dried on Grand Manan Island. A wicker basket had small samples of what the shopkeeper called that "weird seaweed." Dulse grows on rocks all over the cold Gulf of Maine and Bay of Fundy, and David used to gather it from the shores of uninhabited islands in Maine's Penobscot Bay. It has a pronounced seaweed flavor, deeply salty with an intense punch of umami. Some oldtimers say it tastes like bacon. Slocum & Ferris certainly treats it that way. One of the lunch counter's specialties is a DLT: dulse, tomato, and lettuce on toast.
Enjoying some new flavors to Canada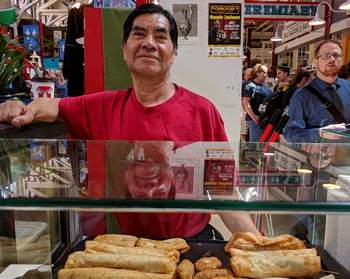 We did return to the market at lunchtime. Pat got to talking with Santos Ruyán Juárez, an immigrant from Guatemala who has Taco Pica (96 Germain St., Saint John; 506-633-8492; tacopica.ca), a very successful Mexican/Guatemalan restaurant on one of the hip downtown streets. He also sells a small selection of Guatemalan savory pastries from a Taco Pica stall in the market. His most popular is the chicken flauta, a deep-fried tortilla filled with shredded chicken and mozzarella cheese. But the best item at the stand is also Santos's own favorite, the pork chimichanga. He marinates the pork with garlic, onion, cilantro, and achiote and seasons the cooked mixture with jalapeño and habañero peppers.
Fish in the biggest city on the Bay of Fundy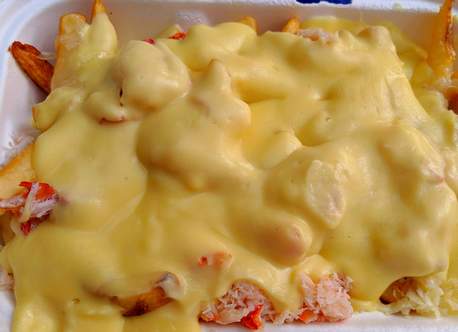 There are three fish markets associated with the Saint John City Market, but we were most impressed with North Market Seafood. Although we did have a kitchen at our Airbnb rental, there were many restaurants to try so we had no intention of cooking. But North Market did have some lovely local fish, including flounder, haddock, and halibut. They also carried Atlantic salmon in several forms. Salmon farming is big in the Bay of Fundy, where the extreme tides wash the pens, and many mom-and-pop smokehouses help preserve the excess. While the thick steaks were tempting, we ultimately sampled some of the preserved product—delicate and moist sliced smoked salmon, sweet and chewy candied smoked salmon (with maple syrup), and smoked salmon from the tail end, which produces meat that is just slightly more tender than fish jerky but deeply smoky and addictive.
The seafood market also has an associated lunch counter called True North Seafood Company. The biggest seller was the lobster roll, followed by grilled salmon and fries. Out of curiosity, we tried the lobster poutine. The lobster was fresh and sweet and the potatoes were also fresh and intensely flavored. In lieu of gravy, they covered the whole dish with grated mild cheddar and gave it a quick zap in the microwave. It was satisfying … and very Canadian.