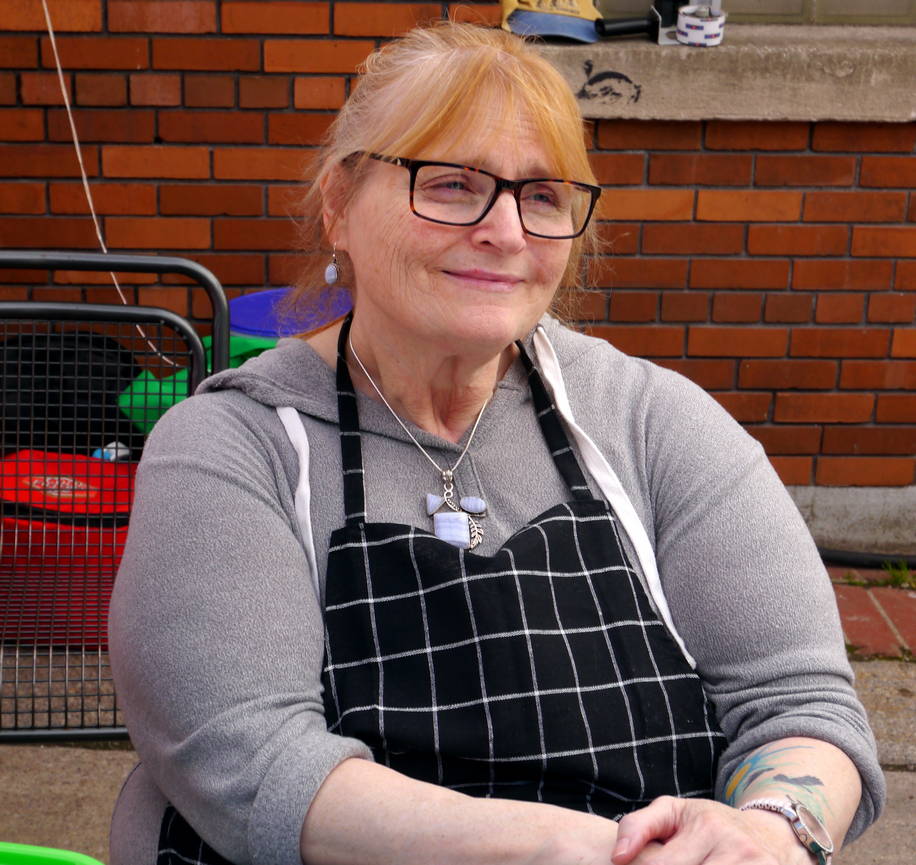 We made a point of being in Saint John, New Brunswick, on a Thursday so that we could check out the "Night Market" that was launched this year. From spring through summer, a group of about 20 crafters, bakers, and food makers lay out their wares on the south side of the Saint John City Market building.
As we cruised the pedestrian street, we couldn't help but marvel at the variety within the small group of vendors. There was, of course, a food truck with fish and chips. Friendly women proudly offered their family's food specialties from as near as the Acadian peninsula or as far as Madagascar. One couple worked as quickly as they could to fill Spanish-style churros with chocolate or caramel sauce as a small crowd gathered around their booth. We never miss the opportunity to dip fresh churros in thick hot chocolate when we're in Spain. We were struck by this clever way to turn the Spanish classic into hand-held fair food.
Baker Jane Hess (above) managed to stand out from the crowd with her exuberantly decorated butter cookies. She'd been delighting friends and family with her cookie creations for years before she decided to start selling at a couple of local markets. We could see that she had a lot of fun icing and decorating her cookies. (She even made these faux pizza slice cookies at right below.)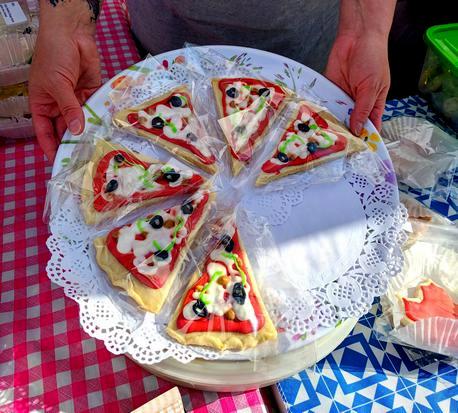 She's also serious about the flavor. She told us that she only uses high quality ingredients and avoids artificial or alcohol-based flavorings. She is convinced that oil-based flavorings give a richer and more natural taste to her cookies. We brought some of her orange- and lemon-flavored cookies back to our Airbnb to enjoy with glasses of wine. They were delightful, hauntingly fruity without overpowering the sheer buttery deliciousness of the underlying cookies.
Thanks to Jane for allowing us to share her recipe for Chocolate Butter Cookies, along with her tips for getting the best results. When we tasted the cookies warm from the oven, the flavor was so deeply satisfying that we decided to skip any icing.
CHOCOLATE BUTTER COOKIES
Yields approximately 35 medium sized cookies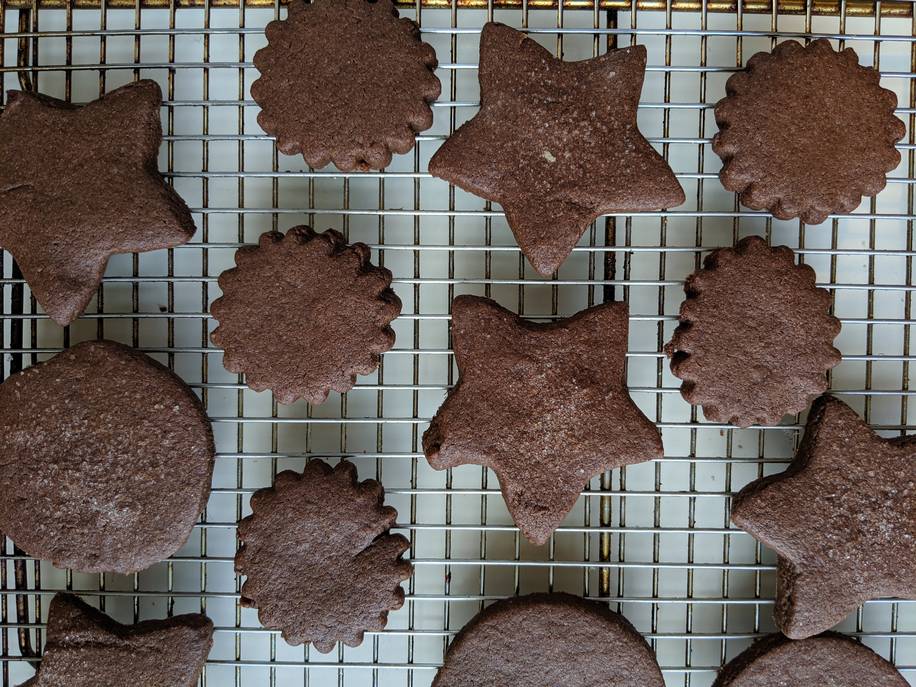 INGREDIENTS
2 cups unsalted butter, room temperature
2 cups sugar
2 large eggs
3 teaspoons vanilla
4 cups all-purpose flour
1 1/2 cups of cocoa powder
1 teaspoon salt
INSTRUCTIONS
Cream butter and sugar together in the bowl of the electric mixer on low. Mix until thoroughly incorporated, for about 1 minute.
Scrape down the sides of the bowl with a plastic spatula and mix again for a few minutes more. Overmixing the butter and sugar in this step will cause too much air into the dough. Not overmixing will make a better cutter cookie.
Add eggs slowly and mix. Scrape down sides once more and mix.
Add pure vanilla extract. Mix briefly.
Sift flour, cocoa powder, and salt together
Add the flour mixture to the butter mixture a third at a time. This will keep the flour mixture from flying out of the mixer bowl. On a slow speed gently mix the flour mixture into the wet mixture. Once the mixture hugs the paddle it is mixed. DO NOT overmix.
Wrap in plastic wrap and refrigerate for 1 hour. This makes the dough easier to roll out.
Roll out between 2 pieces of parchment paper and cut out your choice of cookie. If you find the dough is still sticky lay a dusting of flour on the parchment paper before you roll it out.
Preheat oven to 350°F or 175°C.
Bake cookies for 8-12 minutes or until the center of the cookie does not look wet. The time of the baking also depends on the size of your cookie.
Let cookies cool to room temperature.
These cookies will last a while if they are stored in a cool place.