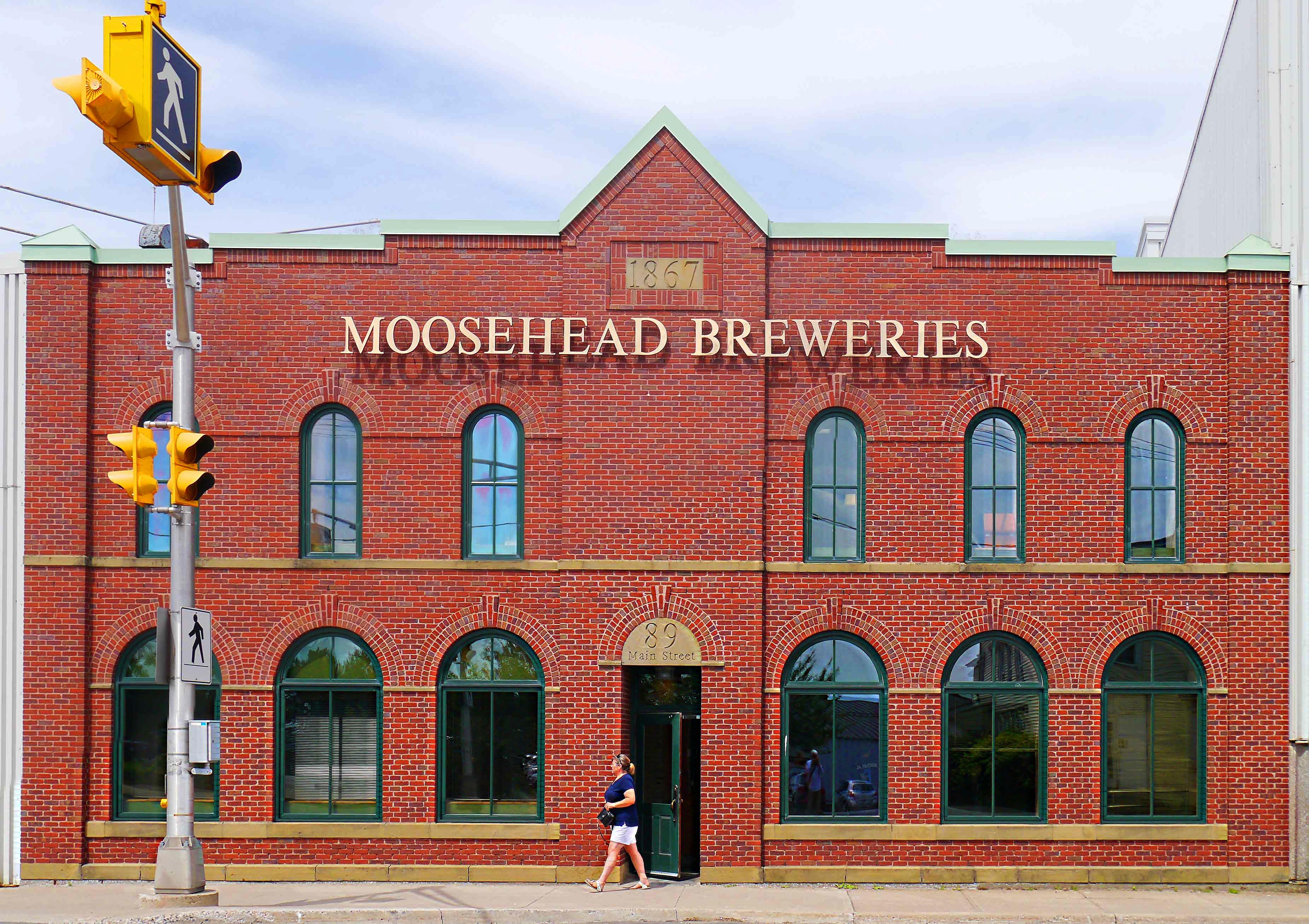 Ever since Molson merged with Coors and Anheuser-Busch gobbled up Labatt, Canadians have been hard-pressed to buy a truly Canadian mass-market beer. That is, unless they drank Moosehead, which proudly proclaims that it's the last major brewery still owned by Canadians. The great-great-great grandson of founder Susannah Oland, who launched the business in 1867, remains at the helm of Moosehead Breweries. Andrew Oland's family has steered the operation through fires, the Halifax explosion, Prohibition, two world wars, the Great Depression, and trade barriers. Although the company launched in Dartmouth, Nova Scotia, it's been part of the Saint John scene for more than a century.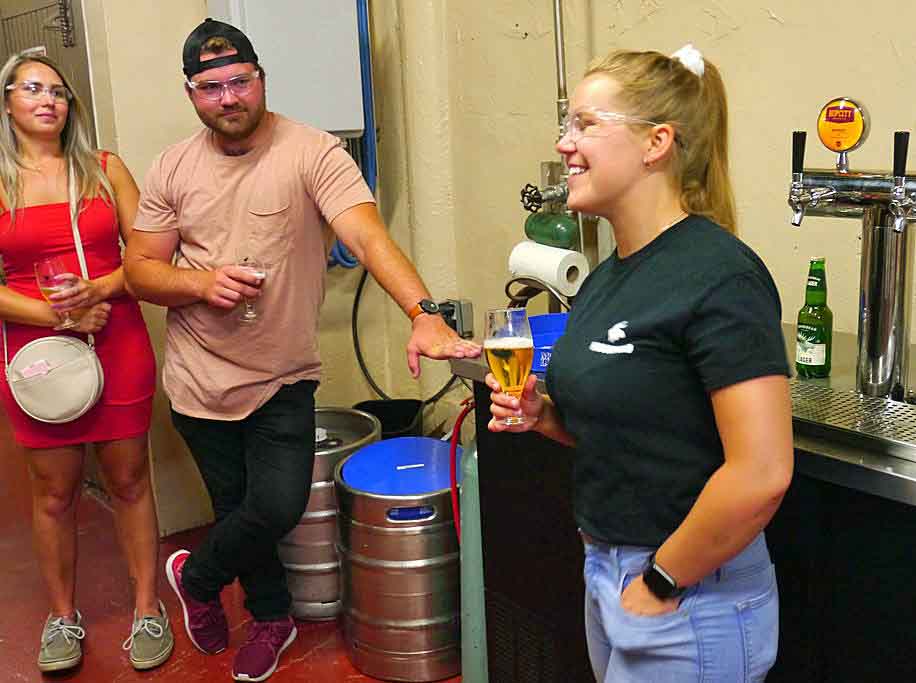 We knew Moosehead (89 Main Street West, Saint John, NB; 506-635-7000, ext. 5568, moosehead.ca) from the nicely balanced, crisp Moosehead Lager (its primary export to the U.S.). Since we were in Saint John, we signed up online for a factory tour to learn more about the local brew. (You can only book online. See https://moosehead.ca/tour.) When you show up, be sure you're wearing closed-toe shoes. You'll be issued safety goggles and ear plugs.
Moosehead knows how to get a tour off to a good start. It begins with a tasting of three different beers and as many refills as you request before becoming embarrassed. We tried the company's Hop City (an IPA from a craft brewer Moosehead bought), the flagship Pale Ale made with the original 1931 recipe, and a Grapefruit Radler. The fruity esters in the Pale Ale are a signature of Moosehead, but real fruit in the Radler gave it an interesting pop. It's brewed with 15% grapefruit, lemon, and grape juice and fermented to just 4% alcohol by volume. It's one of the most successful malt and fruit marriages we've tried this side of a good Irish shandy.
Pipes and tubes and canning lines, oh my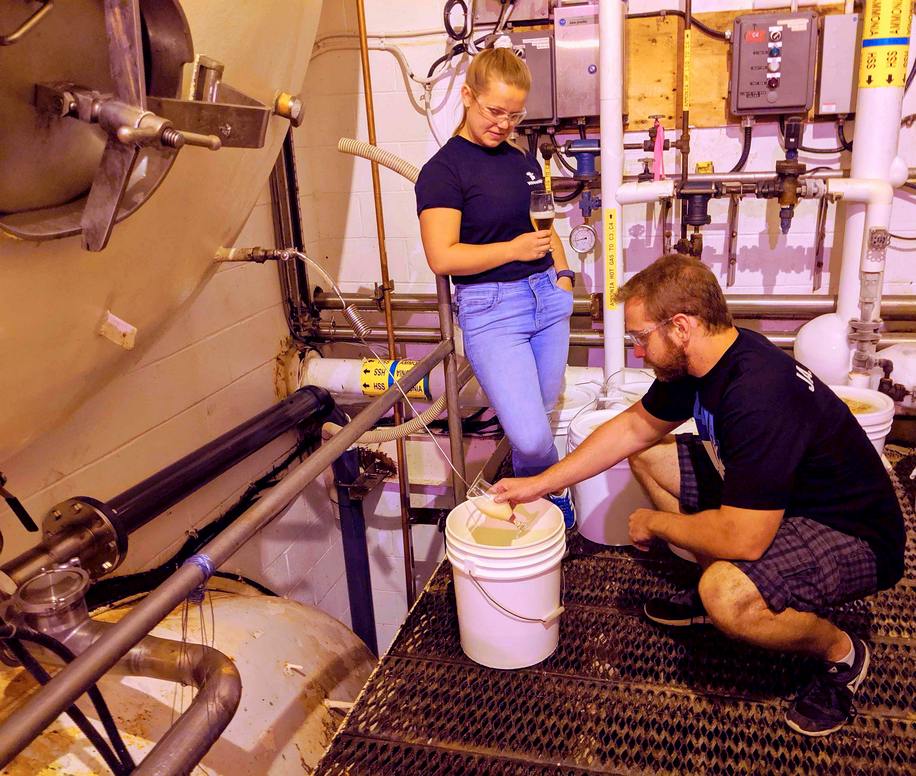 Warning us that we would be touring an active industrial site, our "ambassador" Olivia Vaughn led us up and down stairs and through fire doors into the heart of the operation. Anyone who has ever seen a mash tun, brew kettle, or a fermentation vessel knows that one looks pretty much like another. It's really a matter of scale. Craft breweries often operate 10-barrel systems. Moosehead mostly uses 450-barrel systems. All those tanks and pipes were largely background for Olivia's factual tidbits. We were surprised, for example, that Moosehead replaces its lager yeast every eight generations. (Its ale yeasts go much longer.)
We're guessing that most people on our tour had not done a big brewery tour before, judging by their fascination with the canning line. (The bottling line wasn't running while we were there.) We have to admit that the spectacle of thousands upon thousands of colorful cans coming down the line is pretty impressive. It's certainly more active than, say, fermentation or lagering. Our favorite part of the tour is shown at right—where Olivia turned on a spigot from one of the lagering tanks and we each filled a glass with the freshest beer we'll ever taste.
The tour winds its way through the brewery to the more recent addition, the "Small Batch Brewery" where Moosehead does 10- and 20-barrel runs of test beers, specialty items, contract brews for restaurants, and historic beers. The taproom here, which sells most of the products, offers such oddities as Susannah's Brown Ale, made from the backyard recipe that started it all more than 150 years ago.