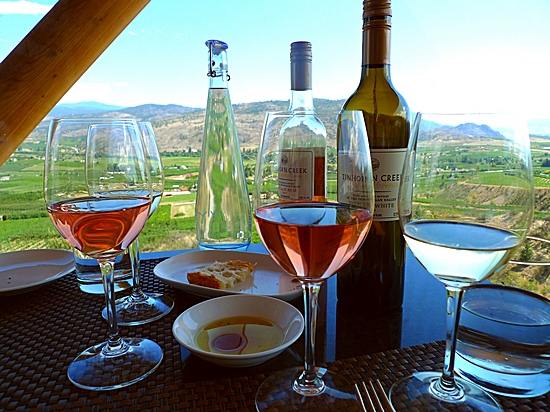 It's finally watermelon season in our part of the world, which gives us an excuse to resurrect a recipe we received too late to try last fall. It was for a fantastic watermelon gazpacho we ate at Miradoro at Tinhorn Creek Vineyards in the Okanagan Valley wine region of British Columbia.
During this summer's research for the Frommer's Easy Guide to Madrid & Barcelona, we were surprised to find watermelon gazpacho on almost all the best menus in both cities. So now that we're home writing and local icebox watermelons are at the farmers' markets, we tried the Miradoro recipe from executive chef Jeff Van Geest. It is terrific. Here it is, tweaked for our small watermelons. (It tastes just as good without the incredible vineyard view.) For other recipes from Van Geest, click here.
WATERMELON GAZPACHO
Make about 6 cups


Ingredients
1 small or 1/2 large watermelon, seeds removed
1 small to medium red onion
3 cloves garlic
1 bunch mint (a fistful)
1 bunch flat-leaf parsley (also a fistful)
1/4 cup extra virgin olive oil
1/4 cup white wine vinegar
salt
pepper
Directions
1. Roughly chop the watermelon, and finely chop garlic, onion, mint, and parsley.
2. Add olive oil and vinegar and toss. Refrigerate overnight for flavors to meld.
3. Pulse in a food processor or with immersion blender until gazpacho is desired texture. (Van Geest makes his version very smooth.)
4. Season to taste with salt and pepper.