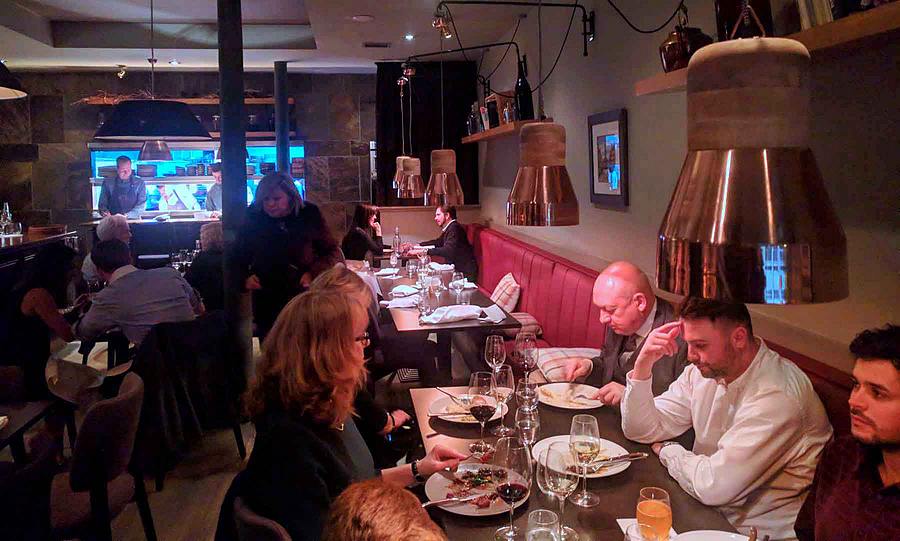 "We serve wild game and it may contain shot," cautions a note at the bottom of the tasting menu at Cail Bruich (725 Great Western Rd., Glasgow; 0141 334 6265; cailbruich.co.uk). For those who like their meat nice and brown, the menu further advises, "Some ingredients are cooked sous vide." With warnings like that, who could resist? (Against my mother's admonitions, I was always the child with beans in his ears.)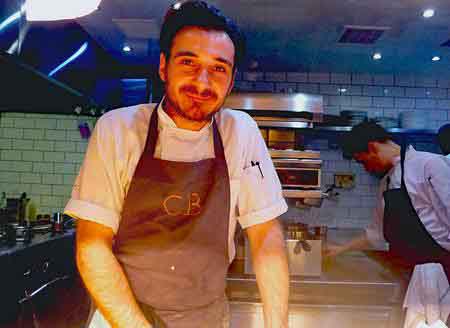 It's a bit of a schlep from Glasgow central city out to this bohemian stretch of West Glasgow near the Botanic Gardens, but it's worth the pilgrimage. Now in its 10th year of serving elevated Scottish cuisine made with classical technique in a semi-casual setting, Cail Bruich (Gaelic for "Eat Well") continues to amaze. Chef Chris Charalambous (right) and his front-of-the-house brother Paul set the modern standard for Scottish food. For me and a small group of friends, they served a barrage of small dishes so we could taste across the menu. There were too many to count, but following is a short synopsis of a half dozen savories and just one of the desserts. That's not to mention the spectacular sourdough whole wheat bread served with spreads of cultured butter and smoked chicken fat.
Bold beginnings

The smoked chicken fat alerted me right away that the chef was an unapologetic fan of full flavors. But the two apps that came out immediately were more than just bold—they were witty reformulations designed to confound expectation. The brown crab doughnut was technically an amuse-bouche, but it deserved star billing of its own. It's a smart Scottish take on a deep-fried crab dumpling. Charalambous also plays on the Bavarian cream doughnut (a Bismarck) by pumping a bit of crab cream into the pastry. The dish at right has crispy cannolis filled with a pungent chicken liver mousse. The cannoli wrapper had all the crunch of a good spring roll, which made a nice textural contrast with the mousse.

Veal sweetbread with ox tongue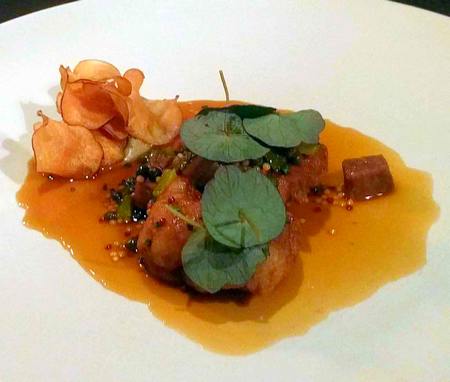 When I saw veal sweetbreads on the menu, I knew that Chris Charalambous had to have learned his kitchen chops under a French chef. Ris de veau, as the French call it, is one of my favorite organ meats. But the chef's very British treatment combined the fried sweetbreads with diced pieces of ox tongue (another of my favorite meats) and crispy chips of Jerusalem artichoke. Again, the play of textures was fabulous. The tangy beer-mustard sauce didn't hurt.

Lemon sole with celeriac and lettuce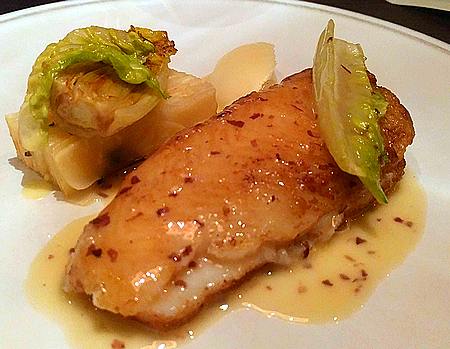 As a stand-alone entree, this dish would be too much of a good thing. But as a small plate, it was the apotheosis of whiteness. It was also a refreshing counterpoint to the heavier organ meat dish that preceded it. Sole is often a bland fish, but it's dependable in mid-winter as a carrier for other flavors. The chef bathed the filet in a lemon sauce—a nice play on the fish's name—and then paired it with steamed celery root and grilled lettuce. It's amazing how sweet lettuce can become when subjected to a little intense heat. Flaky fish, tender celery root, and crisp lettuce showed Charalambous at his texture game again. A faint hint of truffle perked up the whole combination.

Loch Fyne scallops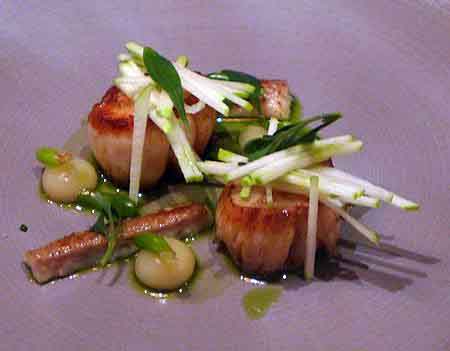 Look closely at a map of Scotland and you'll see that it has more ocean coastline than land, thanks to the long inlets of the lochs. Cairdow, at the head of Loch Fyne about 50 miles northwest of Glasgow, is known for its farmed oysters and its wild-caught scallops. The chef treats each scallop with reverence. In addition to a plate of crudo with diced green apple and basil oil, he prepared this beautifully composed dish of seared Loch Fyne scallops with smoked eel, strips of green apple, and dots of what I think must have been puréed cabbage and turnip. It was impressive how much umami he could infuse into a fairly simple plate.

Venison with red cabbage, chocolate, and chestnut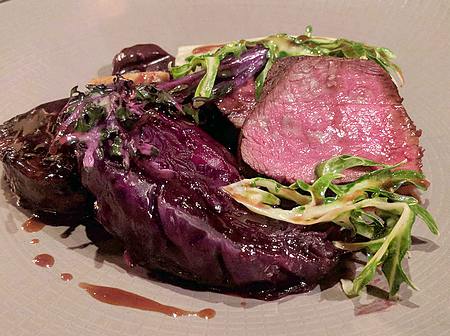 This terrific treatment of venison was probably one of the sous vide dishes that the menu warned about. I certainly didn't encounter any shot, so I can't attest that it was wild game, but the flavor was deeper and much more complex than the red deer on most people's menus. Charalambous did put a nice sear on the outside of the meat, but he accentuated the rareness (rare meat is hard to find in Scotland) by pairing it with a straightforward steamed red cabbage. The mealy texture of the chestnuts played nicely against the admittedly chewy meat, while the savory chocolate sauce was slightly sour and slightly bitter—rounding out the sweet-sour-salt-bitter-umami palette.

Crowdie cheesecake with plum and tarragon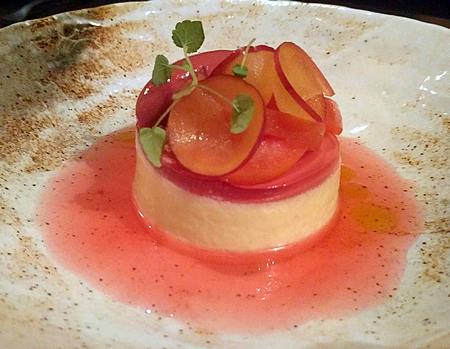 Crowdie is a soft and crumbly Scottish fresh cheese similar to well-drained American cottage cheese. It's a critical element in Scottish foodways, since it's recommended (with oatcakes) before an evening of excessive whisky-drinking. In this case, the chef recognizes cheesemaker Katy Rodgers, since her Knockraich Farm is celebrated for producing outstanding products from the milk of its herd of outdoor grazing British Friesian cattle. The chef lets the slightly sour, marvelously lactic milk flavor come through by pairing the the barely sweet cheesecake with paper-thin slices of plum and tarragon-infused plum syrup.
My meal was a variant of the winter menu. The spring menu starts today.