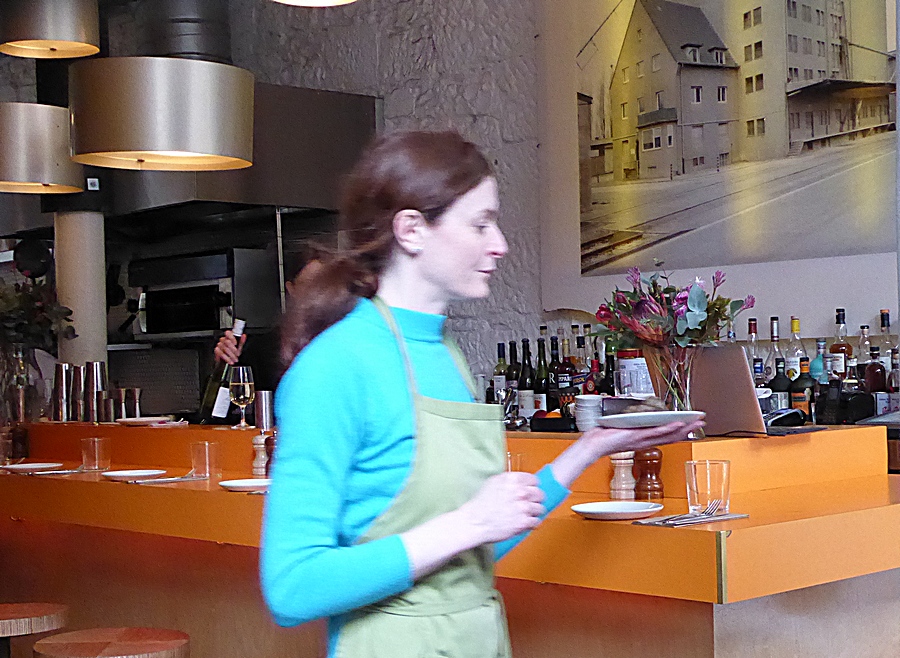 Alchemilla encapsulates the emerging identity of Finnieston as the hip side of Glasgow. When the port was still bustling, lonely sailors used to head to the western neighborhood for professional company. But ever since Zaha Hadid's punk-glam Museum of Transport opened a few years ago—and now the Clydeside Distillery—Finnieston has emerged as Glasgow's answer to Brooklyn. It's where the cool kids hang. If they happen to be foodies, they probably eat lunch at Alchemilla (1126 Argyle St.; 0141 337 6060; thisisalchemilla.com).
We did, and we were glad of it. The small restaurant is painted in the bright, glowing colors that those of us who live in wintry northern cities associate with the Mediterranean. The professed concept is "simple, fresh Mediterranean food for sharing, with sustainably sourced natural wine." Plates are small, but (blessedly) are not called tapas, despite the restaurant's Spanish/Moorish name. The spot is open daily from noon until 1 a.m., but it was the lunch menu that caught our eyes. Served on weekdays, it lists six simple plates, priced at two plates for £10 (about $14).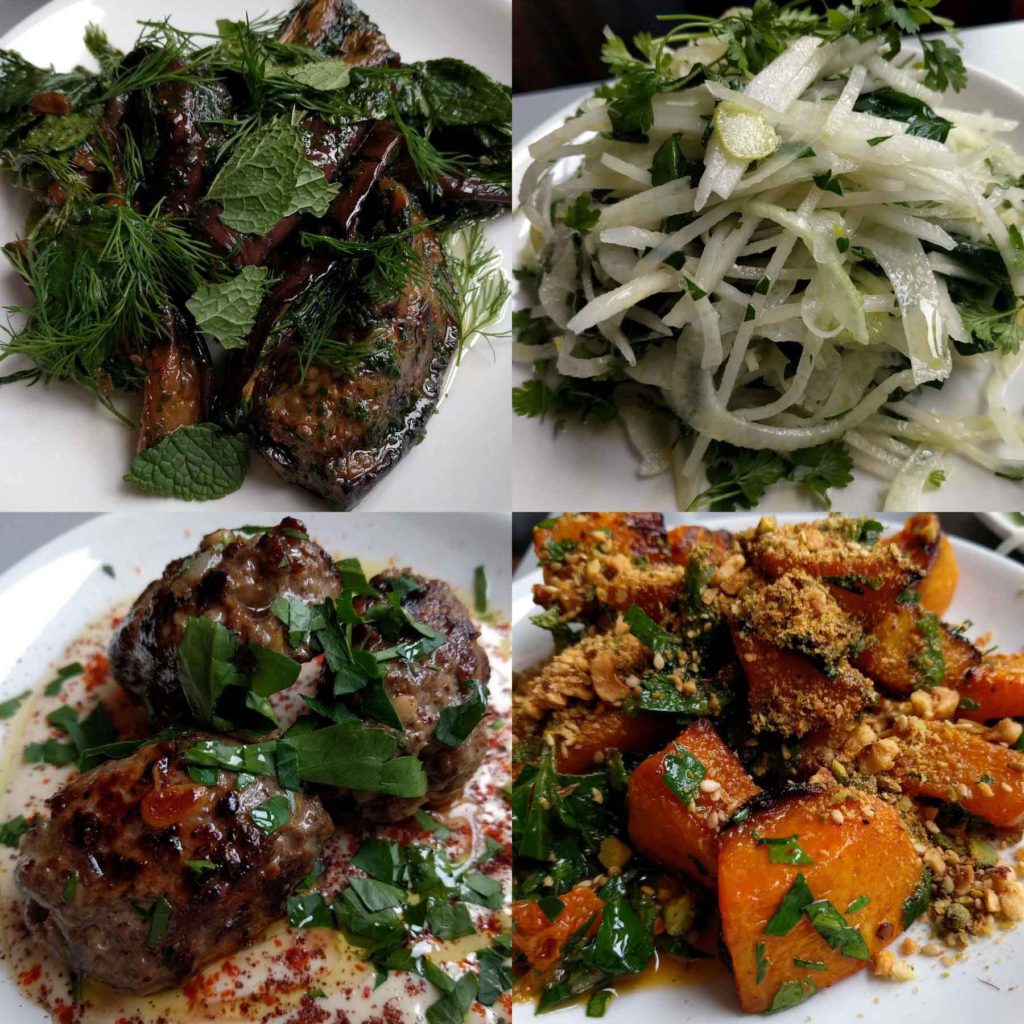 A little Mediterranean warmth for chilly Glasgow
Our original intention was to order two plates each. But since the restaurant serves each plate as soon as it's ready—and each one was generously portioned—we ended up sharing it all. They are shown in the collage just above. The first dish to hit the table (upper right) was a salad of paper-thin slices of kohlrabi and fennel with mint and lemon in a very light vinaigrette. Fresh and crisp and almost bracing in its tart herbiness, it really awakened our palates. Its perfect complement (upper left) was a plate of roasted eggplant with mint and dill. The juices formed their own dressing, and the dark flavor was a counterpoint to the salad.
The other "pairing" was somewhat more unctuous. The lamb and veal koftas with tahini dressing (bottom left) really came alive, thanks to a generous sprinkling of piment d'espelette—a mild chile pepper from France. It was, by the way, the only meat dish on the menu.
Most successful of all, we thought, were the pieces of roasted winter squash with a bit of chilli butter and dukkah sprinkled all over the top. We're told that dukkah originates in Egypt, but several variants of the mix of aromatic spices and roasted hazelnuts appear around the Mediterranean basin. The sweet squash and the toasted nuts are heavenly together. In fact, it inspired us to make a new variant of butternut squash risotto, one of our winter staples. We roasted cubes of squash with dukkah to add a layer of complexity to this admittedly rich dish.
BUTTERNUT SQUASH RISOTTO WITH DUKKAH SPICES
Ingredients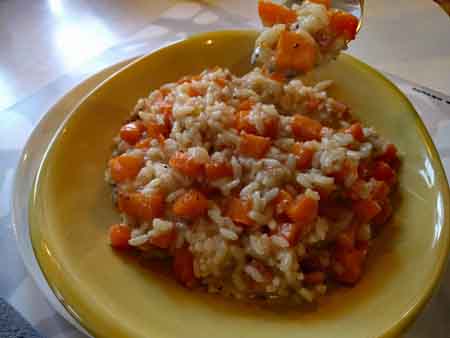 1 small butternut squash, peeled, seeded, and cut into 1/2-inch cubes
3 tablespoons olive oil, divided
2 tablespoons dukkah spices (see below)
2-3 thick slices lean bacon, diced
medium onion, chopped
1 cup arborio rice
1/3 cup dry white white
1 1/4 cups chicken broth
up to 1/4 cup milk
1/3 cup grated Parmigiano-Reggiano cheese, plus more for table
1 tablespoon butter
Directions
Set oven to 425°F.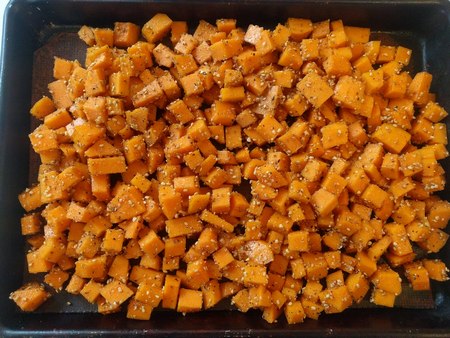 Combine squash cubes with 2 tablespoons olive oil and dukkah spices in a plastic bag. Shake well to lightly grease squash. Place in single layer on baking sheet and roast about 20 minutes, turning once. Remove from oven and reserve squash.
In pressure cooker, heat remaining olive oil and add bacon. Cook until bacon begins to render fat. Add chopped onion and cook until pieces begin to soften. Add rice, stirring well to coat.
Add white wine to rice and stir well. Cook until nearly absorbed. Then add chicken broth, stir well, and fit pressure lid. Cook for 7 minutes after pan reaches pressure. Quick cool pan under cold water tap and remove lid.
Return pan to low heat on stove and stir well. If rice is too dry, add small amounts of milk. If too wet, continue cooking (and stirring) a minute or two until liquid is mostly absorbed. Turn off heat and stir in grated cheese. Finish with a swirl of butter and serve in shallow bowls. Garnish with chopped hazelnuts and pass extra grated cheese.
DUKKAH SPICES
Ingredients
1/2 cup hazelnuts
1/4 cup sesame seeds
1 tablespoon coriander seeds
1 tablespoon cumin seeds
1 tablespoon ground black pepper
1/2 teaspoon finishing salt (Maldon salt or similar)
Directions
Set oven to 350°F.
Place hazelnuts on a baking sheet and toast about 8 minutes or until fragrant. Place hot nuts onto a dish towel and rub vigorously to remove the skins. Set aside to cool.
Place sesame seeds in small dry skillet and toast, stirring, until light golden brown. Immediately pour into a bowl to keep from getting too brown. In sam skillet, toast coriander and cumin seeds, shaking or stirring, until they begin to pop. Grind the coriander and cumin in a spice grinder and add to sesame seeds. Reserve 6-8 toasted hazelnuts and place the rest in a food processor. Process until finally ground. Stir into bowl with spices, sesame seeds, pepper and salt.
Unused dukkah will keep well in a closed jar in the refrigerator.
Chop the reserved hazelnuts coarsely to use as a garnish.