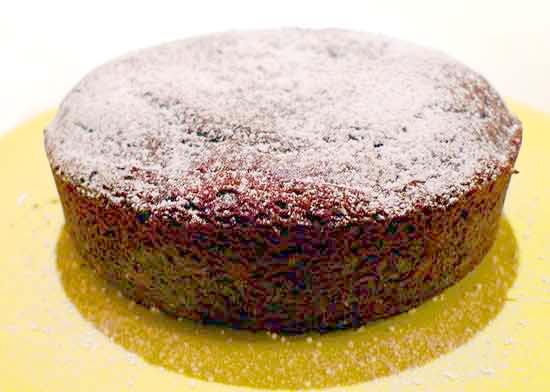 My gastronomic adventures on Prince Edward Island were not limited to shellfish. PEI is famous for its potatoes — the tiny island grows more than a quarter of the entire Canadian crop.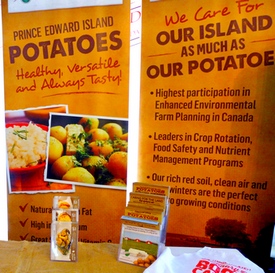 Chef Ilona Daniel of the Culinary Institute of Canada in Charlottetown consults for the potato board, which was handing out all kinds of recipes at the PEI Internaional Shellfish Festival. Most of them were predictable — potato gnocchi, potato pancakes, potato pizza, etc. But Daniel came up with this delicious cake that uses mashed potatoes and Greek yogurt to create a dense, moist texture that keeps for days. She was giving away samples, and once I tasted it, I knew I had to get the recipe. I cut the recipe to one-quarter of the one given here, and cooked it in a 6-inch springform pan (see photo above). The results were identical.
CHEF ILONA'S ROOTBEER CHOCOLATE PEI POTATO CAKE
Ingredients
1 cup mashed and hot PEI Yukon Gold potatoes
1/2 cup water, warm
1 cup full-fat (9%) Greek yogurt
2/3 cup butter, softened
2 1/2 cups brown sugar
1 tablespoon root beer extract
4 large eggs
1 cup cocoa
2 1/2 cups all purpose flour
2 1/4 teaspoons baking powder
1 teaspoon baking soda
Pinch salt
3/4 cup semi-sweet chocolate chips or chocolate chunks
Directions
1. Preheat oven to 350F. Lightly grease a 9x13x2-inch baking pan using butter or non-stick oil spray, and dust with cocoa powder. Remove excess cocoa powder and set aside.
2. Whisk mashed potatoes, water, and yogurt until a smooth mixture is formed.
3. Beat butter, brown sugar and root beer extract for 4-5 minutes with an electric mixer until light and fluffy.
4. Add 2 eggs and mix until blended, scrape down sides of bowl; add remaining eggs and continue mixing until well blended.
5. Sift together flour, cocoa, baking powder, baking soda and salt; stir to combine.
6. At low speed, alternate adding the sifted dry ingredients with the potato mixture into the egg mixture until just incorporated. ****DO NOT OVERMIX. Fold in chocolate chips.
7. Place batter into the prepared pan; smooth out top. Bake for 30-35 minutes, until cake springs back when pressed lightly and begins to move away from the sides of the pan.
8. Cool in the pan on a cooling rack. Sift confectioners' sugar over the cake or drizzle with an icing of your choice.
9. Store at room temperature for up to 3 days in an airtight container. Cake also freezes well