Judging the final round of the Garland International Chef Challenge turned out to be a big deal. Instead of hiding in a back room while we tasted, Dominic Serio and I sat on the main stage while the two finalists cooked on the main floor of the hall in front of the stage. Chef Alain Bossé paced back and forth for an hour offering commentary and gently kidding both contestants.
With $10,000 on the line, the two finalists gave us their hand-printed menus. Marc Lepine was preparing lobster poached in orange beurre blanc with crab meatballs, miso mayo, fennel sponge, wild rice crispies, and lobster jus. Ryan Morrison proposed "packed" lobster tail, oyster and crab hushpuppies, cauliflower purée, chanterelle and spearmint "salad," and dill-pickled mustard seeds. They had to complete the ambitious dishes from prep to plate in one hour.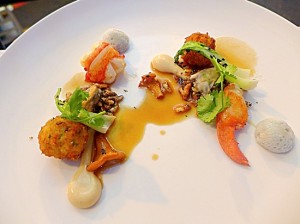 Both competitors stayed calm and controlled as the clock ticked away. My view from the stage let me look down on their dishes (and the backs of their heads). Both chefs were methodical, executing their complex garnishes first — Lepine's fennel sponge (made with agar-agar) and wild rice crispies (uncooked wild rice puffed in hot oil), and Morrison's dill-pickled mustard seeds. Then they marshaled each segment of the dish in an order so that everything hot would be done last for presentation.
Even the way they chose to plate showed the different mindsets of two tremendously talented chefs. Lepine saw his plate as a series of featured items linked by sauces, and that's how he plated them. Morrison saw his plate as a gestalt of flavors, and he literally piled one element on top of another. The final judging was close but unanimous. Both plates were gorgeous (and delicious). They were very different, but in the end, tiny details made the difference. Morrison's pickled mustard seeds really thrust the shellfish flavors front and center, while Lepine's bland fennel sponge detracted from the seafood. Ryan Morrison, whose dish is pictured below, went back to Vancouver $10,000 richer than when he had come.