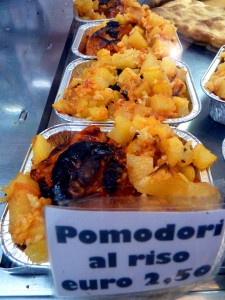 Like many Roman visitors (and many Romans, for that matter), we took advantage of the city's many pizzerias for quick meals or snacks. Once our Zone 6 garden swings into production around mid-July, we hope to revisit the subject of Roman pizza for the myriad of vegetable versions.
But it was in the pizzerias that we stumbled onto another quintessentially Roman dish: stuffed tomatoes on a bed of roasted potatoes. Tomatoes stuffed with rice are a standard dish in a lot of parts of Italy, but Rome was the first place where we had seen them served with a big batch of potatoes. The simplicity of the single combined dish appealed to us, as it clearly does to many Romans getting an inexpensive casual meal. It took only a little experimentation at home to come up with a viable recipe for this starchier, heartier version of stuffed tomatoes.
ROMAN ROASTED STUFFED TOMATOES AND POTATOES
When served with potatoes, the tomatoes are relatively unseasoned. But if you want to serve the stuffed tomatoes alone as a first course, leave out the eggs and add three finely chopped anchovy fillets and a 1/2 cup of grated Parmigiano-Reggiano cheese to the mixture before stuffing.

Ingredients
3 lb. Yukon Gold potatoes, cut in 3/4-inch dice
1/4 cup olive oil
6 large tomatoes, ideally with stems intact
1 teaspoon sea salt, divided
1 cup water
2/3 cup Arborio rice
1/4 lb. ground veal or pork
large bunch flat parsley, finely chopped
2 eggs, beaten
Directions

Combine potatoes and olive oil and spread evenly in roasting pan. Roast in 350F oven for 25 minutes.
Cut 2-inch diameter cap from tops of tomatoes. Scoop out pulp, seeds, and jelly and place in strainer, add 1/2 teaspoon salt, and let drain to separate juices. Reserve juices and reserve cap.
Add remaining salt to water, add rice and boil for 10 minutes. Remove from heat and drain.
In frying pan, crumble ground meat and cook over medium heat until browned. Add reserved tomato juices and fistful of parsley. Stirring regularly, continue cooking until liquid is mostly reduced.
Mix meat mixture with rice, remaining parsley, and eggs. Stuff mixture into tomatoes and set caps on top. Place tomatoes on top of potatoes in roasting pan, raise oven to 425F and continue roasting for 30 minutes.