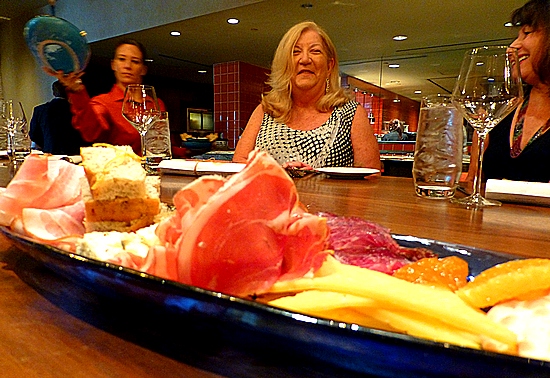 The San Antonio outpost of super chef Stephan Pyles, Sustenio at the Eilan Hotel (18603 La Cantera Terrace, San Antonio, 210-598-2950, www.eilanhotel.com), veers more toward Mediterranean cuisine than his Dallas restaurants, which range from the made-in-Texas cookery of Stampede 66 to the global fusion of his eponymous dining room.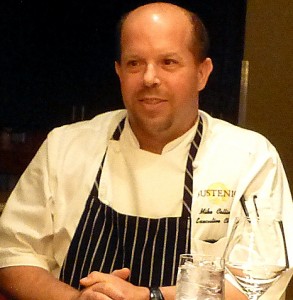 With executive chef Mike Collins (right) in the kitchen, Sustenio presents a light and bright Mediterranean option to San Antonio diners who are often otherwise forced to pick between Mexican cooking and a steakhouse. The menu is especially strong on charcuterie (top), much of it made in house. Those plates are great for munching at the bar with craft cocktails before sitting down to a table and tucking into tandoori-style roast salmon (below).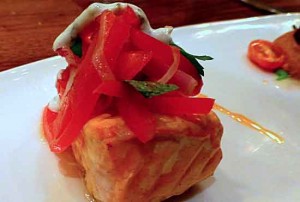 When we ate at Sustenio in May during Culinaria, Collins was kind enough to share a number of recipes with us, though many of them were pretty daunting. One of our favorites, though, was his version of escabeche. Collins often serves mussels in escabeche. They're steamed first, then marinated for at least two hours in the tangy sauce. The bright orange flavor is a nice complement to the meaty, briny shellfish. We also thought Collins' version would work well with chicken, which we first tried on skewers at Tragatapas in Ronda, Spain (C/ Nueva 4, Ronda, 011-34-952-877-209, www.tragatapas.com). When we went to the market and found grape tomatoes and colored carrots, the following dish was born.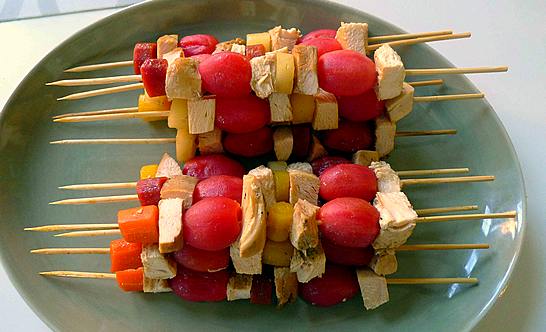 ESCABECHE CHICKEN AND CARROT SKEWERS
You have to plan ahead for this dish, as the chicken and carrots should marinate overnight in the escabeche. We serve the skewers cold with a variation on Caprese salad: chopped fresh tomato and tiny balls of fresh mozzarella tossed with couscous and sprinkled with chopped basil.
Serves 6
Ingredients
For escabeche
juice and grated zest of 2 Valencia oranges
1/2 cup olive oil
1/2 cup white wine
1/2 cup sherry vinegar
3 whole allspice berries
1 stick cinnamon
2 teaspoons cumin seeds, toasted
1 teaspoon ground black pepper
1 bay leaf
1/4 teaspoon cayenne pepper
1 tablespoon sugar
1 tablespoon salt
For skewers
8 ounces wood-roasted chicken breast
1 1/2 cups carrot rounds, steamed al dente (about 3 minutes)
1 1/2 cups grape tomatoes
bamboo skewers
Directions
1. Combine all the ingredients for the escabeche and bring to a boil. Reduce to a simmer for five minutes and cool.
2. Once the liquid is cool, cut the chicken in half-inch cubes and add to escabeche with carrot rounds. Refrigerate overnight.
3. Before assembly, dip the tomatoes in boiling water for 10 seconds and slip off skins.
4. Make skewers, alternating chicken with carrot rounds and tomatoes.