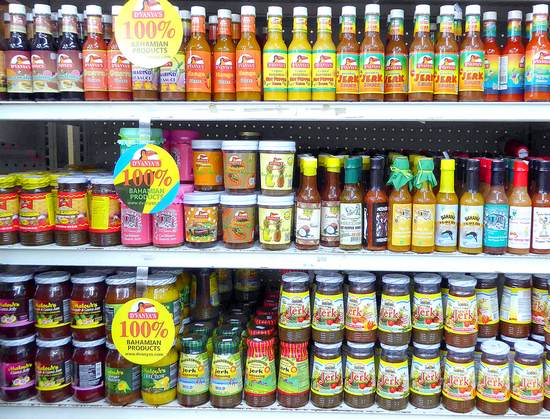 Bayside Food Store (242-323-2911) is located on Frederick Street, just steps from the souvenir shops and high-end jewelry stores on Bay Street. It's the largest supermarket in downtown Nassau. Locals stream in to pick up take-away lunches and shop for the fixings for dinner. The store has a few shelves devoted to products that represent the taste of the islands. For visitors who have come to love Bahamian hot spices and sweet tropical fruits, it's a good place to purchase a few items to bring back home. Best of all, most of the products are seasonings that pump up the flavors of a dish without a lot of effort by the cook. A couple of local companies offer a broad array of products.
D'Vanya's Spices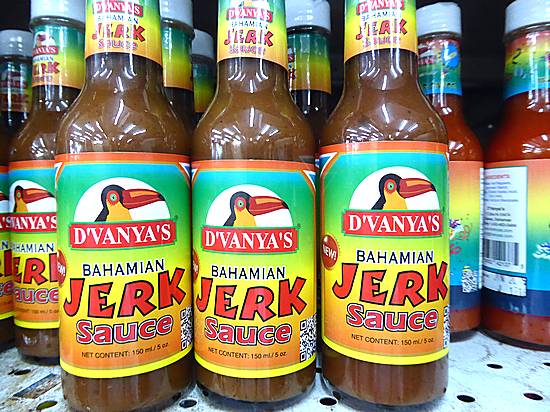 Nassau-based D'Vanya's Spices (dvanyas.com) began manufacturing about 15 years ago. Their Original Bahamian Hot Pepper Sauce is made with a combination of sweet bell peppers and hot chili peppers. Add it to a dish while cooking for a kick of heat, or place it on the table as a condiment. For those who prefer a bit of sweetness with their burn, D'Vanya's Tamarind Hot Sauce mellows out the peppers with the sweet seasonal fruit.
D'Vanya's Bahamian Jerk Sauce is a local version of the spicy sauce usually associated with Jamaica but also popular in the Bahamas. It makes a good marinade for chicken that's going on a smoky grill. D'Vanya's Mango and Guava Glazes add color and taste to foods. With their starch base, they help create a sweet glaze on meats or fish as they cook in the pan. Some Bahamians also use them as topping on ice cream. D'Vanya's Tamarind, Cinnamon Papaya, and Pineapple Jams bring back island breakfast flavors when spread on toast or English muffins.
Pasión Tea and Coffee Company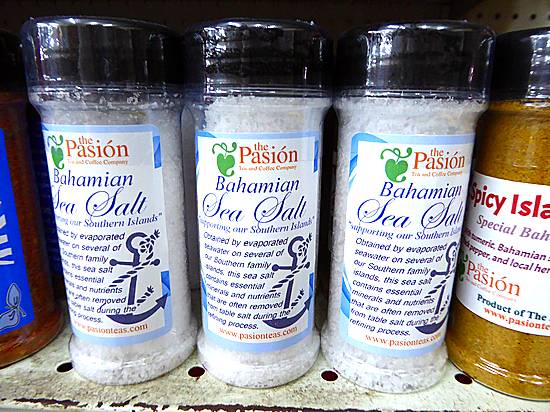 Bahamian-born Julie Hoffer's first passion was fine teas, which is why her company is called Pasión Tea and Coffee Company (www.pasionteas.com). But she has branched out to incorporate many of the flavors of the islands into her products.
Pasión's Plantation Hill line includes Bahamas Island Jerk Seasoning, a complex blend of hot peppers, allspice, thyme, nutmeg, ginger, black pepper, cinnamon, brown sugar, and paprika. It can be rubbed on chicken, pork or fish. Then marinate the meat or fish in lime and olive oil for at least 30 minutes before grilling. The company's Bahamian Sea Salt is made by evaporating seawater on some of the Southern Bahamian islands. With a clean salinity and a texture between a coarse crystal salt and a flyaway flake, it makes a good finishing salt on grilled fish.
Pasión produces several rum teas—including Pineapple Rum Tea—that combine tropical fruits, black tea, and the scent of rum. The company's line of fruit teas includes both herbal and black tea combinations. Simple Orange herbal tea complements the aroma of orange with apples, rosehips, and hibiscus. Island Peach, a black tea, concentrates solely on the luscious flavor of ripe peaches.
Making guava duff at home
If you want to try making the Bahamian dessert called guava duff at home, be sure to pick up a couple of cans of Guava Shells. Chef Elijah Bowe of Graycliff Hotel & Restaurant (www.graycliff.com) shared his recipe for the local dessert favorite.
BAHAMIAN GUAVA DUFF WITH RUM SAUCE

Makes 4 logs
Ingredients
5 pounds flour
1 pound sugar
1 teaspoon salt
5 tablespoons baking powder
1 egg
7 cups milk
1/2 cup vegetable oil
2 cans guava shells
Directions
Combine dry ingredients. Mix liquids in a separate bowl. Make a well in the middle of the dry ingredients and pour in liquid ingredients. Incorporate and lightly knead dough. Dough should be soft but not too sticky.
Cut dough into 4 to 5 pieces and roll out with a rolling pin, not too thin. Pour off liquid from the guava shells and spread shells evenly on top of dough. Roll up dough and spread milk on the end to stick together and seal the roll. Wrap loosely in foil so the dough can expand but thoroughly so no water can get in the foil.
Place in pan of boiling water and steam for 1 hour.
Slice and serve with Rum Sauce.
RUM SAUCE
Ingredients
2 ounces sugar
8 ounces butter
1 can sweetened condensed milk
1 can guava shells
Dark Rum
Directions
Mix sugar and butter. Add sweet milk. Puree guava shells and juice from can and add to mixture. Add Dark Rum to taste.