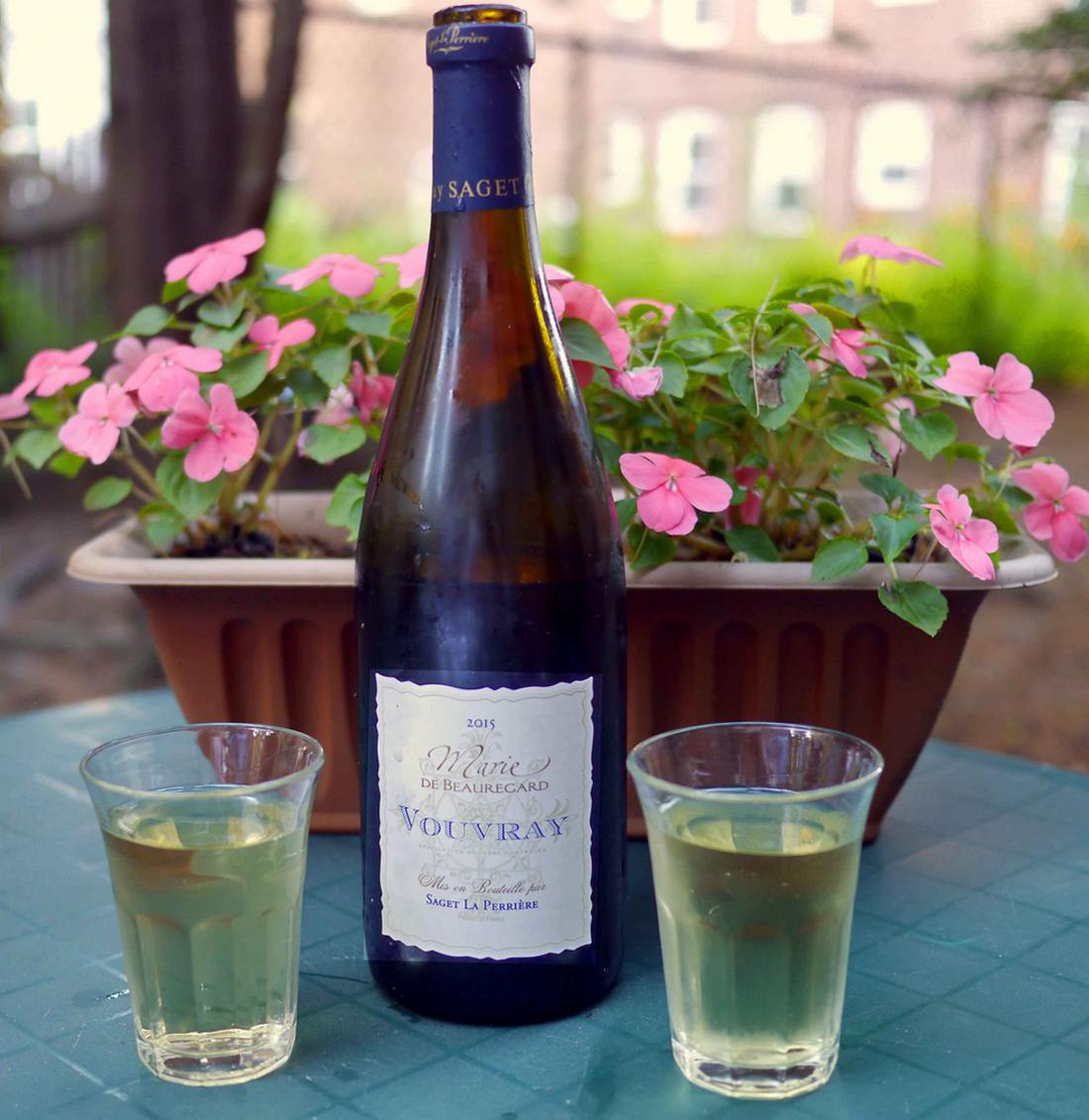 The mercury was pushing 95°F (35°C) and the dew point was well into the sticky zone. When we brought a chilled bottle of Vouvray to checkout at the wine shop the clerk sighed. "Hooray for Vouvray!" she said. To which we could only add, "Amen."
Chenin Blanc doesn't get a lot of respect in the wine world. It makes naturally sweet, loosey-goosey wines that go well in picnic baskets. But a good Vouvray, like the 2015 Marie de Beauregard from Saget La Perrière, shows how polished Chenin Blanc can become. The chalk and flint of the soils from the vineyards in La Roche Corbon outside Vouvray city come through quickly on the nose. Pears and acacia honey dominate the first tastes, followed by a hint of candied fruits and a spicy lemon zing. The intense acidity of the wine carries all those sweet fruits nicely. The finish is soft and almost yeasty, like a good champagne. We suspect that comes from fermenting with the natural yeasts after chilling the must to precipitate out the pectins and solids. The wine retails at $13-$17, depending on your local merchant. Suggested retail is $20, and it's worth it.
SALADE NIÇOISE

Serves 4
It was too hot to cook indoors, so we settled on a salade Niçoise. Our favorite local fishmonger, New Deal Fish Market (www.newdealfishmarket.com), had just cut up a nice bigeye. We bought about 12 ounces of trim for half the price per pound of steaks and cut them into 1.5-inch cubes. Lightly painted with a little olive oil, they grill up nicely over hardwood charcoal at 20-30 seconds per side. (There should be four sides if you cut them correctly.) We have evolved our version of this classic summer salad from a 1972 kitchen bible called Charles Virion's French Country Cookbook. It's worth seeking out in used bookstores. Or you can go with an Amazon merchant.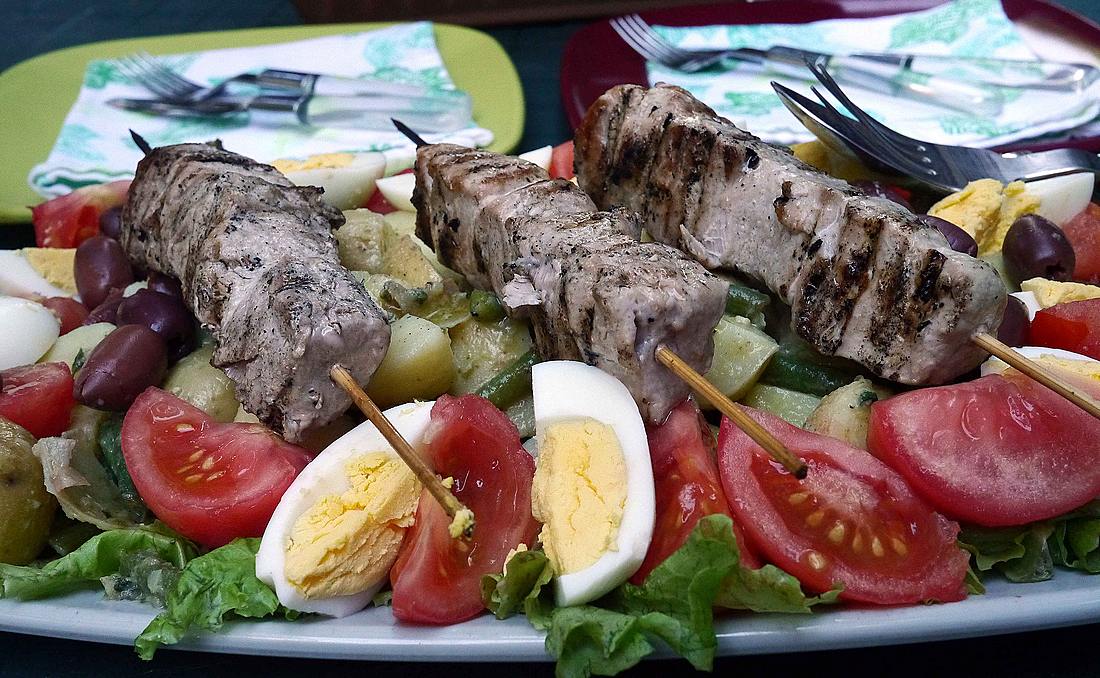 Ingredients

3 cups diced cold boiled potatoes
3 cups haricots verts, blanched 3-4 minutes and chilled in ice water
16 pitted Niçoise or Kalamata olives
1/2 cup simple French dressing (see recipe below)
Boston lettuce leaves
4 fresh tomatoes, peeled and quartered
4 hard boiled eggs, peeled and quartered
12 ounces fresh tuna, cut into cubes
olive oil to brush kebabs
Directions
Mix potatoes, green beans, olives, and French dressing together.
Line serving platter with lettuce. Pile potato-bean-olive mixture on top. Ring with tomato and egg wedges.
Place tuna cubes on bamboo skewers that have been soaked 1 hour in water. Brush with oil.
Grill tuna skewers 20-30 seconds per side, turning gingerly with tongs. Place skewers atop salad and serve with glasses of cold Vouvray.
BASIC FRENCH DRESSING

Makes 1/2 cup
Ingredients

1 shallot, peeled and finely chopped
1 clove garlic, peeled and grated
3/4 teaspoon sea salt
1/2 teaspoon freshly ground black pepper
1 teaspoon sugar
1 teaspoon Dijon mustard
1 teaspoon water
1/2 teaspoon dried tarragon leaf
2 tablespoons white wine vinegar
1/2 cup extra-virgin olive oil
Directions

Line a small saucepan with a dish towel. Place small nonreactive bowl in pan. (This stabilizes the bowl so you can whisk and pour at the same time.) Place all ingredients through vinegar into bowl and whisk thoroughly to mix. Drizzle in olive oil while continuing to whisk. Mixture should emulsify and become thick. Recipe can be scaled up proportionately but becomes tedious to whisk as volume increases.