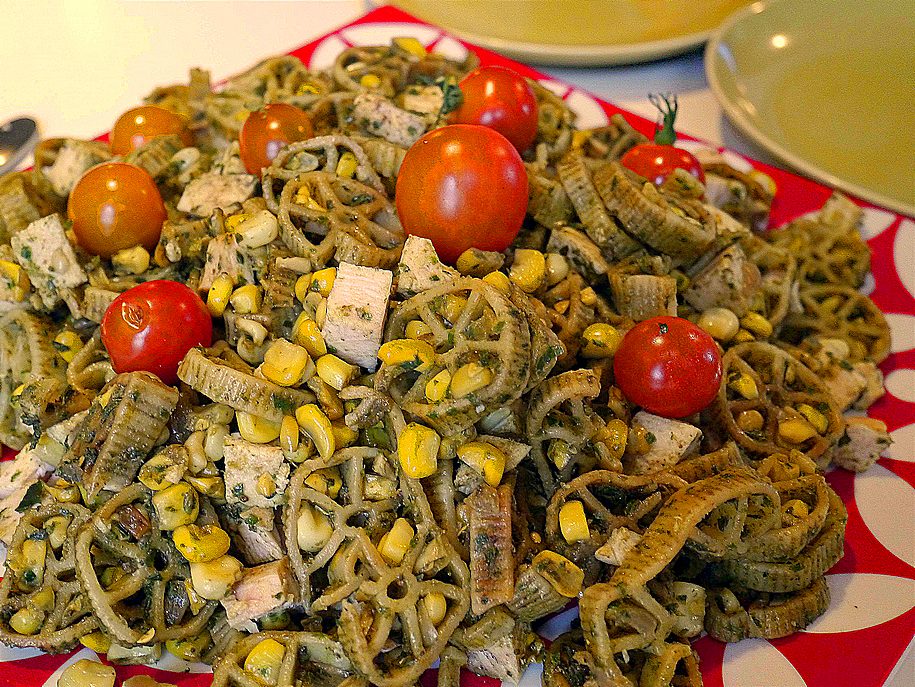 For the next couple of posts, we'll been doing the reverse of "bringing the taste of travel back home." When we're faced with long road trips in the summer, we often resort to dishes that bring the taste of home out on the road.
One of our stand-bys for rest-stop picnics or campground suppers is a pasta dish we call "pesto salad." That's shorthand. The dish evolved pretty much by accident. We grow a lot of basil in our garden. When it flowers madly in hot weather, we keep the growing tips clipped to prolong the season. That means we have a gallon or so of basil sprigs every few days. Since it doesn't refrigerate well, we turn it into pesto, adding a lot of garlic, finely ground pistachio nuts (in place of pine nuts), Parmigiano-Reggiano cheese, olive oil, and salt. We'd like to pretend that we do it the old-fashioned way with a mortar and pestle, but we confess to relying on a food processor to speed things up.
With lots of pesto on hand, we often resort to pasta with pesto as a quick meal. One week we also had a batch of fresh corn to use up, so we added sautéed corn and onion to the pasta with pesto. It made a great, if carb-heavy meal. Because we had used rotelle pasta ("wagon wheels"), the corn nestled in the nooks. We thought it could also be good cold, and saved some aside. But the cold version needed some protein to make it into a main dish. So we cubed up some leftover charcoal-grilled chicken breast meat and accented the salad with some cherry tomatoes from the garden. We've been making it that way ever since.
PESTO SALAD
Serves 4 as a main course
Ingredients
1 tablespoon oil
1 tablespoon butter
1 medium onion, diced
1/2 teaspoon salt
5 ears fresh corn, kernels stripped from cobs
250 grams dry pasta (rotelle preferred)
1/2 cup pesto
12 ounces cooked chicken, cubed
1 cup cherry tomatoes
Directions
In large skillet, heat oil and butter. Add onion and salt, cook until onion begins to soften. Add corn kernels and cook, stirring frequently, until corn softens and turns sweet.
Cook pasta in salted boiling water until al dente. Drain and add to corn mixture. Add pesto and stir well to combine. Add chicken and stir again. Remove from heat and allow to cool before refrigerating.
To serve, place on large serving plate and top with cherry tomatoes.