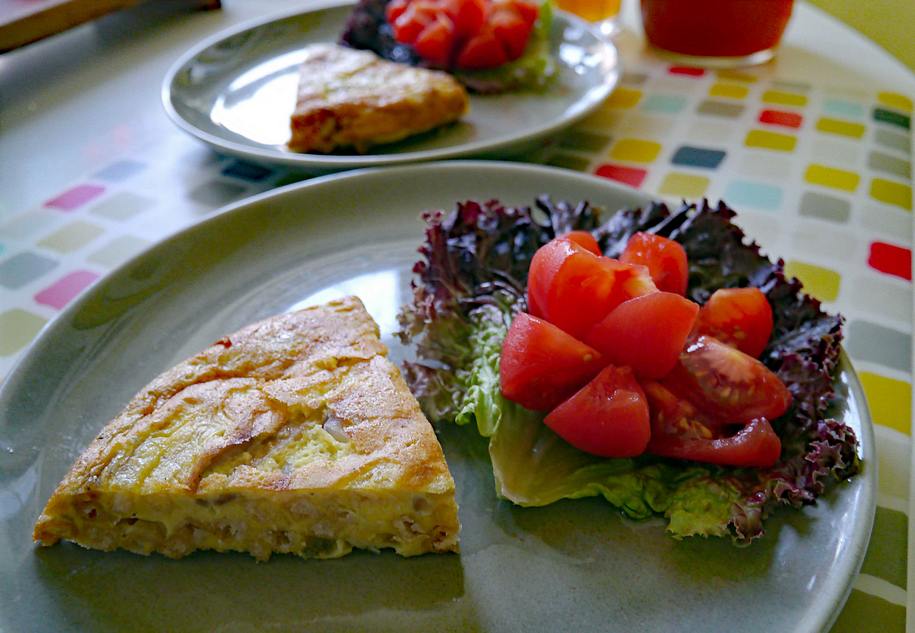 Wherever we go, the local cuisine always seems to have a go-to item—something easily ordered, quick to prepare, widely available, and nearly foolproof. In much of the U.S., that's often a hamburger. In France, a slice of quiche and a salad. In Spain, it's the potato omelet, or tortilla española.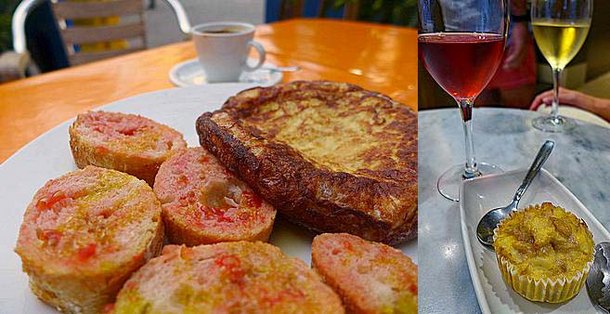 You never know where you'll get a great tortilla. The lowliest dive bar serves tortilla and bars attached to fancy restaurants offer it. You can even get a decent one in the refrigerator cases in many supermarkets. The tortilla can be the model of simplicity—a magical amalgam of eggs, potato, onion, and olive oil. That's the first image on the right, shown with tomato-rubbed bread in La Gardunya at the back of La Boqueria market in Barcelona. Or tortilla can be a bit of legerdemain, a gourmet riff on a familiar trope. We ate the "cupcake" tortilla at the far right at Restaurante Adagio (adagiotapas.com) in Barcelona. It was rich with diced chorizo and (we think) duck fat. Honestly, one of the best examples of tortilla española that we've ever tasted was at a truck stop outside Zaragoza on the highway from Madrid to Barcelona.
Bringing tortilla back home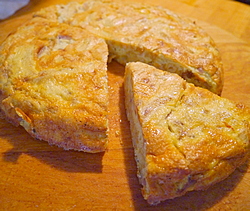 Just thinking about tortilla makes us want a slice. But we don't make them at home as often as we'd like because deep-frying the onions and potatoes makes such a mess of the stove. Then we started thinking about superchef Ferran Adrià's trick of making tortilla with Spanish potato chips, which are usually fried in olive oil. In Spain, you can buy great, freshly fried potato chips everywhere.
So we wondered, why not use french fries? We grabbed an early dinner on the road at Nick's Place in West Newbury, Massachusetts (nicksplacewnewbury.com), and deliberately ordered more of their excellent fries than we could finish between us. We slid half the fries into a doggie bag, brought them home, and stored them in the refrigerator. Here's the recipe for tortilla española made with leftover french fries. The picture is at the top of this post. It was terrific. We hear that McDonald's is giving away free fries every Friday for the rest of the summer. We know what we'll be eating.
TORTILLA ESPAÑOLA AMERICANA
Serves 2 for a meal, 4-6 as tapas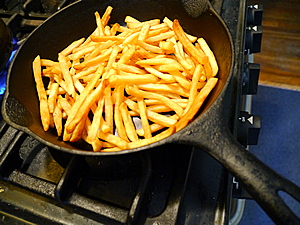 INGREDIENTS
about 2 cups leftover french fries
6 eggs
2 tablespoons fruity olive oil
1 medium onion, diced
salt
DIRECTIONS
Set oven to 350°F.
Place french fries in well-seasoned 9-inch cast-iron frying pan. Place pan in oven to warm fries.
In large bowl, whisk eggs until slightly frothy. Remove fries from oven and dump into eggs. Mix well, pressing to break the crisp surface of potatoes. Set aside.
Add olive oil to hot frying pan and heat on low. Add onions to oil and sprinkle with salt. Cook until onions are soft. Dump onions and oil into egg mixture and stir well.
Pour egg mixture into hot pan and return to oven for 15-18 minutes, or until egg is well set. Turn out onto board and cut into slices.