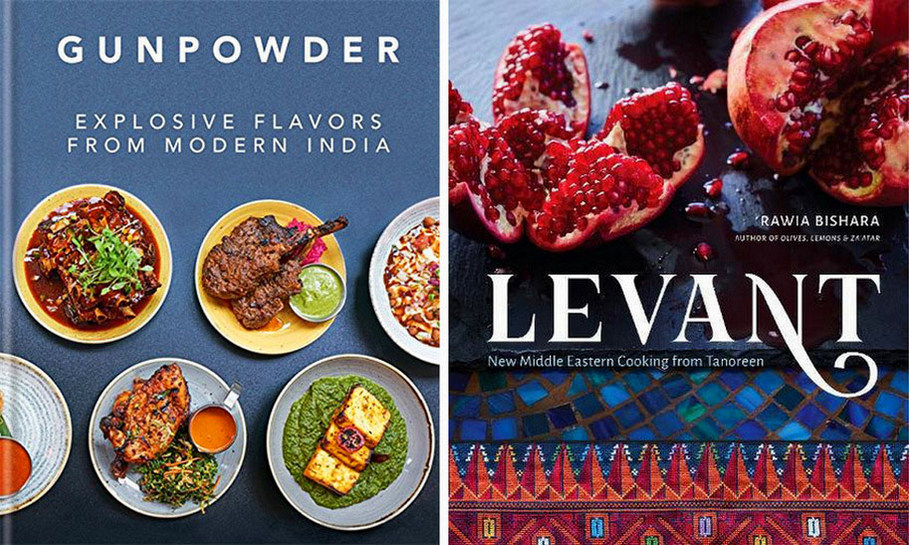 For the last couple of weeks, we've been staring at a pair of cookbooks on our living room coffee table. One is Gunpowder: Explosive Flavors from Modern India, the other Levant: New Middle Eastern Cooking from Tanoreen. But instead of inspiring us to rush to Whole Foods and stock up on ingredients, they're making us consider booking some airline tickets. We tend to read cookbooks the way some people read guidebooks. We realize that this tendency works against our long-term interests, since we actually write guidebooks and don't write recipe books. But we can't help ourselves. Food is the easiest gateway into culture, and as we read the recipes, we imagine ourselves in distant kitchens.
It doesn't hurt that both books are written by expatriate restaurateurs. Harneet Baweja and Devina Set hail from Kolkata, and their chef Nirmal Save from Mumbai. They opened Gunpowder in London in 2014. While they recognized that Brits are very fond of curries, the trio wanted to represent the more subtle variations of Indian home cooking. The restaurant, by the way, is named for a pungent, piquant mix of pulses and spices widely used in homes around South India. The recipes are complex, but the notes with each one—and the loving images of India—make us long for a home cooking neither of us learned at our family table.
Rawia Bishara grew up in Galilee. While much of her cooking is nominally Palestinian, she draws on the Middle East more broadly for her New York restaurant Tanoreen. Levant is something of a followup to her first book, Olives, Lemons & Za'atar. The new volume departs from the traditionalism of the first to adapt the flavor profiles of Middle Eastern and Arabic cooking to a broader range of ingredients. (Quinoa, for example, missed its calling. Had it originated in the Old World, it would be a staple in every form of Mediterranean cookery.) The recipes come from her restaurant, so to some extent they are pre-adjusted to American tastes. Since our own home cooking leans heavily on Mediterranean fare, her dishes seem less exotic to us. But she still manages to stir our wanderlust. Would a lentil and noodle pilaf taste different in Egypt? How about stuffed tomatoes in Palestine? We may have to find out.
Both books are technically published this month. Follow the links to buy them on Amazon.
Gunpowder: Explosive Flavors from Modern India by Harneet Baweja, Devina Set, and Nirmal Save (copyright 2018 Kyle Books)
Levant: New Middle Eastern Cooking from Tanoreen by Rawia Bishara (copyright 2018 Kyle Books)