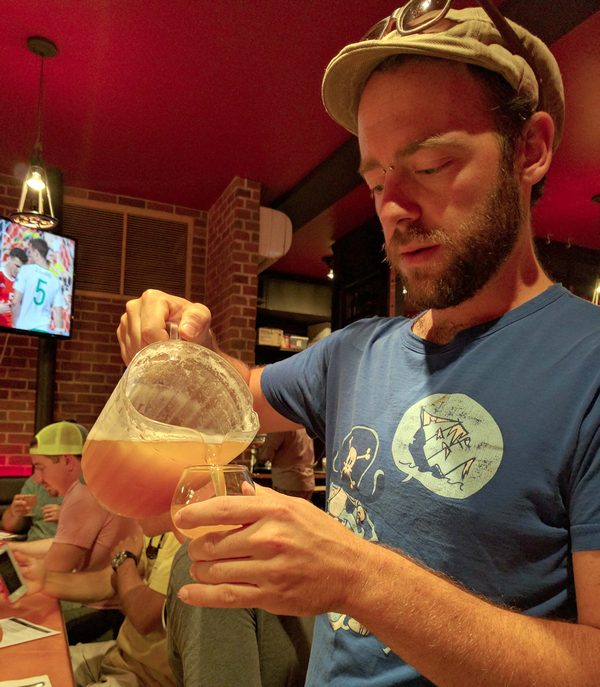 With Heineken as one of the sponsors of the Montreal Jazz Festival, there's no shortage of beer for sale at the outdoor food and drink stalls. But if you are a hops-head looking for something more than a quick thirst quencher, you might want to set aside time for a Montreal Brewpub Experience (montrealcraftbeertours.com).
On a previous visit to Montreal, we joined one of the walking and tasting tours—along with a group of extremely cheerful guys on a bachelor party getaway. Stéphane Lussier (our guide shown at right) told us that Montreal jumped on the craft beer bandwagon about 30 years ago. He also pointed out that Montreal is one of the biggest brewing cities in North America. In addition to brewing giants Labatt, Molson, and MacAuslan (St-Amboise), Montreal has more than three dozen microbreweries and brewpubs. (The province of Quebec has about 250, suggesting that Quebeckers really like their suds.) The three-hour tour can only touch on three, but they give a nice introduction to the Montreal craft beer style.
Ales and lagers and stouts, oh my!
We began our journey at the fun and funky beer bar of Brasserie St-Bock (1749 rue Saint-Denis, 514-680-8052, saintbock.com). The colorful brewpub with a mock liturgical theme offers 44 craft beers on tap (en fût), 20 of them brewed on the premises. The tour tastes two seasonal specials. We started with a cloudy, spiced blonde and moved on to a brown ale spiked with smoky, hot chipotle pepper. It was a perfect match to a plate of poutine featuring a gravy made with a malty, dark Belgian ale.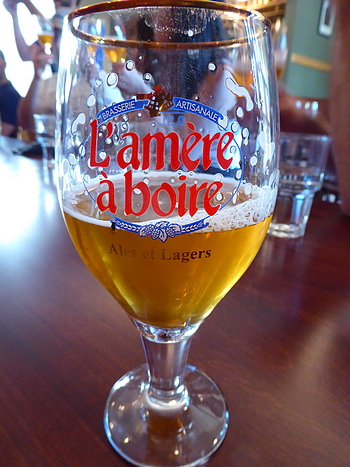 Heading up onto the Plateau, our second stop was L'amère á Boire (2049 rue Saint-Denis, 514-282-7448, amereaboire.com). Just as St-Bock is dark and moody and makes a lot of heavily flavored ales, L'amère á Boire is bright and airy and makes many a crisp lager. In fact, lagers are their specialty, even though they are more challenging than ales. For one thing, they require a greater dosage of yeast to brew. And they need to age (or lager) for several months. We tasted a Czech-inspired Černá Hora made with Saaz hops and pale malt. It was crisp and bright and cut through the salt and sugar of the tray of beef gravlax. Our second beer was a nice hefeweisen—half barley, half wheat in the malt bill—that was just tart enough to complement some Quebec cheddar.
We concluded at Benelux (245 rue Sherbrooke Ouest, 514-543-9750, brasseriebenelux.com), which has raised the natural pairing of hot dogs and beer to a fanciful gourmet option. While the brewpub does serve some panini, the Euro Dogs are the real specialty. They're available in either spicy pork or mild veal. We tasted a sunny pale ale that we could drink all day with hot dogs. Then came the treat. We were surprised to discover that La Marge, the brewpub's chewy stout, changes flavor when sipped with a range of milk and dark chocolates.