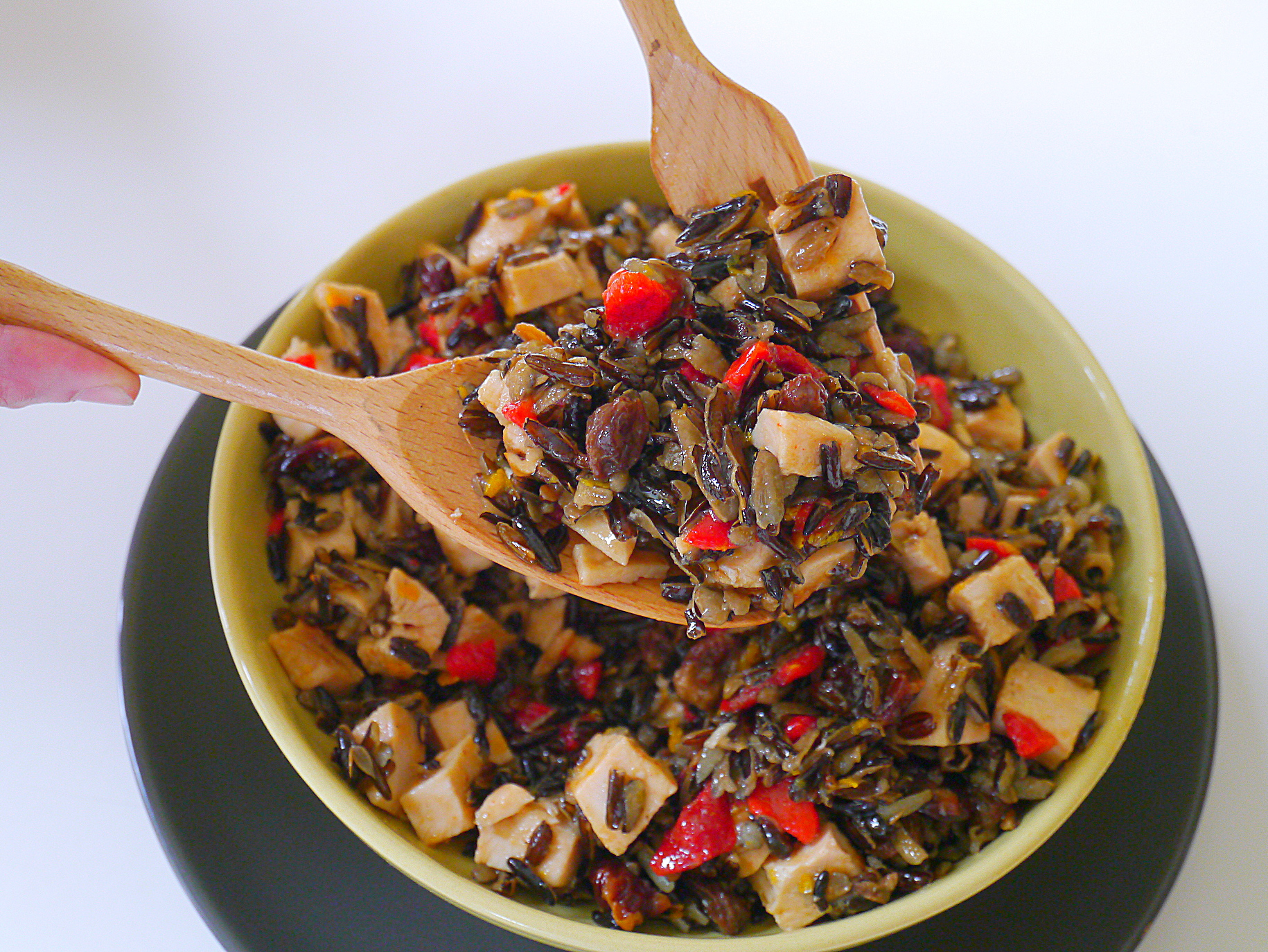 This nutrient-dense and filling wild rice salad has seen us through many an epic road trip. Sealed in plastic containers, it keeps well in a cooler with ice. We've enjoyed it on picnic tables between lighthouses on the Maine coast and, most recently, on a trip down the entire length of the Connecticut River via the various river roads of Vermont, New Hampshire, Massachusetts, and Connecticut.
The original recipe came from the Boston Globe food section a few decades ago. In those days, wild rice was considered an indulgent delicacy. Then Trader Joe's got into the act. In fact, we stock up on TJ's wild rice and dried Montmorency cherries every time we visit. We have long since lost the original clipping, but to look at the editing history of our recipe file, this dish has been tweaked many times over the years. It remains a favorite. For what it's worth, the salad without chicken makes a great side dish to roasted meats.
Wild rice, chicken, and cherries salad
Serves 6 as a main course
Ingredients
1 1/3 cups wild rice
4 cups chicken broth
2 Valencia oranges, grated peel and juice
1/4 cup white wine vinegar
black pepper to taste
1/3 cup olive oil
12-16 oz. smoked or roasted chicken breast, cubed
1/3 cup raisins, puffed
1/2 cup tart dried cherries
1 red pepper, fire-peeled, seeded, and chopped
Directions
Cook rice in broth until grains burst, about 1 hour.
While the rice is cooking, prepare the dressing. Whisk together the orange juice, grated peel, vinegar and black pepper. Gradually whisk in the oil. Add chicken, raisins, cherries, and red pepper and let marinate while rice cooks.
When rice is done, drain and add to mixture. Let cool, stirring occasionally. Cover and refrigerate for several hours. Serve tossed with torn lettuce.