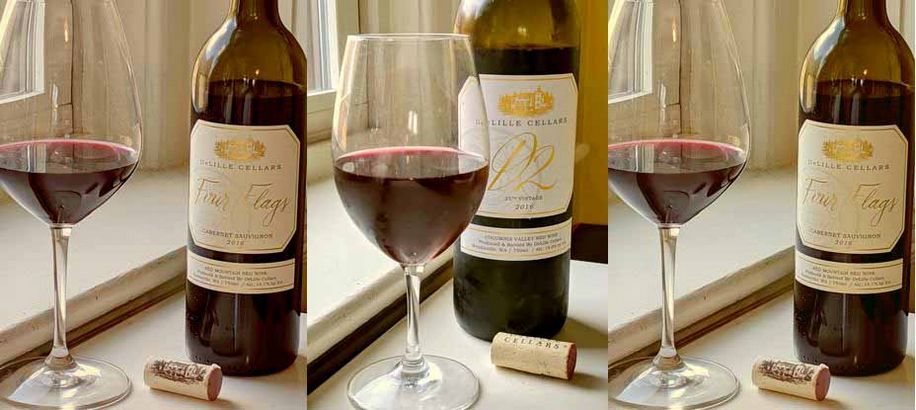 t's a complicated story, but Pat's former step-grandfather-in-law was a Frenchman who believed in drinking excellent wine with simple food. He was convinced that Châteauneuf-du-Pâpe elevated charcoal-grilled hot dogs to a gastronomic occasion.
We carry on his vision in our household. We don't eat a lot of red meat—except in the summer, when a charcoal grill can make a hamburger the apotheosis of American cuisine. We enjoyed just such a burger in the backyard with a superb red wine—the 2016 Four Flags Cabernet from DeLille Cellars (14421 Woodinville-Redmond Rd. NE, Woodinville, WA; 425-877-9472; delillecellars.com). Founded in 1992, DeLille resides in the top echelon of Washington State wineries.
By focusing on Cabernet Sauvignon from four old vineyards in the Red Mountain AVA (part of the Columbia River AVA), DeLille produces a lush American Cabernet with a French accent. Blueberry and pomegranate flavors are enhanced by bright redcurrant fruit. Cedar and lavender notes are present but subdued, letting the elegant structure of the wine make a strong first impression. It blossoms in the glass over time, suggesting it will age well. Suggested retail is $68.
It was a good reminder that despite having a flood of excellent European wines here on the east coast, we shouldn't overlook west coast regions beyond the usual suspects in Napa and Sonoma. The Four Flags was good enough to make us look much closer at DeLille Cellars, which is Washington State royalty.
2016 D2
Named for the French D2 highway through Bordeaux wine country, this blend is mainly Merlot with about a third Cabernet Sauvignon and some small amounts of Malbec and Petit Verdot. The velvety smooth wine offers complex fruit with pronounced notes of blackcurrant, violet, and fresh blueberries. The oak aging rounds it out with faint notes of chocolate and sweet cherry. This is the 25th vintage of this remarkable blend, proof that by focusing on the Red Mountain AVA, DeLille makes the case for an American Bordeaux. Suggested retail for D2 is $45. The perfect match was a ribeye beef salad with roasted sweet red peppers.
2018 Chaleur Blanc
DeLille's first white wine, Chaleur Blanc is a barrel-fermented blend of Sauvignon Blanc and Semillon. Those are the classic grapes for white Bordeaux, and Chaleur Blanc could pass for its French cousin in a blind tasting. A highly nuanced white with a gorgeous golden hue, it has a delicious complexity and tingling acidity. The fruit provides grapefruit citrus notes and a nice overtone of tarragon that is complemented by the eucalyptus notes introduced by the barrel. Fresh and clean, it's a perfect complement to grilled swordfish or even grilled eggplant. Suggested retail is $35.