Unless we're having wine, one of us (David) could eat breakfast for every meal of the day. That penchant led to a fortuitous discovery. We based our sojourn to Long Island's North Shore at the Greenporter Hotel (326 Front St., Greenport, 631-477-0066; greenporterhotel.com), which is a well-maintained motel within walking distance of everything in the village. Years back, we would have eaten breakfast down the street at the Coronet Luncheonette on the corner of Front and Main streets, a village institution since 1949.
In 2016, the place became Crazy Beans (2 Front St., Greenport; 631-333-2436, crazybeansrestaurant.com). It's run by Tim and Callie Brennan Martino, who have two other such breakfast-lunch spots in Miller Place and Stony Brook. The Martinos knew a good thing when they saw it, so Crazy Beans retains the layout, fixtures, and some of the décor from the old Coronet. We've been told that the soda fountains and milkshake blenders are the same as installed 70 years ago.
Crazy Beans still offers simple luncheonette standards such as burgers, fries, grilled eggs, and a bunch of sandwiches. In a nod to summer extravagance, Tim Martino has added his own touch with a whole summer lobster menu.
Which brings us to breakfast, or more specifically, to "2 Eggs any style served on our Homemade Lobster Hash made with Roasted Red Peppers, Bacon, & Shredded Potatoes, served with choice of toast 16.95." David went with eggs over easy, which provide the same runny yolk sauce as poached. Think of it as heaven on a plate.
Figuring out a how to make lobster hash at home
No, we didn't get Tim Martino's recipe for lobster hash. But it's not exactly a secret. Folks have been making lobster hash with potatoes, onion, and red pepper since the days when Maine coastal canneries dealt with an overabundance by preserving cooked lobster in tins. As reference, we looked up the version chef Jasper White published in 1998 in Lobster at Home, a masterpiece that remains one of our favorite fish cookbooks ever. Click on the title to buy it on Amazon.
Although Jasper is the dean of Boston seafood cookery, we fiddled a little with his recipe to suit our own needs. For one thing, we don't generally have a couple of lobsters on hand. So we decided to simplify to produce a one-serving recipe that can be easily scaled up. It uses one lobster tail per serving. If you buy them frozen, be sure to thaw in advance of cooking. If you live in a small place, as we do, and want to keep the lobster from smelling up the house, try cooking the tail(s) in a pseudo sous vide. Place tails in a 1 quart zipper freezer bag and add enough water to cover. Add a generous tablespoon of sea salt. Submerge the bag in a bowl of water and force out any air before closing. Heat a pot of water to 200°F. Add bag and adjust heat to maintain 200°F. Steep for 7-8 minutes. Remove bag from pot and drain. Presto! Cooked lobster!
Lobster Hash for one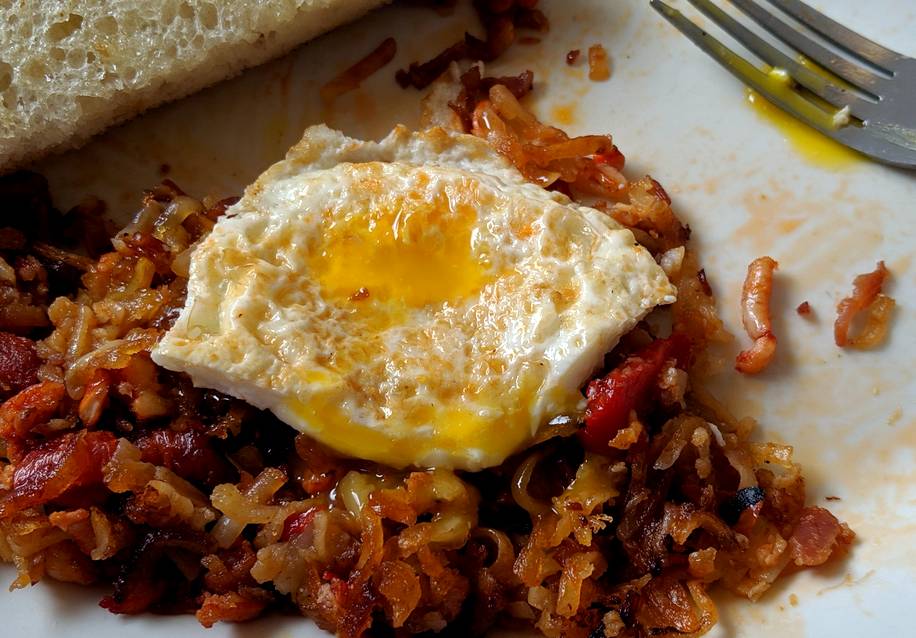 INGREDIENTS
1 thick slice smoky bacon
1 shallot, peeled and diced
1 small red pepper, peeled and chopped in 1/2-inch dice
4-5 ounces tiny potatoes, boiled and chopped in 1/2-inch dice
1/2 teaspoon dried thyme leaves
1/2 teaspoon sweet Hungarian paprika
1 lobster tail, cooked and chopped in 1/2-inch dice
sea salt
freshly ground black pepper
2 eggs
DIRECTIONS
In cast iron pan, cook bacon until crisp but not too dark. Remove bacon to drain.
Add shallot and red pepper to pan and cook until shallot is soft. Crumble bacon into potatoes and add to pan. Add thyme and paprika. When potatoes are soft and have absorbed fat, remove mix to a bowl and stir in lobster meat. Mix well, mashing as you do so. Season to taste with sea salt and black pepper. Form into a ball and flatten to form a 5-6 inch cake. Either return to pan to fry immediately or wrap in plastic wrap and refrigerate.
Fry or poach the eggs, frying hash cake at same time in a separate pan. Serve hot, pricking a yolk to make it run over the hash.