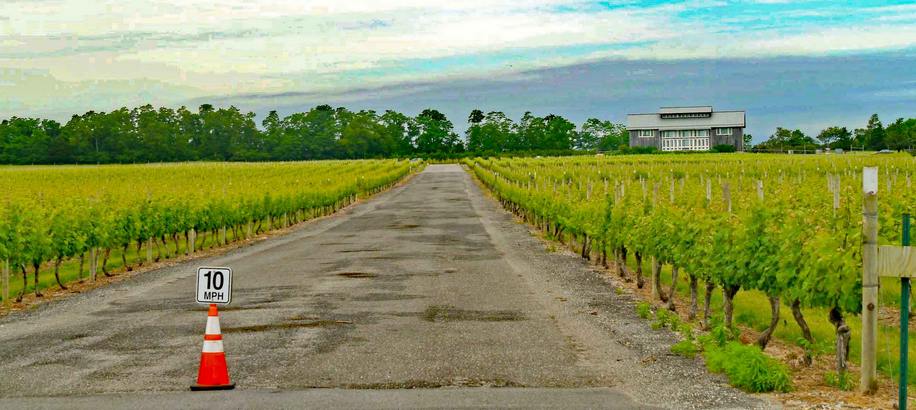 Just as there are no ugly babies, there are really no ugly vineyards. But let's grant that some vineyards—and definitely some wineries—are grander than others. And why shouldn't the folks who can afford it exchange vows by the vines? We also suspect that corporate retreats go better when accompanied by a little wine. Which brings us to Kontokosta and Sparkling Pointe, two of the North Fork wineries that seem very much in sync with the lifestyle aspirations of Long Island's South Fork.
Kontokosta makes a terrific first impression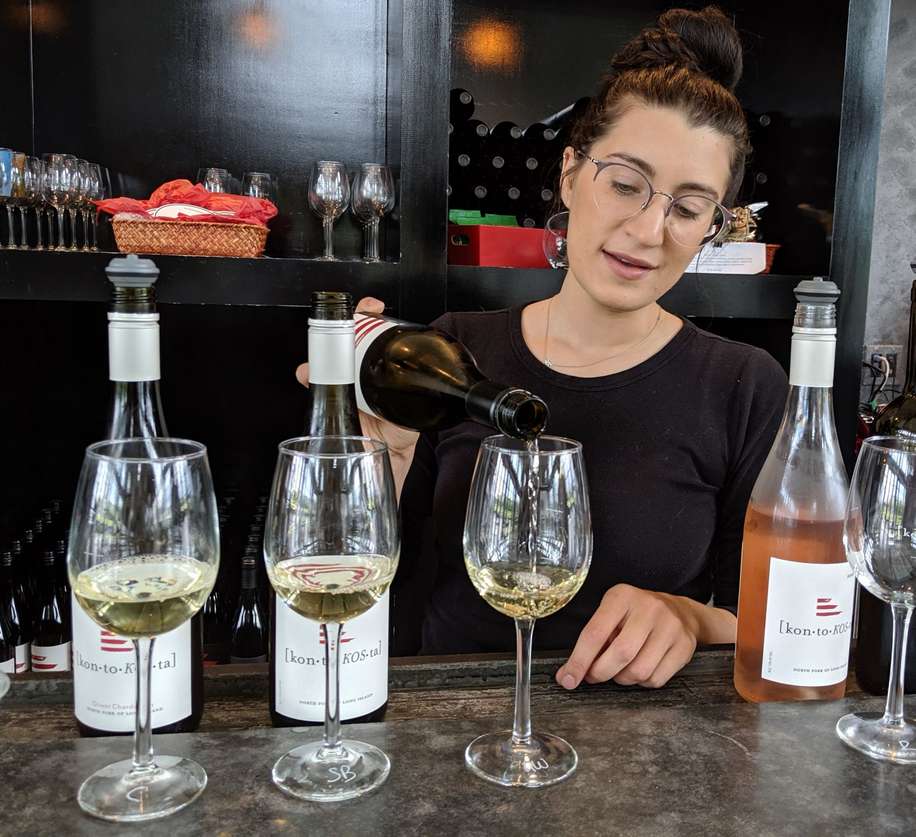 If you visit the North Fork, as we did, via the Orient Point ferry, Kontokosta (825 North Road, Greenport; 631-477-6977; theharborfrontinn.com/kontokosta-winery) is the first winery to appear along the main road. The winery and vineyards are perched on a high bluff above the north shore, and the drive through vineyards to the admittedly beautiful 7-year-old facility (at top of post) has a real sense of grandeur about it. The tasting room itself is a soaring space in a handsome, minimalist style. But it's not all good looks. Kontokosta uses wind turbines to meet 80 percent of its power needs. It also make some good, if still young wine.
Since we got two tastings for the price of one with our ferry ticket, we tried six wines. Given that the oldest vines date from 2006, the wines show a lot of promise. The acidity of the 2017 Chardonnay showed a wholehearted embrace of the classic cold-climate treatment of that grape, and the 2017 Sauvignon Blanc was well rounded, bright and grassy. We were sorry to taste so much American oak on the blended Anemometer White, and the Cabernet Franc had a tad too much green pepper flavor for our taste. (And it really is a matter of taste.) The Merlot-Syrah blend, Anemometer Red, however, was well-rounded and mellow, with nice saddle leather notes on the nose and a big fruitiness on the palate. We'd pour it with a thick ribeye in a heartbeat.
Celebration never stops at Sparkling Pointe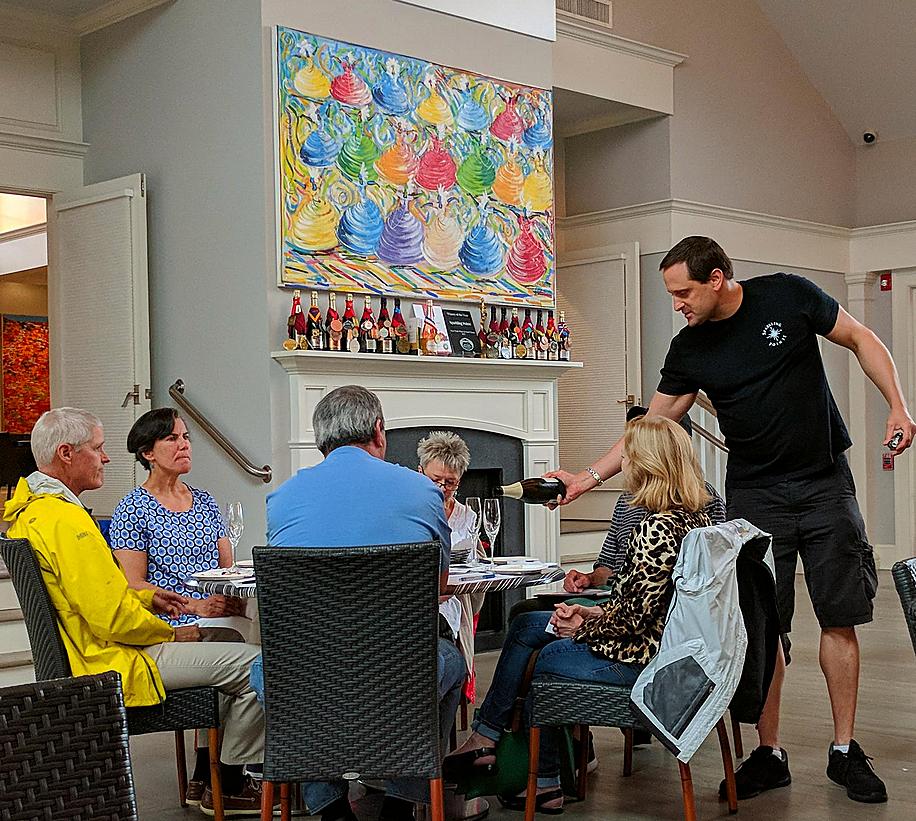 The North Fork climate and soils lend themselves well to growing cold-climate Chardonnay, Pinot Meunier, and Pinot Noir—which happen to be the classic grapes of Champagne. Owners Cynthia and Tom Rosicki make sparkling wine, and nothing but at Sparkling Pointe (39750 Route 48, Southold; 631-765-0200; sparklingpointe.com). They are also big fans of Carnaval in Rio de Janeiro, so one of their sparkling lines is called "Carnaval." The glamorous tasting room at Sparkling Pointe features sparkling glass chandeliers and lots of tables in a bright room lined with colorful art reflecting Rio's holiday season. You can go to the bar for a tasting, but proper protocol suggests taking a seat at a table and ordering there. It's clearly a convivial place.
We tried just two wines to get a feeling for the house style. The winemaker here is Gilles Martin, who has his hand in a lot of North Fork wines, including those at Kontokosta. Martin has an impeccable pedigree, including a stint with California's Roederer Estate and work back in France in Champagne.
The house mainstay Brut, which retails at $30, begins with promising bready notes and good bubbles. But the effervescence fades quickly and the young vines have yet to develop the complexity of flavor we were looking for. Still, it's a great party wine. Split it into five glasses and they'll be gone before the bubbles. We were curious about the Carnaval Rosé ($36) which is made with Merlot rather than the traditional Pinot Noir. It's an interesting twist, and produces some tangy strawberry and blackcurrant flavors that are probably very popular with habitual Merlot drinkers. It's not Champagne, but that's not the point(e). It's a celebratory sparkler from Long Island for Long Island.