As on the mainland, farmers' markets are thriving in Honolulu as more and more people embrace fresh, local foods. The best market for visitors—who don't have to gather all the ingredients for dinner—may be in the pretty atrium at the Hyatt Regency in Waikiki (2424 Kalakaua Avenue). It's held on Tuesdays and Thursdays from 5 to 8 p.m. and has a nice array of exotic fruits, such as the spiny red and slightly acidic rambutan or the sweeter lychee. There are also plenty of options for a quick snack, such as bowls of diced mixed fruit or coconut juice straight from the shell. The market is also a great place to pick up food gifts for the folks back home. You'll find local coffee and coffee jelly, green tea, ginger chips, sea salt, and an array of fruit butters, including guava, mango, lilikoi, and haupia.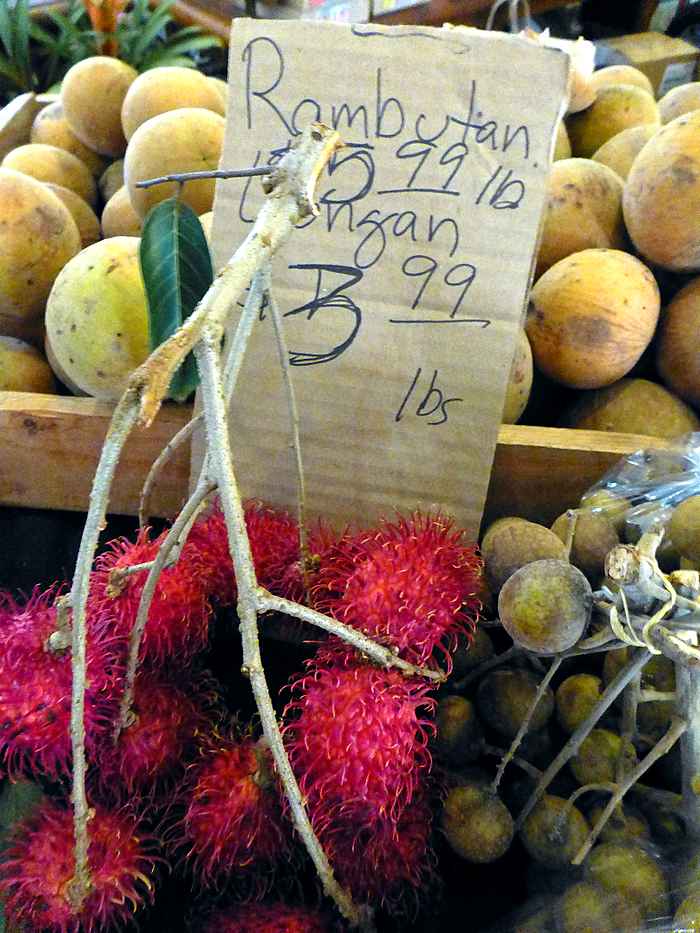 Several bakers also set up tables offering everything from malasadas, or "Portuguese donuts," to loaves of guava bread and pineapple-macadamia nut muffins. I was most intrigued with the muffins, though no one was willing to share their recipe. Those that I sampled were very tasty but quite dense and perhaps a little too moist. I'm guessing that the bakers used canned crushed pineapple, since the enzyme in raw pineapple breaks up protein chains and messes up the way baked goods rise. But I liked the flavor combination and the textural contrasts of the pineapple and nuts, so I decided to come up with my own version once I got back home.
I started with a classic muffin recipe that can be altered to add fruit and nuts, and crossed it with an unusual recipe for dried fig muffins from The Williams-Sonoma Baking Book. I thought I would like to use dried pineapple, but those pineapple tidbits can be tough compared to the soft crumb of a muffin. The fig muffin recipe called for soaking the figs in hot apple juice. I thought orange might go better with pineapple, so I grated the peel, squeezed the juice, heated it, and added the pineapple bits. They soaked for 10 minutes, and voila!, I had pineapple with the right texture for muffins and without the sogginess of crushed fruit.
PINEAPPLE MACADAMIA NUT MUFFINS
Makes 12 muffins
Ingredients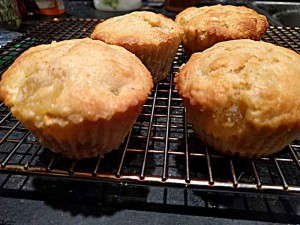 2 juice oranges
1 cup dried pineapple cut in raisin-sized pieces
2 cups flour
1 tablespoon baking powder
1/2 teaspoon salt
1/4 teaspoon ground nutmeg
1/4 teaspoon baking soda
2 large eggs
1/2 cup tart yogurt
1/2 cup milk
2/3 cup packed light brown sugar
8 tablespoons (1 stick) butter, melted
1 teaspoon vanilla
1/2 cup chopped macadamia nuts
Directions
Grate peel from the oranges, then cut and squeeze for juice. Heat juice and peel to near boiling. Add pineapple pieces and soak 10 minutes. Remove pineapple and grated peel from juice with slotted spoon and reserve.
Preheat oven to 400°F. Grease 12 muffin cups,
In a large bowl, combine flour, baking powder, salt, ground nutmeg, and baking soda. Whisk to mix thoroughly
In another bowl, beat together eggs, yogurt, and milk. Beat in brown sugar, melted butter, and vanilla.
Add the egg-sugar mix to the flour mixture and stir just enough to moisten all the ingredients. Batter will be lumpy. Fold in the reserved pineapple and orange peel and add the macadamia nuts.
Fill muffin cups 2/3 full (a rounded quarter cup of batter). Place in oven and bake 14–16 minutes—until tops begin to brown and toothpick or cake tester inserted in the middle of a muffin comes out clean.
Cool on rack.