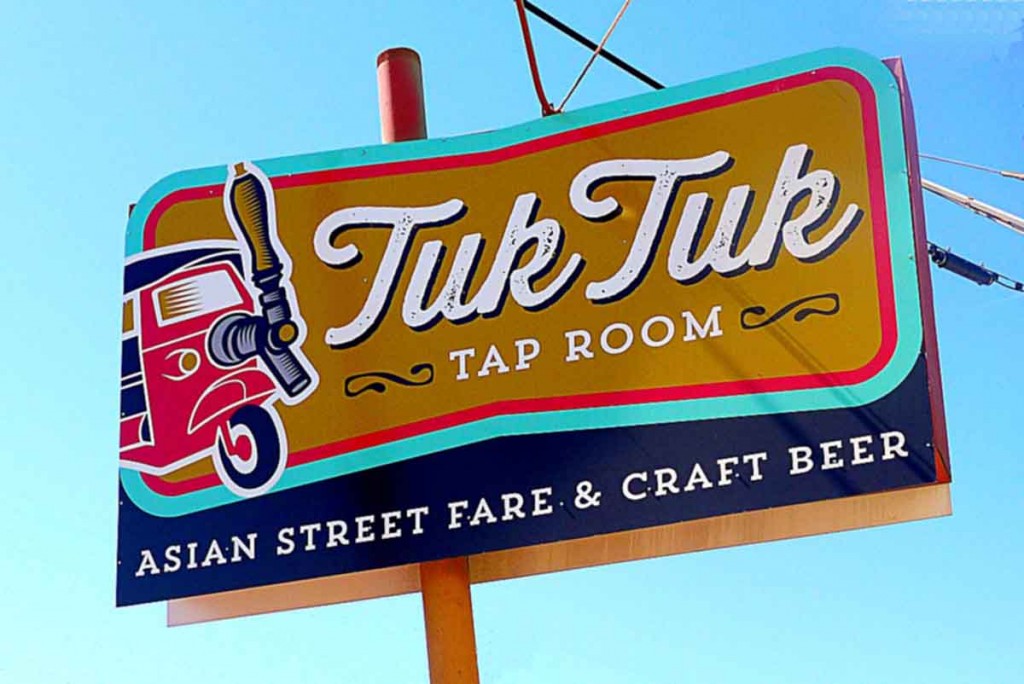 San Antonio certainly has its native spice (thanks to Mexican chile peppers), but David Gilbert has given the city an injection of southeast Asian flavors that pair perfectly with hoppy, malty craft beers at Tuk Tuk Taproom. Raised in Dallas, chef Gilbert has traipsed all over the world to cook — and to dive. Recipient of a StarChefs Rising Chef award for work in Los Angeles and a multiple nominee for James Beard awards for work in San Antonio, he came to the Alamo City in 2011 at the behest of Texas cuisine master Stephen Pyles, who was opening a new restaurant in the Eilan Hotel and wanted Gilbert to run the show for him. Ever restless (see his book Kitchen Vagabond: A Journey Cooking and Eating Beyond the Kitchen), his travels in southeast Asia sealed his culinary fate.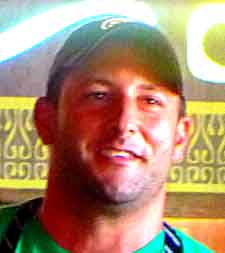 On a extended journey that began as a SCUBA-diving vacation, Gilbert fell in love with the street food of Asia, especially the street food of southeast Asia, and most especially the street food of northern Thailand. "I was tired of placing microgreens with tweezers," he says breezily of the decision to turn his back on a successful fine-dining career to do something funkier — much funkier. In September 2013, he and beer meister Steve Newman opened Tuk Tuk Taproom (1702 Broadway, San Antonio; 210-222-TAPS; tuktuktaproom.com) in a small building that had been both a repair garage and a Mexican fast food joint (not, presumably, at the same time).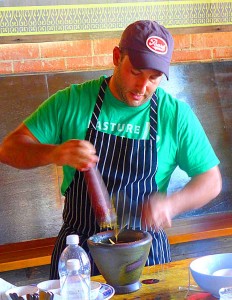 The food, Gilbert insists, is authentic Asian cuisine made the way it's prepared in the streets of Vietnam, Cambodia, Myanmar, Thailand, and other parts of Asia. During San Antonio's Culinaria food festival in May, he demonstrated three different versions of green papaya salad. Our favorite — and the one almost always on the menu (along with 60 craft beers on tap) — is the Thai salad. He insists that the granite mortar and pestle are essential because they break down the food differently than any other technique. He also cautions against putting peanuts in at the beginning, because the result will be too creamy.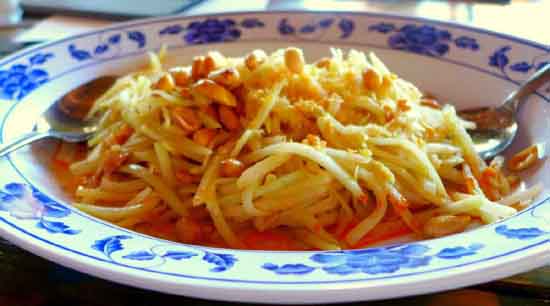 GREEN PAPAYA SALAD, THAI STYLE
You will need a Thai salad mortar & pestle — a deep-bowled mortar usually made of dense granite — to make this salad. Most Asian grocers stock the tool, or David Gilbert advises purchasing it from www.importfood.com.
Ingredients
2 cloves of garlic (peeled)
2 Thai chilis, whole
3 ounces long beans (or substitute green beans)
14 ounces Asian green papaya
1 plum tomato (cut lengthwise)
5 dried shrimp (medium size)
1 ounce fresh squeezed key lime juice
1/2 to 1 ounce fish sauce
1 tablespoon Thai palm sugar
2 ounces roasted peanuts, crushed
Directions
1. Pound the garlic and Thai chili with pestle in the mortar until mashed.
2. Add the long beans and green papaya. Pound again, bruising and breaking down the papaya.
3. Add tomato and shrimp. Lightly pound and mix the salad with a spoon inside the mortar.
4. Add the liquids and adjust the balance between sweet (palm sugar), salty (fish sauce), and sour (lime juice).
5. Add peanuts and mix all together.
6. Remove the salad from mortar and serve with raw cucumber slices and generous hunks of green cabbage.