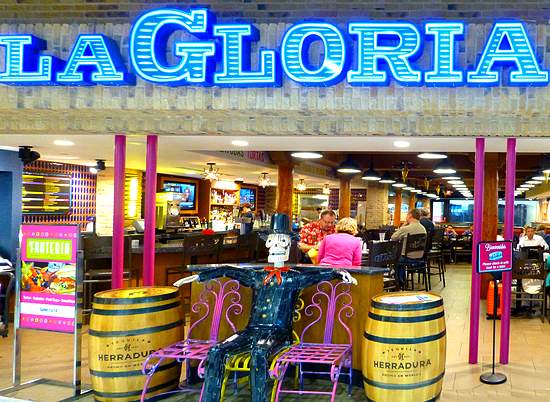 The 8 million people a year who fly through San Antonio's airport (SAT) used to be forced to fall back on fast food chains for something to eat. But last year local chef Johnny Hernandez came to their rescue by opening La Gloria in July and The Fruteria in December. Waitress Ana Mendez at La Gloria explains the reaction of most travelers: "They come in here and think they're going to get Tex-Mex," she says. It's a natural expectation, given that San Antonio might well be the capital of Tex-Mex cuisine. "They're surprised that it's real Mexican food. People really like it."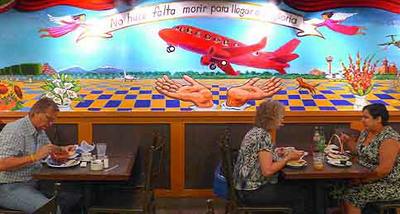 The mural inside La Gloria might say it best: No hace falta morir para llegar a la gloria. That translates loosely as "You don't have to die to go to heaven."
Both La Gloria and La Fruteria open early in the morning, making either a perfect place to start the day in the airport. The most popular breakfast plate at La Gloria is the Mexican brunch classic, chilaquiles verdes. A dish originally designed to use leftovers, it's a casserole of tortillas simmered in a tomatillo-green chile sauce. At La Gloria, the chilaquiles come with shredded chicken, queso fresco, and black beans.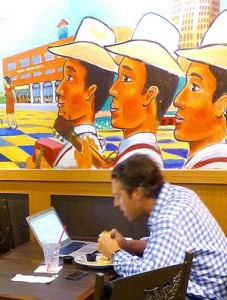 La Fruteria's meal offerings are more limited, emphasizing fresh fruit and vegetable juices along with sandwiches (tortas), tostadas, and salads. But for later in the day, both spots have a great selection of tequilas, including both tequila and mezcal that Hernandez has made for him in Mexico. They go into inventive drinks like the mango melon margarita or the piña mezcal margarita.
We're heard complaints about slow service at La Gloria, but only during really busy travel times, such as holiday periods. Our experience was altogether different — the food almost came too quickly, given the time we had left to kill. But the flavors were the best part: Real Mexican dishes with authentic flavors, including outstanding fresh tortillas.
The mural motto has it just about right.