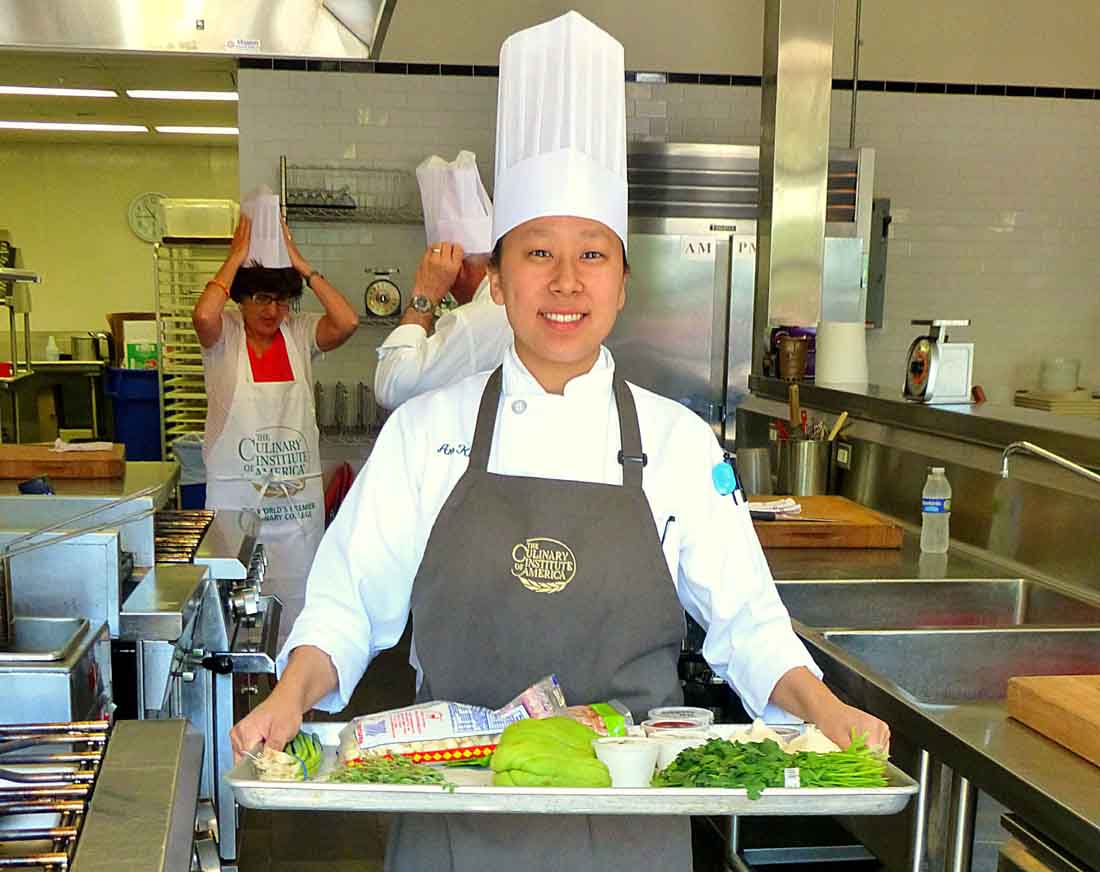 There's nothing like a cooking class to build bridges across cultures, and the San Antonio branch of the Culinary Institute of America has a special interest in the cuisines of Latin America. Its spacious and modern campus opened in 2008 in some of the larger buildings of the former Pearl Brewery. It was a keystone in the development of the Pearl District, a lively area of restaurants and shops and site of a Saturday farmer's market.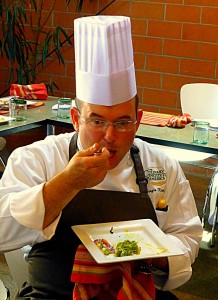 In addition to professional chef training, the CIA offers enthusiast classes for home cooks. During Culinaria in May, we joined a Latin Boot Camp class for a crash course in several styles of South American cooking. The class was led by Sergio Remolina, who hails from Mexico City and studied in France. He wears two hats at CIA: He is the director of Latin Cuisine Studies, and head of the Center for the Foods of the Americas.
The objective of the class was to teach us several different approaches to cooking with acid — as in making ceviche — and to develop an appreciation for the flavor profiles of Andean cuisines. It was not necessarily a class for the kitchen beginner, as Remolina assumed that all the students had fairly well-developed cooking and knife skills. Most ingredients had to be prepped by hand, and if you couldn't peel, bone, and chop quickly, there was no chance of finishing a dish on time to be served with dishes from other teams.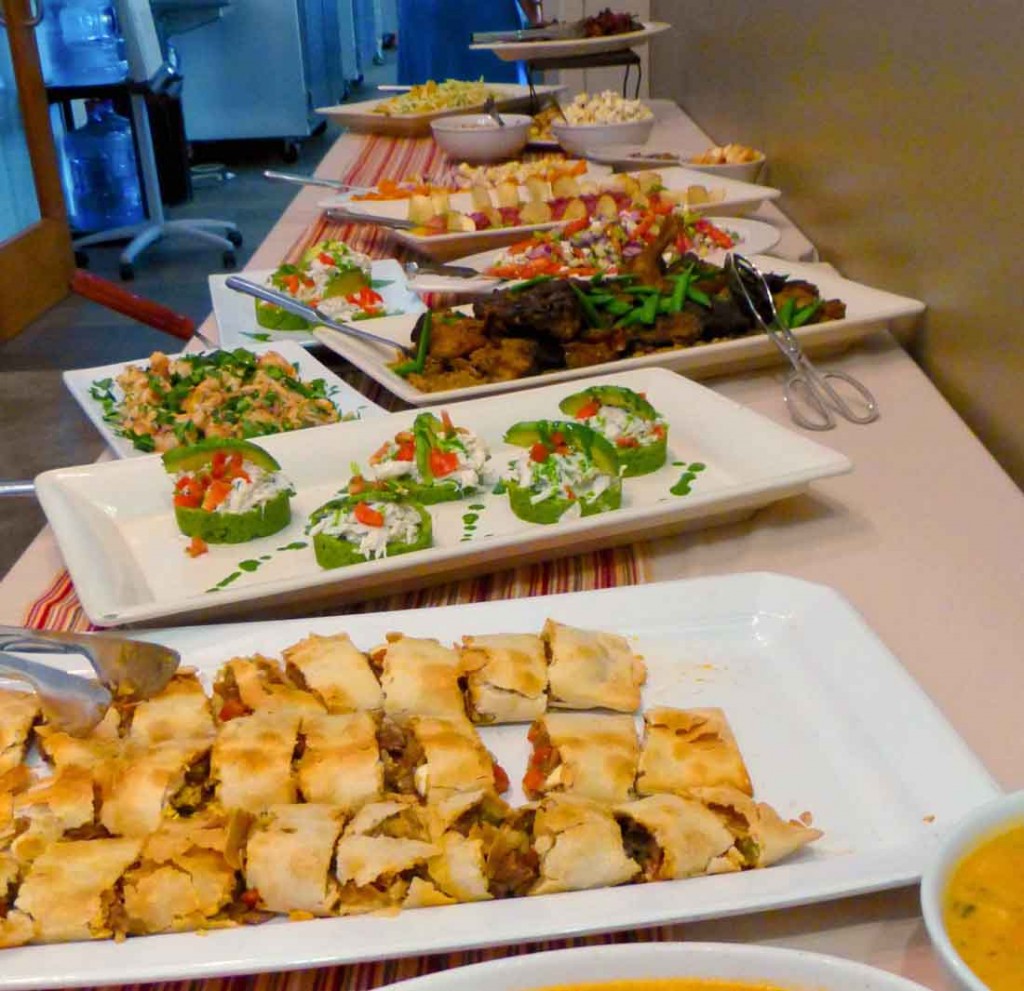 Our team undertook a simple salad of oranges and hearts of palm, lamb kebabs marinated in a complex mix of ingredients, and an Ecuadoran-style shrimp ceviche. Other teams made empanadas, duck with rice, quinoa au gratin, and mashed potatoes seasoned with crab and cilantro. The class culminated with a grand buffet table and a satisfying feast. Here's one of the more straightforward dishes, slightly adapted from the class version.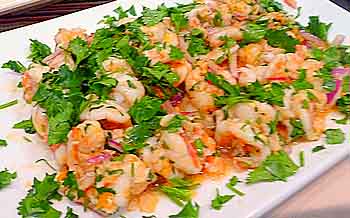 ECUADORAN-STYLE SHRIMP CEVICHE
Makes 8 appetizer-size portions
Ingredients for shrimp
2 lb. medium shrimp with heads and tails intact
2 tablespoons peanut oil
1 cup medium diced red onion
1 tablespoon finely diced garlic
2 cups medium diced tomatoes, cored and seeded before dicing
1 whole red onion
1 cup freshly squeezed orange juice
1 teaspoon garlic paste
2 orange habañero chiles, seeds and veins removed
1/2 bunch cilantro, roughly chopped
Ingredients for marinade
1/2 cup fresh lime juice
4 cups coarsely chopped very ripe tomatoes, cored and seeded before chopping
1/2 cup fresh orange or tangelo juice
1/2 cup ketchup (to taste)
Ingredients for garnish
2 tablespoons finely chopped lightly toasted peanuts
1/2 cup chopped cilantro
plantain chips and/or popcorn as desired
Directions
1. Rinse, shell, and devein shrimp, reserving the shells and heads. Butterfly the shrimp.
2. Make shrimp stock: In a large sauté pan, heat the oil over medium-high. Sear the shells and heads until fragrant. Add the chopped onion, garlic, and tomato and stir until all ingredients are cooked through. Cover with water, bring to a boil, and reduce by half. Strain the concentrated stock through a fine mesh sieve.
3. Transfer strained stock to clean pot, bring to simmer and poach butterflied shrimp for 30 seconds. Strain the shrimp and chill shrimp and stock separately in an ice bath. Reserve 2 cups of stock for this recipe and reserve remainder for other dishes.
4. Slice the whole red onion in half, remove the heart, and finely julienne. Cover red onion with cup of orange juice and chill.
5. Toss the shrimp with garlic paste. Combine the shrimp, red onion mixture, habañero chiles, and cilantro and chill.
6. In a blender jar, combine the 2 cups of reserved shrimp stock, lime juice, ripe tomatoes, orange/tangelo juice, and ketchup. Process until smooth. Strain mixture through fine-mesh sieve and pour over the shrimp. Chill until ready to serve.
7. Just before serving, salt to taste and sprinkle with chopped cilantro and chopped peanuts. Garnish with plantain chips and/or popcorn as desired.