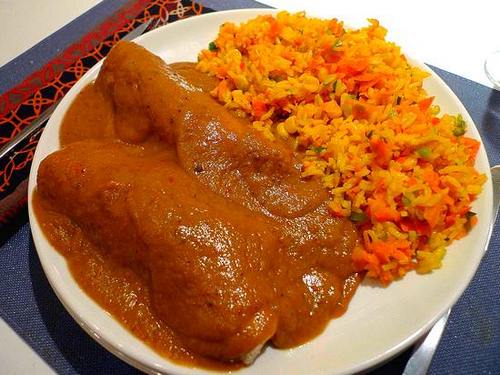 Mole amarillo is a classic sauce for Day of the Dead meals in Oaxaca. When we first started visited the Oaxaca region in the 1980s, we already knew the spicy, chocolate-y mole poblano. But of the seven classic moles, the one that really blew us away was the complex, subtle, and tangibly acidic mole amarillo (yellow mole). It was the first taste of travel that we labored to bring home. In those days, that meant growing our own tomatillos and yellow chile peppers and experimenting a lot to get the flavors right. It really does represent the culmination of our garden, which may be why we introduced mole amarillo with enchiladas into our post-Thanksgiving rotation many years ago. It's a perfect way to use to leftover turkey. We often serve it accompanied by saffron rice mixed with sautéed scallions, corn, and coarsely grated carrot from the excellent New Southwestern Cooking by Carolyn Dille and Susan Belsinger.
The concentrated form of the sauce can be made far ahead, preserved in canning jars, and be ready to eat in 20 minutes. Just follow the directions through Step 3, ladle into sterilized canning jars, and process for 20 minutes at 10-15 lb. pressure. Because it's a high-acid food, it will keep safely in canning jars for up to two years. Or so we think. We've never been able to hold onto it that long.
MOLE AMARILLO (YELLOW MOLE)
Traditional variations of this autumn Oaxacan sauce, often served on the Day of the Dead, substitute dried cascabel peppers for the yellow peppers and marigold petals or safflower stamens for the saffron. Epazote is a common weed all over North America, often found in vacant lots. When crushed, its leaves smell a bit like kerosene.
Ingredients
8 fresh yellow chiles (Fresno, Santa Fe Grande, etc.), roasted, peeled, deveined and chopped
1 raw onion, chopped
6 garlic cloves, peeled and chopped
2 lb. tomatillos, husked, parboiled and drained
1 roasted medium onion
1 roasted head of garlic
1 toasted cinnamon stick
6 toasted whole cloves
2 medium tomatoes, roasted and peeled
1 teaspoon dried oregano or 2 teaspoons fresh
8 epazote leaves, minced
1/2 cup cooking oil
2 tablespoons toasted peanut or sesame oil
1 slice raw onion
generous pinch of saffron
4 cups strong chicken broth
1/2 cup tortilla dough (masa)
Directions
1. Sauté chiles, raw onion and garlic until soft. Purée and set aside.
2. Purée tomatillos, roasted onion and garlic, cinnamon, cloves, oregano, epazote and tomatoes.
3. Heat oils in heavy skillet. Add onion slice and brown. Stir in tomatillo mixture and cook about 30 minutes, stirring occasionally until mole renders out the fat. Stir in chile mixture and simmer about 1 hour or until mixture thickens. Fat on top may be skimmed off.
4. Crumble and dissolve saffron in warm chicken broth. Dissolve tortilla dough in broth.
5. Add to the mole and simmer about 20 minutes until texture of custard, stirring often.
Traditionally served over chicken pieces, enchiladas or as dipping sauce for small tamales.