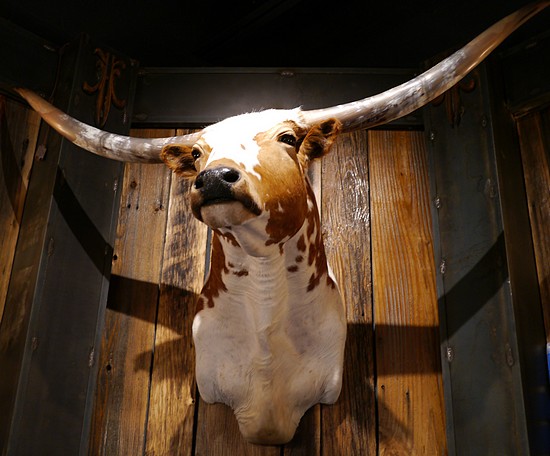 Every city needs an unrestrained steakhouse. From the fiberglass steer in the parking lot to the real taxidermied longhorn on the wall inside, it's pretty clear that Le Moo (2300 Lexington Rd, Louisville, 502-458-8888, lemoorestaurant.com) does steak without restraint.
Le Moo is a major special-occasion restaurant, and like any good over-the-top place, it has one booth of truly over-the-top seating. The upholstery comes from 17 pieces of vintage Louis Vuitton luggage. There's a $500 minimum to reserve it, but it does seat four to five people. And Wagyu steaks with top wines will meet the minimum handily. (Actually, the domestic prime Angus is maybe even beefier and friendlier to the wallet.)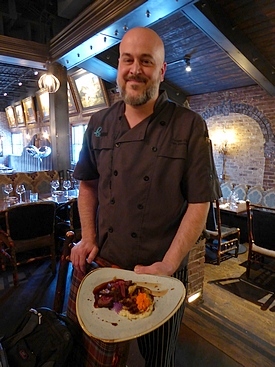 We were visiting with Mint Julep Tours (see the Harvest post), and since it was our second meal of an already young day, we prevailed on our server to split a small steak. Executive chef Chip Lawrence (that's him on the right) had already planned to serve a four-ounce filet for the culinary tasting, even though the smallest steak on the usual menu weighs in at twice that. But a beef filet tapers from the broad Chateaubriand through the filet mignon down to a narrow tail. By cutting closer to the tail, Lawrence could still get a super-thick steak that was a bantamweight by comparison with the rest of the menu.

Steak and grits, oh my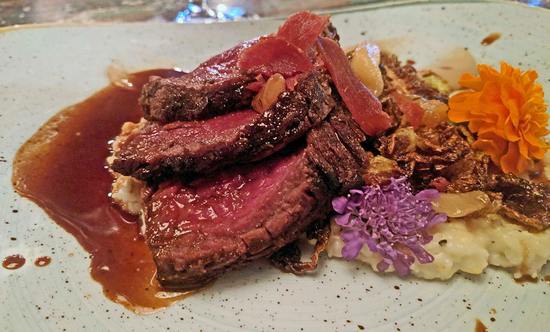 Our plate might have been modest, but Lawrence certainly made it special. It was the small-plate version of a Platonic steak dinner. The filet was grilled medium rare and came with brussel sprouts, popcorn grits, and a country ham demi glacé. The grits were cooked with cheese. The distinct popcorn flavor came from popped corn ground up in a blender and added to the grits. It's a trick we're going to try at home for sure.
Le Moo carries more than 100 bourbons. The bartenders can make anything you can think up, but we decided to honor the beef with a Central Kentucky classic, the Bluegrass Breeze. At Le Moo, they use a marvelous Austrian liqueur for the apricot flavor. It's made with apricot eau-de-vie and fresh apricot juice.

BLUEGRASS BREEZE
2 ounces Basil Hayden Bourbon
1 1/2 ounces Rothman and Winter Orchard Apricot
3/4 ounce fresh lemon juice
1/2 ounce Demerara sugar syrup
lemon peel
Add ingredients through sugar to cocktail shaker. Shake and strain into white wine glass. Twist lemon peel over drink and wipe lightly on rim of glass. Discard peel.
Cheers!