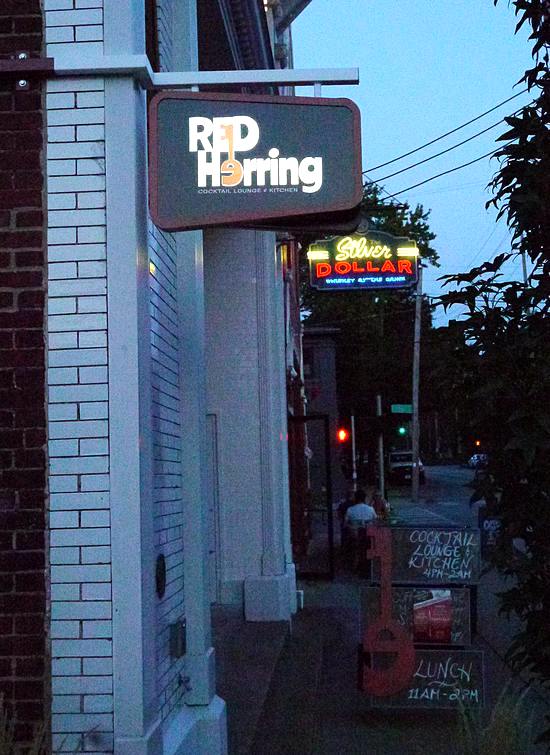 Located next door to the Silver Dollar (see our biscuit post), Red Herring (1757 Frankfort Ave, Louisville, 502-907-3800, redherringlou.com) opened in April 2017 in the 112-year-old Hilltop Theater. It might be the perfect complement to its next door neighbor. Red Herring is far from retro, despite including PBR on an otherwise stellar list of regional craft beers.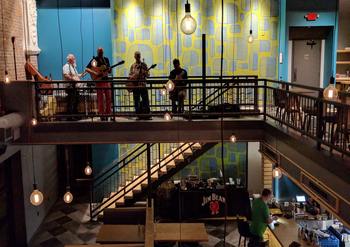 If we lived in the neighborhood, they might have to put our names on two of the barstools. For starters, Red Herring is open from 8 a.m. until 2 a.m. every day. You can segue seamlessly from breakfast to lunch to happy hour to dinner to evening entertainment without changing seats. The room is huge, as you might expect from a former theater, with seating downstairs and on a balcony above. The entertainers also set up on the balcony.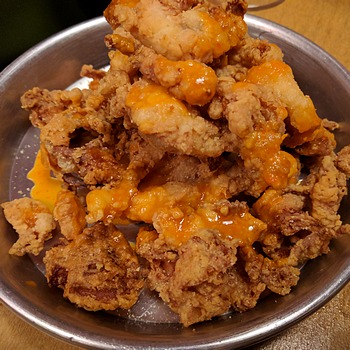 The food at Red Herring exemplifies modern bar fare. On one hand, you can order Texas smoked brisket or a six-ounce burger of Black Hawk Farms beef on a housemade brioche bun. The kitchen also does a knockout charcuterie plate with chicken rillettes made in-house, as well as a vegetarian harissa hummus. The dish that made us smile widest, though, was a bowl of crispy chicken skins. The skins are brined in the house pickle juice, soaked in buttermilk, and battered with a locally milled flour. Once they're deep-fried, the cooks drizzle them with hot sauce aged in a bourbon barrel.
"Southern calamari," our server deadpanned.
The bar serves 100 classic cocktails and a slew of the staff's own creations. We enjoyed the house signature Red Herring, which is yet another variation on sweetened bourbon.

RED HERRING COCKTAIL
2 ounces bourbon
1/4 ounce concentrated Demerara sugar syrup
2 dashes Bittercube Orange bitters
1 dash Fee Brothers' Black Walnut cocktail flavoring
Orange zest
Add first four ingredients to cocktail shaker. Stir. Pour into rocks glass filled with ice cubes.
Flame the orange zest and drop it into the drink as a garnish.
With a bowl of Southern calamari and a Red Herring in hand, we were ready for the evening music. New Albany, Indiana, banjo picker Steve Cooley and some pals gave us several fun sets of bluegrass. Here's a little sample: