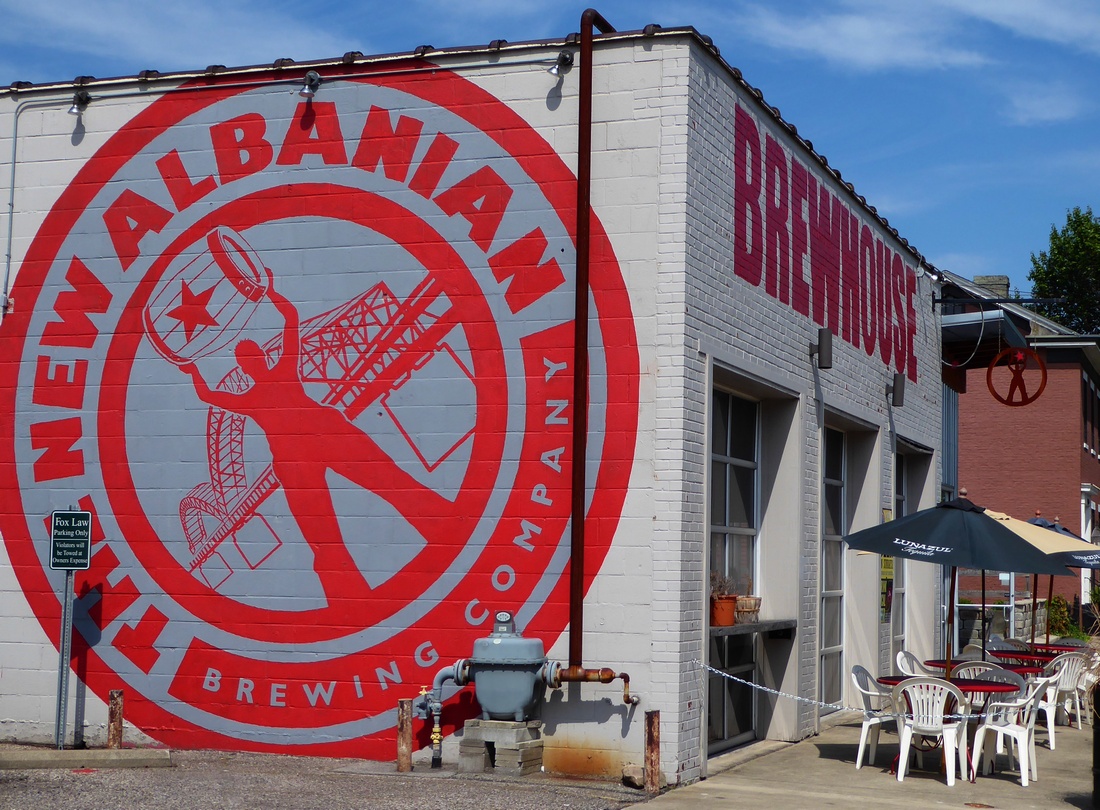 With its working-class-hero graphics and its no-nonsense approach to craft brewing, the New Albanian Brewing Company (NABC) has been providing the suds of choice for thirsty folks in New Albany, Indiana, since 2002. In 2009, the original pizzeria brewery, now called NABC Pizzeria & Public House (3312 Plaza Drive, 812-944-2577) was augmented by the downtown NABC Café & Brewhouse (415 Bank St., 812-944-2577, newalbanian.com).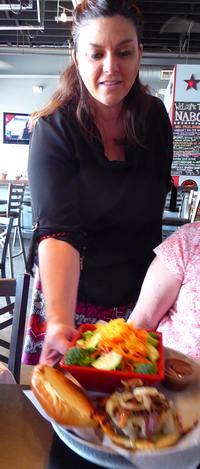 In 2015, Stacie Bale took over as café operations manager. Serving both lunch and dinner, the café bustles, even outside the normal evening hours when brewpubs do their biggest business. Bale's approach to the grub has something to do with that. She aims to make brewpub fare as healthy as possible both for the customers and for the local agricultural community. With those goals in mind, Bale sources most of her raw ingredients locally, makes a point of using non-GMO corn, cornstarch, and local oil (no mean feat in corn country), and offers a range of plant-based meals. Bacon, chicken, and beef are all free range and pasture-fed from nearby Hensley Homegrown.
One of the most impressive innovations Bale introduced to the menu was greaseless air frying. She keeps an array of small air fryers lined up in the kitchen so several fried dishes can be produced at once. Most are used for crispy waffle fries, onion rings, or the occasional catfish special.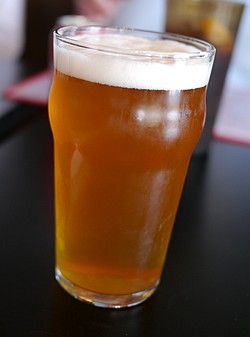 The beers show a great range from agreeable session ales (like the one shown here) to the extremely hopped and high-alcohol Hoptimus. That's an IPA with 10.7 percent alcohol and 100 IBU (international bitterness units). Bale uses the Community Dark (3.7 percent alcohol, 13.2 IBU) to great effect to make Beer Mac & Cheese, one of the favorite side dishes. She was kind enough to share the recipe. If you don't have NABC handy, use your local brewery's brown ale.
NEW ALBANIAN BEER MAC & CHEESE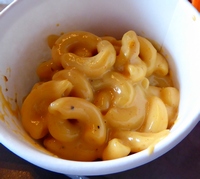 Serves 4 as main course, 8 as a side dish
Ingredients

2 cups uncooked macaroni
12 ounces NABC beer (Community Dark or 15-B)
8 ounces cream cheese
2 cups shredded cheddar
2 teaspoons chili powder
cayenne to taste (start with 1/8 teaspoon)
2 teaspoons salt
2 teaspoons pepper
Directions

Boil a large pot of salted water. Once boiling, cook the macaroni until tender (8-10 minutes). Stir occasionally. Drain and set aside.
Meanwhile, pour beer in a second large pot. Place the pot over high heat, and add the cream cheese. As the beer starts to simmer, break the cream cheese into pieces with a whisk and whisk into the beer. Add the 2 cups shredded cheddar. Warm and whisk until completely smooth.
Once the pasta is cooked and drained, pour it into the cheese sauce. Reduce the heat to low, then stir and cook another 3 minutes to thicken. Add spices and mix in thoroughly.