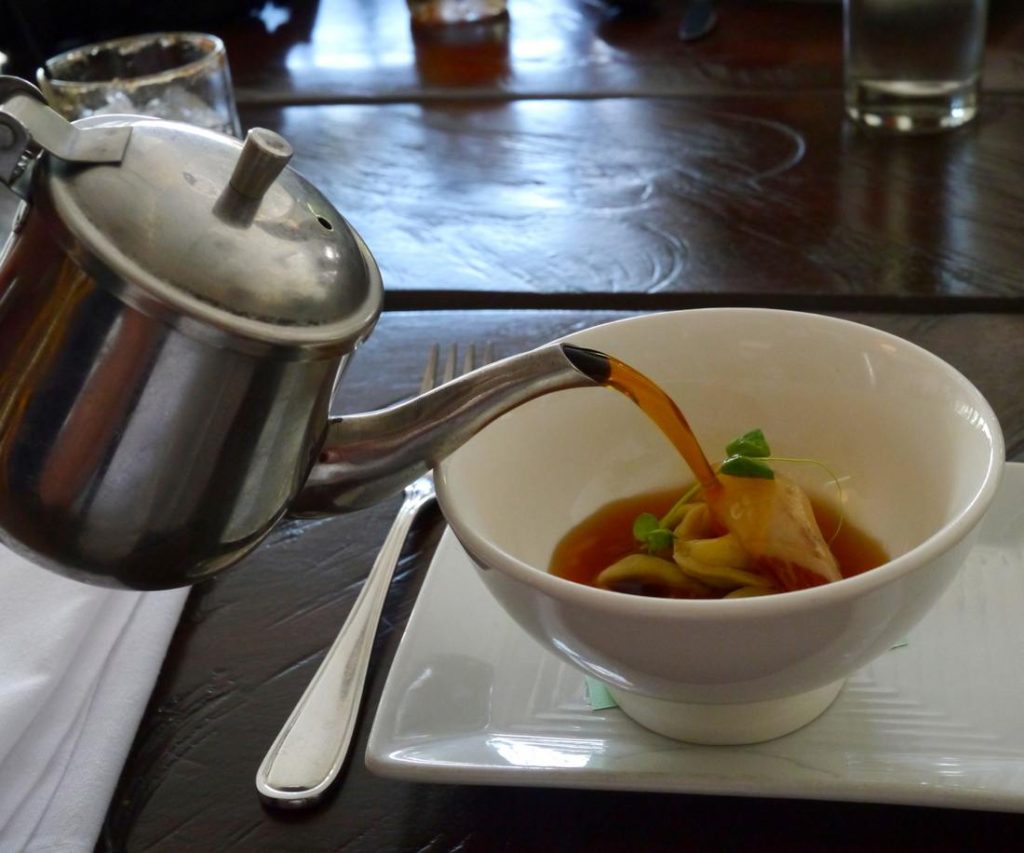 There's no question where your food comes from at Harvest (624 East Market St., Louisville, 502-384-9090, harvestlouisville.com). This farm-to-table pioneer in the NuLu neighborhood (that's New Louisville to us outsiders) covers the walls with joyous portraits of the restaurant's purveyors. There's also a map showing a 100-mile radius around the restaurant. Says partner Patrick Kuhl, "it's our goal to get 80 percent of our food from inside that circle."
The state's "Kentucky Proud" program helps, Kuhl says. It's been a boost to former tobacco farmers "because it provides incentive for farmers to grow food and for restaurants to buy it." Animal proteins are pretty easy, he notes. But to have local produce year-round requires planning and preserving. The kitchen relies heavily on a vacuum sealer and a big freezer. And in keeping with the farm-country ethos, the restaurant also does a lot of pickling.
We visited Harvest on a Mint Julep Tours (502-583-1433, mintjuleptours.com) culinary tour to sample the imaginative food and drink. We were blown away by a purely Kentucky adaptation of an Italian classic: tortellini en brodo (at the top of the post). The tortellini were filled with shaved country ham, while the egg-white-clarified broth was made with the ham bone. Country ham was the perfect Kentucky analog to Italian prosciutto.


Pucker up for cooking with heart
Pickling is central to the cuisine at Harvest. Barrel-fermented chow chow, pickled slaw, and a house pickle plate are always on the menu.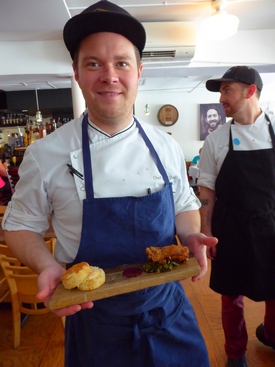 And sometimes all that spice and sour finds its way into dishes like the next one we tried. The protein star was a chicken thigh pickled and brined and fried up crisp, served on perfectly braised greens with bacon and a hint of bourbon in the pot likker. Next to it was a hot and sweet sauce of beets and blueberries! As a contrast, the dish also included a nice fluffy biscuit smeared with that Southern classic, pimento cheese. That's sous chef Jeff Dailey bringing it to our table, with chef de cuisine Ryan Smith behind him.
Pickle even creeps onto the drink menu. Pickled peaches are a Southern classic. They're usually served with ham or fried chicken. But the bar found another use for the leftover pickle juice. It goes into a drink called Peter Piper's Peaches. Here's the recipe:

PETER PIPER'S PEACHES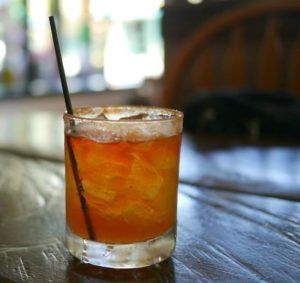 1.5 ounces Michter's Rye
3/4 ounce simple syrup infused with serrano pepper, cinnamon, allspice, and clove to taste
1 ounce peach pickle brine
two dashes bitters
Combine ingredients and pour over ice in a lowball glass with a sugared rim. Drink. Repeat.