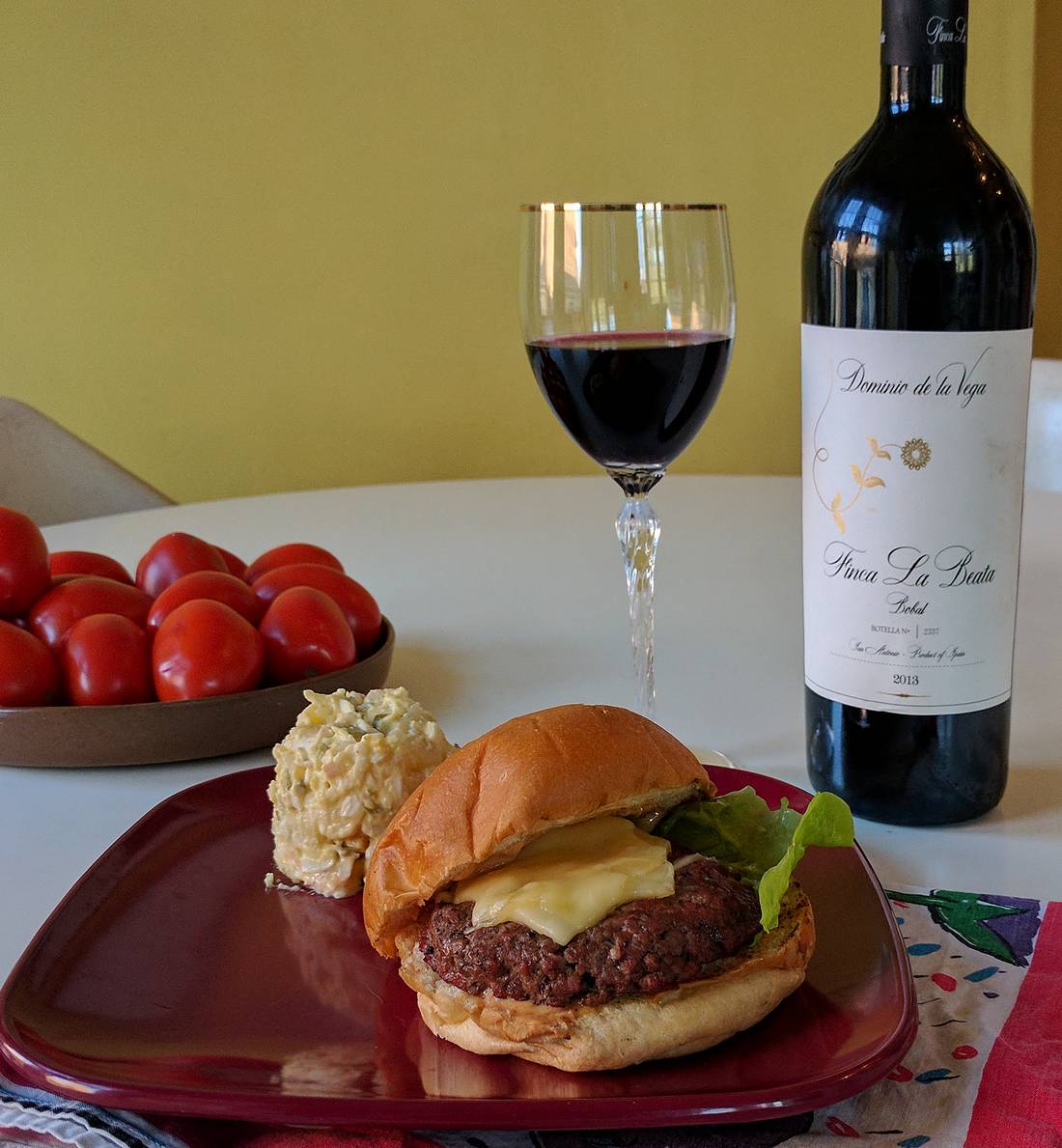 Regular readers know we've been doing a survey of Bobal wines from the Utiel Requena region of Valencia. As we contemplated a dish to eat with the 2013 "Finca La Beata Bobal" from Dominio de la Vega (dominiodelavega.com), we faced a quandary. The sheer weight of the bottle signaled a Very Important Wine. (Empty, it clocks in at 1.2 kg/2.7 lb.) When it arrived at our door, the weather was cold and dank; now it's hot and steamy. Based on the other Bobal wines, we suspected that it would cry out for very beefy beef.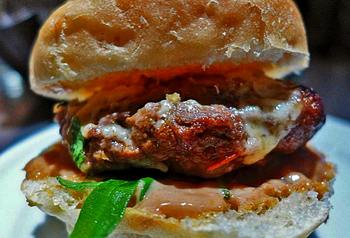 But steamy summer is not the time for rabo de toro, the classic Spanish braise of oxtail. Then we remembered that Andalucían superchef Dani García used oxtail in the scrumptious burgers that we loved to eat at the bar of now-shuttered Manzanilla in Málaga (at right). These days the burgers at Bibo in Marbella and Madrid (www.grupodanigarcia.com/en) are made with aged beef loin. We look forward to trying them.
We always suspected that García's rabo de toro burger was a mixed grind of oxtail and some part of the shoulder clod, since Spanish beef is often too lean to make good burger. So we followed suit with a rough mix of about 60 percent blade steak (part of the chuck muscles) and 40 percent oxtail meat. It was a perfect match for the big red wine. For a side, we figured a Catalan-style potato salad made with garlicky alioli would do the trick. Directions for making both are below. But first, more about the wine.
Pure concentration of old Bobal

Dominio de la Vega makes a lot of cavas that help pay the bills. But winemaker Daniel Expósito is a true believer in the potential of Bobal. He makes three wines entirely from the grape. Dominio de la Vega's signature is the single-vineyard "Finca La Beata Bobal." In 2013 (the current release), Expósito made just 3,000 bottles. The winery owns 60ha (150 acres) of vineyards, but the Finca La Beata concentrates the oldest Bobal vines—most more than a century. The vineyard workers keep the bush-style vines pruned to produce only a kilo of grapes each.
Given the natural softness of Bobal's tannins, Expósito does everything he can to extract maximum structure in the wine-making. The hand-harvested and hand-sorted grapes macerate in 700 liter barrels for at least three weeks. They are stirred by hand to express the skins gently and tasted daily until judged to have the optimal skin extraction. The wine is transferred to French oak barriques (225 liters) for a malolactic fermentaton. It is then finished for 18 months in mild new French oak before bottling in those massive pieces of glass.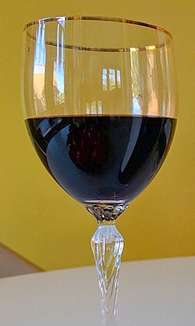 The results are spectacular. Poured into the glass, it sparkles with a deep black cherry redness with violet tinges at the surface. The nose is full of warm cinnamon and resinous Mediterranean scrub—especially lavender and rosemary. In the mouth, Finca la Beata drinks with silky smooth tannins and bright notes of cherry and red raspberry. The finish is a little short for such a delicious quaff, but there are just enough tannins to provide a grip on the tongue and back of the throat. It's a spicy, elegant example of a "big" Bobal—just right for the beefiness of an oxtail burger.
OXTAIL BURGERS
Ingredients

1 1/2 lb. fresh oxtail
1 lb. blade steaks
1/2 pound Jarlsberg cheese, sliced
4 brioche buns
alioli (see below)
fresh leaf lettuce
Directions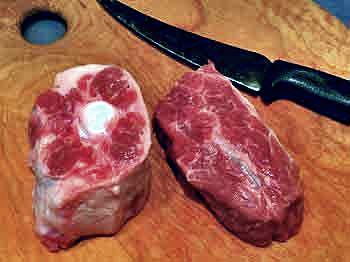 Start at least two hours ahead. Using a sharp-pointed filet knife, remove exterior fat from the oxtails and discard. Working carefully, remove meat and tendons from oxtail and reserve. Cut out the gristle that runs up through the middle of the blade steaks and cut into pieces the same size as oxtail meat.
Spread the meat pieces on a baking sheet and place in freezer for about 30 minutes. Grind with a meat grinder (we use an old fashioned hand-crank variety), passing first through the coarse holes, then regrinding through the finer plate. You should have about a pound and a half of premium ground beef. Using a scale, divide into four equal piles. Gently shape each pile into a patty. Sprinkle with kosher salt and coarse black pepper. Grill over hardwood charcoal, only turning once. Move burgers off direct flame and top with cheese. Close grill for 60 seconds to melt cheese. Remove burgers to a warm holding plate.
Lightly toast buns on grill (10-15 seconds over coals). Slather with aioli, add burger and lettuce.
Don't forget to pour the wine.
BASIC ALIOLI
Ingredients

2 egg yolks
2-3 cloves fresh garlic, peeled and grated
1/2 teaspoon sea salt
2 teaspoons water
1 cup olive oil
pinch of cayenne
juice of 1 lemon
Directions

Add egg yolks, garlic, salt, and water to a metal bowl. Whisk together until well-blended. Slowly drizzle in oil, a few teaspoons at a time, while continuing to whisk. Continue until oil is incorporated. Add cayenne and lemon juice and whisk smooth. This basic alioli is often further seasoned with smoky Spanish paprika and a few grinds of black pepper.
Use in place of mayonnaise to make potato salad with capers.