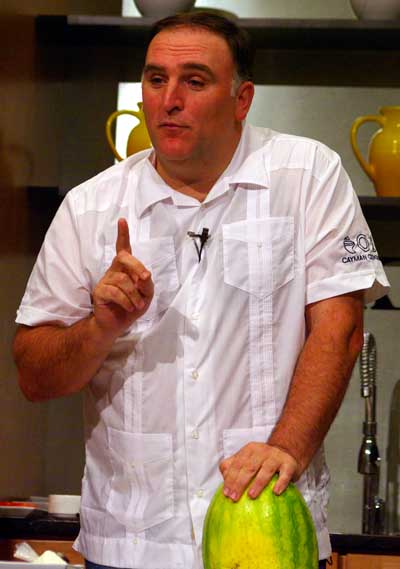 When we first tasted this at Cayman Cookout on Grand Cayman Island in the middle of January, it was hard to think about watermelon. But José Andrés was thinking nothing but—demonstrating eight recipes for watermelon in an hour-long session. Andrés is perhaps the best ambassador of Spanish cooking to America. His Washington, D.C., restaurants include Jaleo, Zaytinya, Oyamel, Café Atlantico, and minibar by José Andrés. His grand Bazaar at the SLS Hotel in Beverly Hills has taken Los Angeles by storm.
We always think of watermelon as the most juvenile of summer fruits, but José showed just how sophisticated it can be. The preparation that stuck with us was his version of bistec de sandia, or watermelon steak. As every calorie-counter knows, watermelon is actually light and insubstantial (and low in calories), but grilled melon seems hearty enough to proudly wear the Spanish title bistec. The recipe depends on having wonderfully ripe watermelon and equally ripe heirloom tomatoes.
We've made a few departures from José's original recipe. On Grand Cayman, he dressed the plate with microgreens. In the height of watermelon and tomato season here in New England, it's too hot for tender greens to survive in our garden. So we use a chiffonade of Batavia lettuce, one of the few varieties that holds in the heat. José also cut his watermelon slices into palm-sized tournedos–almost like a filet mignon. Since there are just two of us and the best local watermelons are small, round "icebox" varieties bred for New England gardens, we like to take two cross-section slices out of the middle of the melon. That way each "steak" tends to fill a 10-inch luncheon plate.
GRILLED WATERMELON STEAK WITH TOMATO SALSA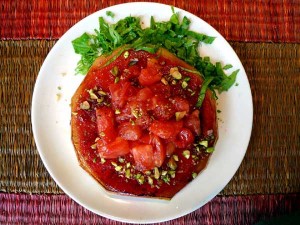 Serves 2
Ingredients
2 ripe heirloom tomatoes
pinch sea salt
2 teaspoons sherry vinegar
2 teaspoons Spanish extra-virgin olive oil
2 cross-section slices of watermelon, 2 inches thick
Spanish olive oil to coat pan
3 leaves Batavia or Romaine lettuce, cut in fine chiffonade
1/4 cup chopped pistachios
2 pinches of Maldon or other finishing salt
Directions
1. Dip tomatoes in boiling water for 10 seconds. Remove, peel, and core. Cut tomatoes into 1/2-inch dice and toss with sea salt, sherry vinegar, and 2 teaspoons olive oil. Reserve.
2. Trim green skin from watermelon slices but leave about half the white rind intact. (It helps to keep the grilled steaks from falling apart.)
3. Grease grill or large skillet with olive oil and heat until it barely begins to smoke. Add one slice of watermelon and grill until lightly caramelized, about two minutes. Turn over and grill other side. Repeat for second slice.
4. Put slice of grilled melon on plate and spoon on tomato mixture. Place lettuce chiffonade on side. Sprinkle melon with chopped pistachios and a little finishing salt.