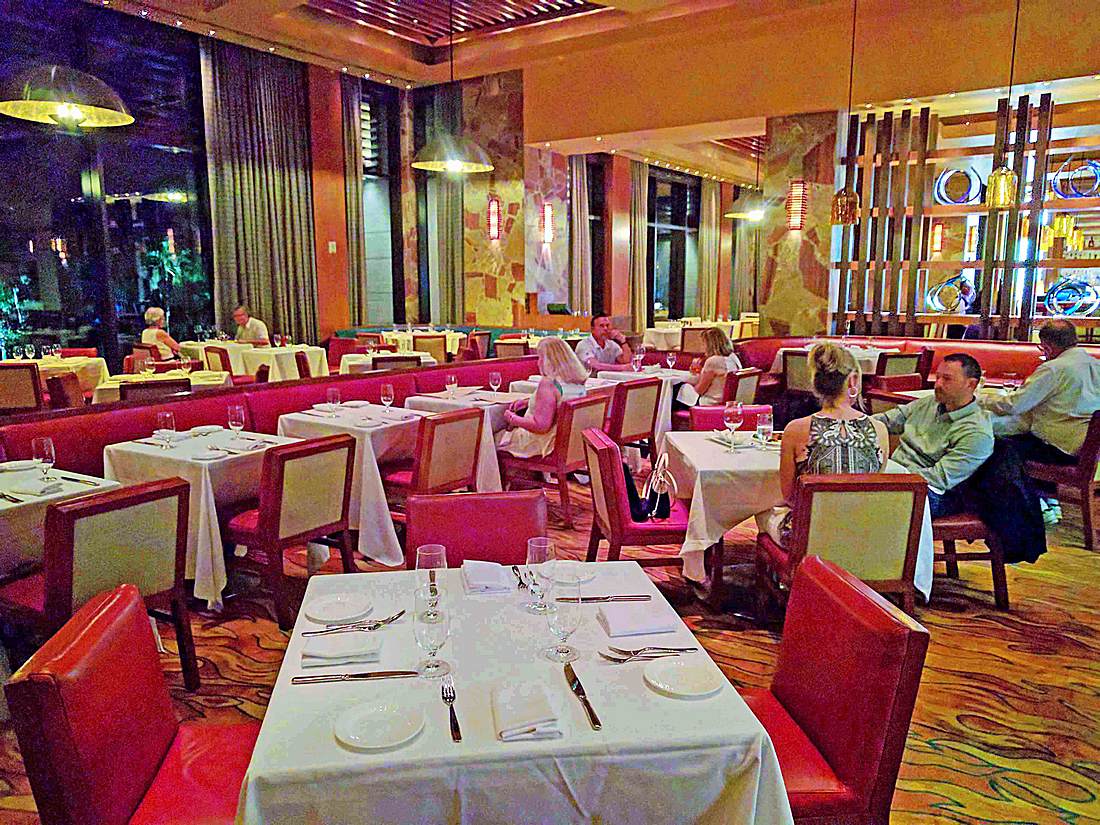 Patti and I had barely sat down at 77° West when a server delivered a bowl of tortilla chips and four salsas to sample while we studied the menu. The combination of pico de gallo, roasted tomatoes, roasted tomatillos, and guacamole telegraphed the kitchen's culinary bent.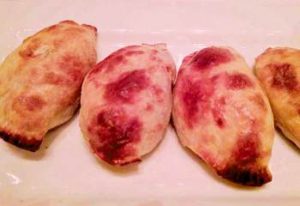 The chefs at 77° West, the newest fine dining option at Atlantis (atlantisbahamas.com), work in an open kitchen to create dishes that fuse South American and Caribbean flavors and cuisines. My meal felt like a whirlwind tour through South America. For example, I couldn't resist the empanadas starters. The flaky turnovers are among my fast-food standbys when I'm in Spanish-speaking countries. The chefs at 77° West elevated this staple of hand-held cuisine by filling the flaky crust with duck, cotija cheese, and chorizo. A pineapple and avocado crema was the perfect accompaniment.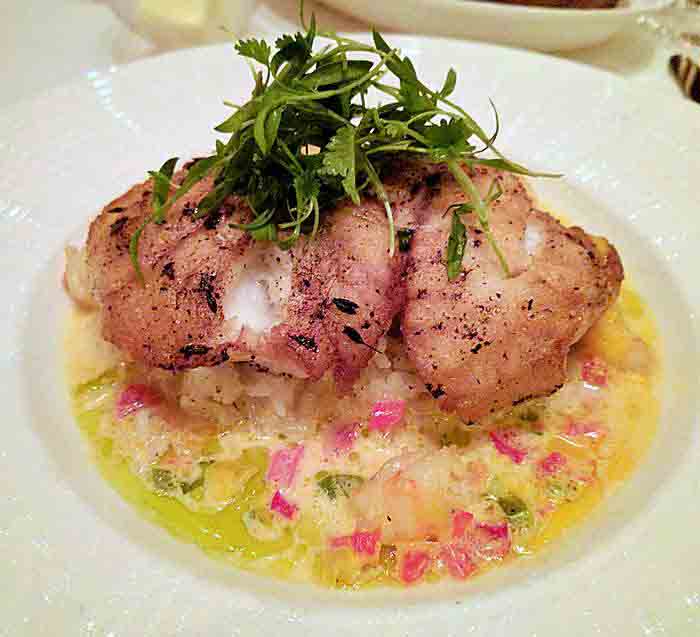 Moqueca is one of Brazil's best-known dishes. The chefs at 77° West build on the base of the Bahian moqueca, which shows up at casual fish shacks and fine dining restaurants alike. This version placed an oven roasted grouper fillet atop the signature stew of coconut milk, onion, tomatoes, garlic, cilantro, and palm oil. A bed of coconut rice helped trap all the flavorful broth. This moqueca was a perfect synthesis of Portuguese and African culinary influences.
I grew to love dulce de leche during a visit to Buenos Aires where cooks use this mixture of caramelized sugar and milk in almost anything sweet. 77° West offers an elegant dulce de leche cheesecake with a thick topping of tres leche cream and a drizzle of salted caramel sauce. It made a rich and delicious ending to the meal. The following recipe, developed once I got home, is simpler but preserves the signature flavors and creamy texture. The photo, however, shows the restaurant's beautiful presentation.
INDIVIDUAL DULCE DE LECHE CHEESECAKES
Ingredients
3/8 cup graham cracker crumbs
2 teaspoons brown sugar
1/8 teaspoon salt
1 1/2 tablespoons butter, melted
1 8-ounce package cream cheese
1/3 cup granulated sugar
1/2 teaspoon vanilla
2 eggs, separated
1 tablespoon flour
13.4 ounce can dulce de leche (Nestle La Lechera is good)
1/4 teaspoon fleur de sel finishing salt
Directions
Set oven to 325°F.
Mix graham cracker crumbs, brown sugar, and salt in bowl. Add melted butter and mix thoroughly. Divide into 6 paper (or silicon) muffin liners and press down to compress. Set aside.
In large bowl, place cream cheese and sugar. Beat until well blended. Mix in vanilla and egg whites and beat until very smooth. Spoon into muffin liners (about 3 tablespoons each).
Bake for 20 minutes. Remove from oven and let cool on a rack.
While cheesecake is cooking, prepare the topping. Heat dulce de leche gently in small pan until warm. Stir in egg yolks until smooth. Slowly bring mixture to a simmer, stirring all the while. Remove from heat.
When individual cakes cool enough to shrink slightly in the liners, reheat the dulce de leche and spoon over the top of the cakes. Smooth surface. Continue to cool on rack. When room temperature, sprinkle with fleur de sel and refrigerate until served.