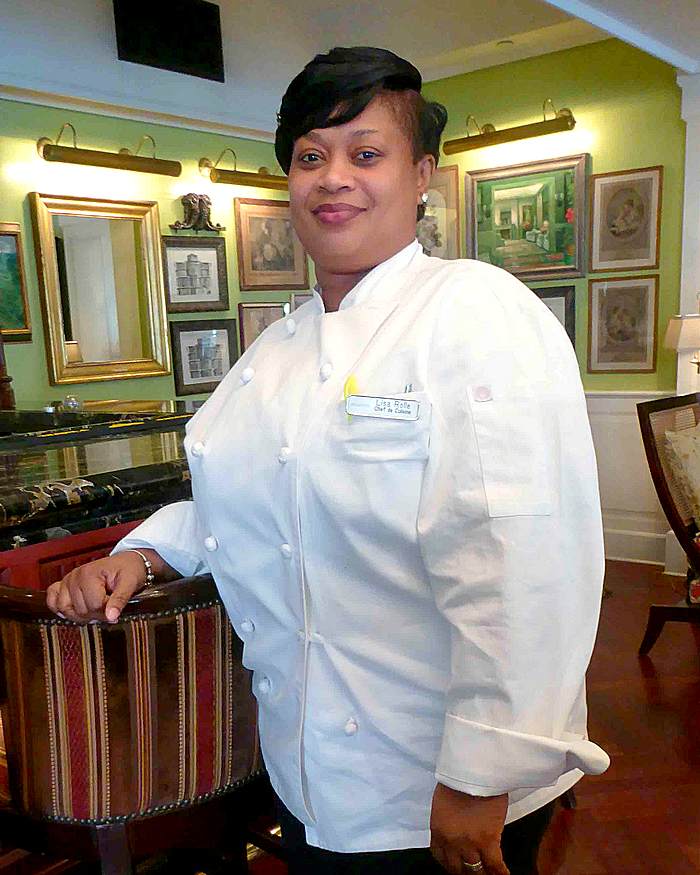 "I trained by watching other chefs," says Lisa Rolle, who worked her way up through the kitchens of the Atlantis resort (atlantisbahamas.com). Now she's the chef de cuisine at Café Martinique, perhaps the resort's top fine dining establishment.
Understated and elegant, Café Martinique nonetheless has an air of mystery and mystique befitting the fanciful world of Atlantis. A birdcage elevator carries guests to the second-floor dining room. The venue recreates the 1960s restaurant where James Bond met his eye-patch wearing arch-nemesis Emilio Largo in the 1965 film Thunderball.
Today's Café Martinique is part of the culinary empire of French chef Jean-Georges Vongerichten. Although Vongerichten develops the recipes, Rolle injects local flavors. "The base of a dish is local," she says. "A lot of the items we use are local." Herbs and greens are grown by local farmers. Rolle also makes wonderful use of fresh-caught seafood. She might serve a roasted Bahamian lobster tail with fried plantain, oregano, and chili. Or she could prepare local snapper with braised fennel, lemon, and olive oil.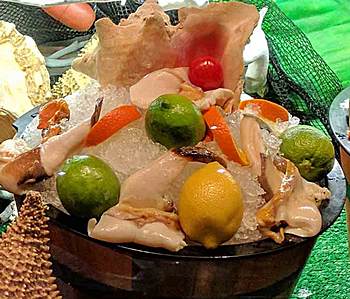 Rolle was born and raised in the Bahamas. Her roots definitely show in Café Martinique's cracked conch appetizer. (That's raw conch on ice to the right.) The dish of fried conch with a dipping sauce is an island staple that you might munch on in a bar while watching a televised cricket match. Rolle brings it into the fine-dining realm by accompanying the mollusk with avocado and pickled vegetables, all dusted with kaffir lime and chili powders. She serves the plate with a dipping sauce of chili citrus mayonnaise.
Admittedly, conch is a specialty of the tropics and subtropics, though more northerly fishmongers will often stock it. It's also available via overnight shipment from many fishmongers on both the east and west coasts. In a pinch, substitute sea clams or surf clams, but discard the bellies. Here is my adaptation of Chef Rolle's Café Martinique recipe for cracked conch.
CRACKED CONCH À LA MARTINIQUE
Ingredients
For conch
1-1/2 pounds conch meat
lime juice
salt
hot pepper sauce
rice flour
oil for frying (peanut, canola, palm, or a blend)
salt
For chili citrus mayo
2 egg yolks
3 tablespoons fresh lime juice
3 tablespoons fresh orange juice
1 tablespoon sriracha
1/2 teaspoon salt
1 1/4 cups grapeseed oil
For pickled vegetables
2 shallots
1 small carrot, peeled
2 tablespoons white vinegar
1/2 teaspoon sugar
pinch of salt
1 teaspoon Thai chile pepper, minced
For kaffir powder
1 kaffir lime leaf
For lime vinaigrette
1/4 cup lime juice
1/2 teaspoon salt
1/2 teaspoon sugar
1 teaspoon Dijon mustard
3/4 cup grapeseed oil
For plating
frisee or other light salad greens
avocado, peeled and cut in 8 slices
chili powder
Directions
Prepare conch by "cracking" it. Using a hammer-style meat tenderizer or the flat bottom of a cast iron frying pan, pound conch meat until it is matchstick thin. Sprinkle with lime juice, a little salt, and a few dashes of hot pepper sauce. Reserve.
Make chili citrus mayo. In food processor, combine egg yolks, juices, sriracha and salt. Puree. With motor running, drizzle in the oil. Refrigerate until serving.
Pickle the vegetables. Cut the shallots and carrot into matchstick-sized pieces. Add to a saucepan with vinegar and sugar. Bring mixture to a boil and simmer 1 minute. Remove from heat and season with minced Thai chile pepper and salt. Let cool to room temperature.
Make lime vinaigrette. Combine juice, salt, sugar, and mustard in small bowl. Whisk in oil. Pour mixture into a screw-top jar so it can be shaken before being poured on salad. (There will be a lot left over for use on other salads.)
Make kaffir powder by drying the leaf in microwave, then grinding it to dust in a spice grinder or with mortar and pestle.
To cook conch, heat about 1/4 inch cooking oil in heavy, deep frying pan. (An old-fashioned cast iron chicken cooker is ideal.) Dredge pieces of conch in rice flour and fry until crispy and lightly golden. Drain on paper towels and dust with salt.
To assemble, toss salad greens with a little lime vinaigrette. Cover plates with dressed greens. Top with fried conch, avocado, and pickled vegetables. Dust with kaffir and chili powders, and place mayo dipping sauce in a bowl next to each plate.