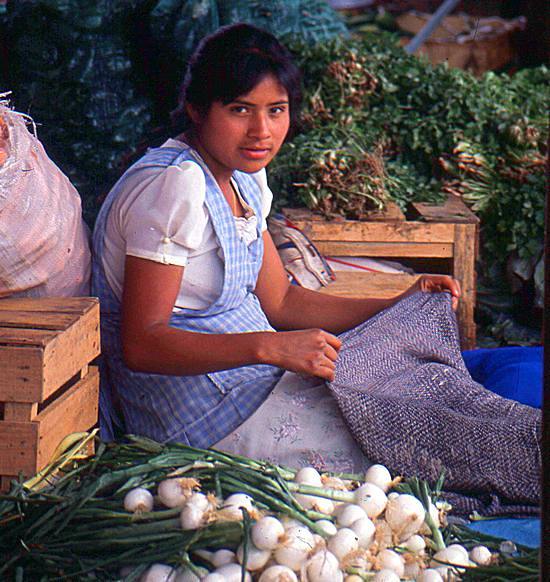 No one escapes untouched by Oaxaca. This lyrical, magical city has been a powerful cultural and trade center for millennia. It is also arguably the cradle of Mexican cuisine. You can always eat well in Veracruz, Mexico City, and Puebla. But in Oaxaca, you feast. Every dish is a taste revelation.
Tomatoes and chile peppers were domesticated in northern Oaxaca around 4500 BC—presumably to spice up all those meals based on beans and corn, which the ancient Oaxacans had domesticated 3,000 years earlier. And Oaxaca continued to expand its larder.
By the time the high culture of Monte Alban (right) arose around 500 BC, the Oaxaca Valley was a crossroads of trade between South and North America. Foodstuffs poured in from as far north as Mexico's Central Valley and from as far south as the Andes. A millennium later–nearly a thousand years before the rise of either the Aztecs or the Incas–the Zapotec people of Oaxaca were processing peanuts and cacao. They had all the ingredients to make mole, the chile-nut-spice sauce that distinguishes the Oaxacan mother cuisine.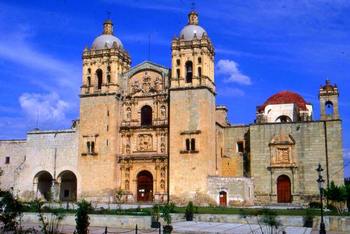 The Spanish also influenced the complex cuisine of Oaxaca. Monte Alban had been abandoned for at least seven centuries when Hernán Cortes took the Oaxaca Valley by force in 1521. He soon built a city where he would live out his life as the self-styled Marquéz de Valle de Oaxaca. Despite their cathedral (above), the Spaniards never fully succeeded in conquering the native Zapotec and Mixtec cultures of the surrounding countryside. As a result, Oaxaca is really native Mexico.
But it's native Mexico with sesame seeds, saffron, pigs, cows, and chickens—thanks to the Spaniards.
Timeless Oaxaca comes to the market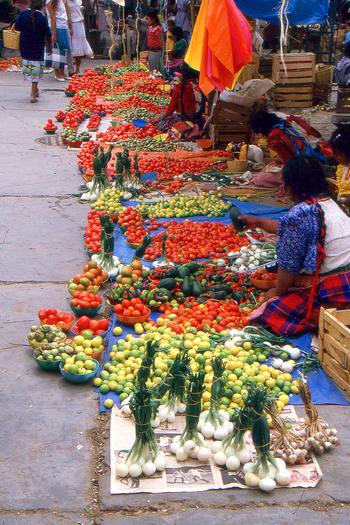 The ancient face of Oaxaca persists in the Mercado de Benito Juarez, the fresh food market named for the local son who was president of Mexico when Lincoln was president of the U.S. The market occupies two entire city blocks south of the zócalo. (One block farther south is the 20 de Noviembre market, which has amazing food stalls, including a section devoted to grilled meat.)
People start arriving from the countryside before dawn. Some come by truck, some by pack animal, and some on foot. They bring the food they have grown and lay it out for all to see. One seller might have big bunches of onions and herbs, like the woman at the top of this post. Others might display tomatoes, garlic, cucumbers and little limes. Another vendor might lay out rows of delicate squash blossoms, fleshy and yellow. It's hard to speak with anyone, since most of the country people have Zapotec or Mixtec as their first language. But the beaming pride in their wares really needs no translation.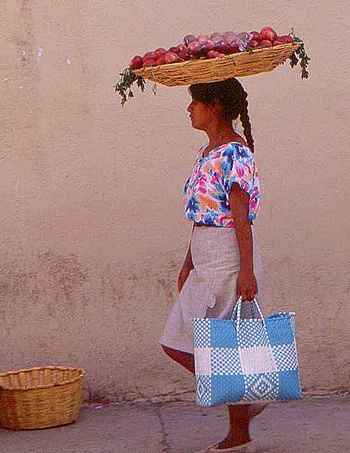 A few might even walk in with baskets on their heads, like the woman at right, who was selling the apples she had picked from her trees. To an American or a European foodie, the market looks like a cornucopia of plenty. The Oaxaca Valley is a fruitful land.
The corner of the market where dried chiles, cacao, and nuts are sold also has several mills. Shoppers who know what they are doing will bring a mixture of chiles, cacao, nuts, and spices to be milled into a paste. You can also buy pre-ground pastes to serve as the basis for making mole. In most cases, you simply dilute the paste with some meat broth and simmer long enough to smooth out the raw flavors. Mexican chocolate available in the U.S. replicates the chocolate of the market. It consists of ground cacao nibs, sugar, ground nuts, cinnamon, and often some other spices.
Most people prefer to make their moles from scratch. We've written previously about mole amarillo, which is traditional for the Day of the Dead. But one of the deepest flavored moles of all is mole negro, or black mole. There are many recipes for the dish, including some that deliberately burn the chile seeds and then steep them in water for some of the liquid. Traditionally, the dish is made with chilhuacles negros, a black chile grown in the Oaxaca region but not widely exported. Even cooks in other parts of Mexico use a combination of guajillo and mulato chiles to get a similar flavor.
Like many moles, the sauce is fried because water boils at 200° F in Oaxaca due to the altitude. The sauce needs to get up to about 240° F to cook through. Note that our recipe below calls for lard, which is traditional. Peanut or corn oil will work, but the flavor is less authentic. Bacon drippings are a better substitute.
MOLE NEGRO OF OAXACA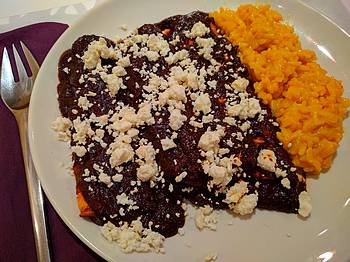 This mole is often eaten plain over tortillas that have been dipped in the sauce and then rolled. A sprinkling of queso fresco or crumbled feta complements the flavors.
Ingredients
3 ounces dried mulato chiles (about 5), stems and tops removed
3 ounces dried guajillo chiles (about 8), stems and tops removed
1 1/2 cups boiling water
1/3 cup sesame seeds
6 whole cloves
3-inch stick of cinnamon
1/2 teaspoon whole coriander seeds
1/4 teaspoon whole anise seeds
1/2 cup lard
1/2 cup whole, unblanched almonds
1/2 cup raisins
1 cup coarsely chopped white onion
6 cloves garlic
6-ounce can tomato paste
4 teaspoons salt or bouillon powder
6 ounces Mexican chocolate (two tablets Ibarra or La Abuelita), grated
up to 2 cups chicken stock
Directions
Toast chiles in hot frying pan or griddle until softened. Remove seeds, stems, and at least some of the veins. (The veins and seeds contain most of the heat.) Place in medium bowl with boiling water and soak one hour.
Toast sesame seeds in dry skillet over medium heat until golden—about two minutes. Remove from skillet and set aside to cool. Combine cloves, cinnamon, coriander, and anise seeds in skillet. Toast until fragrant (20-30 seconds) and remove to cool.
Heat lard in large cast-iron frying pan over medium heat. Add almonds and cook and stir until brown. Remove with slotted spoon and drain on paper towels. Add raisins to pan and cook and stir until they puff up—about 30 seconds. Remove with slotted spoon.
Process raisins in blender until finely ground. Coarsely chop almonds and add to blender and process until finely ground. Add raw onion and raw garlic and process until finely ground.
Grind sesame seeds in spice grinder. Add to blender. Grind clove and spice blend in spice grinder and add to blender.
Add chiles, about a cup of soaking water, tomato paste, and salt to blender. Process until smooth.
Reheat lard in deep, heavy saucepan or Dutch oven. Add mole mixture. Stir to cook through and sweeten the raw flavor of onion and garlic. Add chocolate to melt. Stir in chicken stock to reach desired consistency. Cover pan and place in 325° oven for one hour. Remove, stir sauce, and place back in oven for an additional hour. This allows thorough cooking without burning the mole onto the bottom of the pan.
Roll soft corn tortillas in mole and serve with sprinkling of crumbled queso fresco or feta cheese. Pumpkin risotto makes a nice side dish. If drinking wine, choose an assertive and somewhat acidic white, like a young Chilean sauvignon blanc.