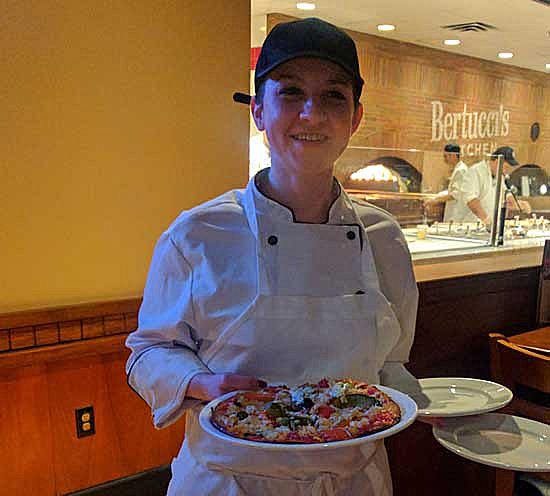 Rosario Del Nero bites into a slice of pizza and savors it for a moment. "It's not Neapolitan, it's not Roman," he says. "It's rustic, provincial Italian pizza. It's not as wet as Neapolitan, which is what most people have, or as thick as Roman."
He is not even considering the toppings. Del Nero focuses on the dough that cooks up into the crust. It must be just so. "Flour, water, yeast—it's simple," he says. "But the secret ingredient is time. You cannot rush the yeast."
He pulls out a piece of paper and a pencil and draws a graph. "X is quality," he explains. "Y is time." He draws a curve that peaks at about 40 hours. "Anywhere between 36 and 48 hours of slow rising in the cooler, the dough makes perfect pizza."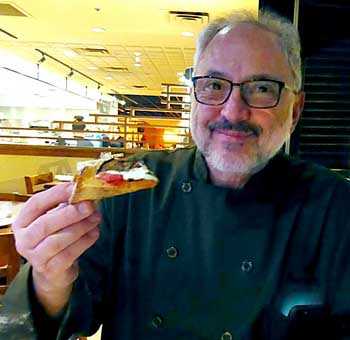 A native of the Valtellina valley in Lombardy, Del Nero was the original chef of Bertucci's when the chain began expanding beyond the original pizzeria with bocce court in Davis Square in Somerville, Massachusetts. After more than a decade away from the group, he returned to Bertucci's last August as executive chef and culinary vice president. Ever since, he has been infusing the 85-restaurant group with his passion and his discipline to make a superb and consistent product. He invited us to the Medford, Massachusetts, location for a lesson in his philosophy and practice of pizza.
The wrong way

Del Nero certainly turned around our perceptions of pizza crust. Given that we use a home gas oven that works hard to reach 550°F, we thought we had experimented sufficiently to make a pretty good home crust. It used 210 grams of mixed white and whole wheat flour, a teaspoon of sugar, a quarter teaspoon of instant dry yeast, and 150 grams of ice water. We would whirl it up in a food processor and let it sit at least 10 minutes before adding three-quarters teaspoon of sea salt and a tablespoon of olive oil. We'd whirl it up again, then let it rise in an oiled quart container all day, pressing it down when it threatened to spill out.
Listening to Del Nero, we quickly learned that we were doing a few things right and a couple of critical things wrong. Using very little yeast was a plus, but oiling the dough was a no-no.
"You have plants at home? Trying oiling their leaves and see how fast they die," he said. "Dough is the same way. It has to breathe."
The right way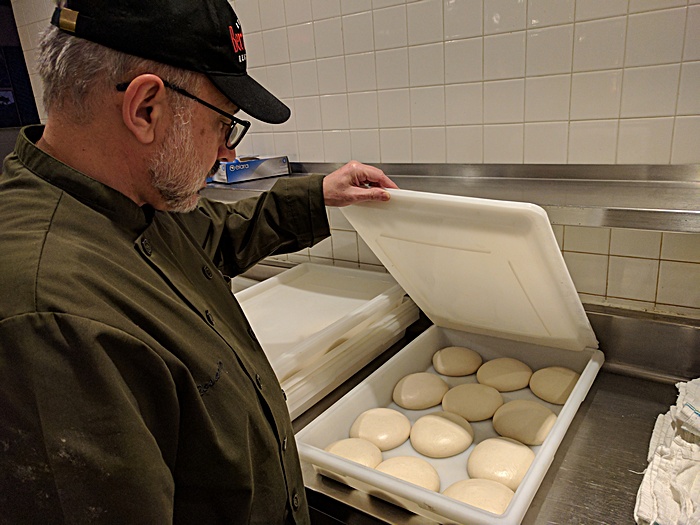 Our biggest mistake was rushing the dough. "It has to rise very slowly so it forms tiny air bubbles. The flavor won't be as good if the dough is rushed," he said. "You don't want to punch it down. That's fine for bread, but you want pizza to be soft and pliable. Punching it makes it tough."
We felt as if we'd been beating our kids. At home the next Friday, we made dough and let it rise in the vegetable crisper drawer of our refrigerator until after lunch on Sunday. We left it covered on the counter—because "the dough hates air," as Del Nero told us. It warmed to room temperature in time for us to shape it into pizza for dinner.
The resulting pizza was a revelation. The same recipe was easier to shape and cooked up with a crisp but not crunchy texture. It also tasted much better.
So we went back the next week for more instruction.