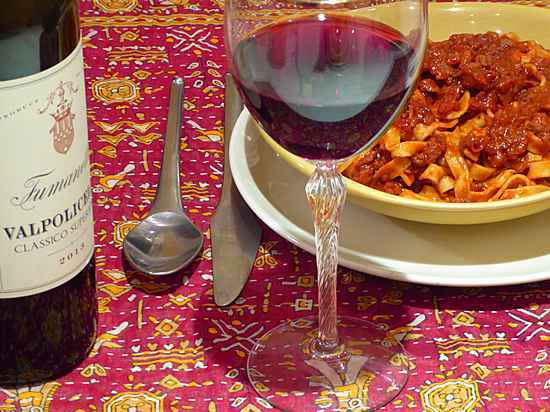 We discovered a Fumanelli Valpolicella Classico Superiore 2013 nestled among bigger reds in our limited wine storage. Not having a lot of room to hold wine means drinking bottles when they're ready. With the 2014 already in the market, we figured this welterweight red was ready to go.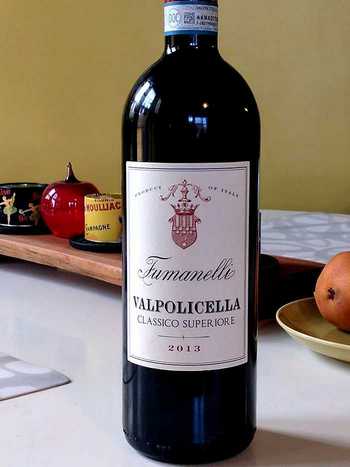 But what dish would do it justice? The Marchesi Fumanelli family (www.squarano.com) has been making top-flight Valpolicella wines since 1470 at their estate just outside Verona. Perhaps the age of the vineyards (up to 40 years) accounts for the clean flavor and deep fruit expression. The blend has a backbone of 40 percent each of Corvina and the bigger clusters of Corvinone. The rest is Rondinella, which deepens the color and gives the wine more body. The finished wine is aged 8-10 months in French barrique—most of it second and third passage.
We prefer this approach to Valpolicella Classico over the increasingly common practice of adding the pomace from an Amarone pressing to the fermentation of the Valpolicella grapes. (Both wines use the same grapes, but those destined for Amarone are partially dried to concentrate the sugars.) We think the lingering toasted, caramelized Amarone flavor in what is properly called Valpolicella Ripasso often masks shortcomings in the Valpolicella itself. The Classico Superiore approach at Fumanelli lets the grapes speak for themselves.
Fumanelli Valpolicella Classico Superiore is a fine red for sipping, though the hint of ash in the finish (typical of Corvina) cries out for food. A brilliant ruby red, it presents a nose of black cherries and blackberries. Those flavors carry through on the palate—along with the bitter almond or ashen note. It's velvety in the mouth with a long, satisfying finish.
Finding a dinner dish

Maybe it's the season, but it seemed a good companion to dark chocolate. But we wanted a savory dinner dish to accompany the wine, so we did a little digging. Savory chocolate often means Mexican mole poblano or mole negro, but both dishes would overwhelm the Valpolicella. Then we stumbled on a recipe that's been kicking around in magazines and online for the last few decades. It's a ragù of browned pork, onion, red wine, and tomato, slow cooked and finished with just a little dark chocolate and cinnamon. Said to have originated in Abruzzo, it's usually served with fresh egg pasta called chitarrina. The pasta is rolled out in sheets and cut on a box frame strung with fine wires like guitar strings.
We've made some adjustments to the basic recipe given by Michele Scicolone on page 173 of her masterpiece 1,000 Italian Recipes (Wiley, 2004). Michele calls for using a pound of fresh tagliarini. We made our own fresh pasta (1 1/3 cups flour, pinch of salt, tablespoon of olive oil, 2 eggs and 1 egg yolk), and cut it with the tagliatelle rollers. It weighed about 10 ounces and made two generous dinner entree servings. If you use a pound of pasta, you could serve a less saucy pasta course to four diners. Just don't forget the Valpolicella Classico.
ABRUZZESE BITTER CHOCOLATE RAGÙ

Ingredients
1 onion, chopped fine
1/4 cup olive oil
1/2 pound ground pork
salt and pepper to taste
1/2 cup red wine
1 1/2 cups crushed tomatoes
2 tablespoons tomato paste
1/2 cup water
1 tablespoon chopped bittersweet or semisweet chocolate
1/2 teaspoon sugar
pinch of cinnamon
Directions
In heavy saucepan, cook onion in olive oil over medium heat until onion begins to turn golden. Crumble in the pork and continue cooking. Break up meat with spatula. Cook until pork begins to brown. Season to taste with salt and pepper. (Don't skimp on the pepper. You need the flavor to round out the dish.)
Add wine and bring to a simmer for three minutes to burn off the alcohol. Stir in crushed tomatoes, tomato paste, and water. Bring to a simmer and cook slowly for about an hour, stirring now and then. Sauce should thicken.
Stir in chocolate, sugar, and cinnamon until chocolate melts. Keep sauce warm while cooking pasta. Add cooked, drained pasta to sauce all at once and toss to coat. Add extra cooking water if necessary to achieve a saucy texture. Serve immediately.