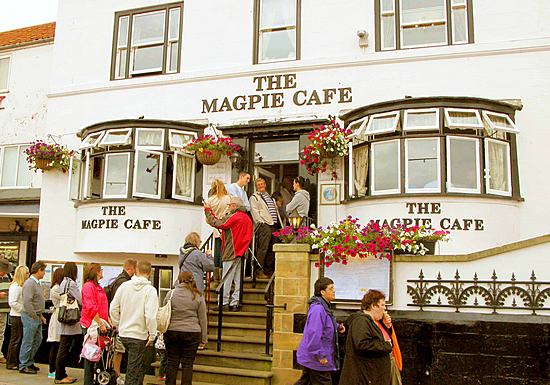 Back in November we wrote about John Long's Fish & Chips, the eatery that's almost an institution in Belfast, Northern Ireland. It's been around since 1914 and does a bang-up job with the United Kingdom's signature fast food.
Much as we relished the Belfast version, nothing beats eating fish and chips by the sea. One of the best places we've discovered is the Magpie Cafe (14 Pier Road, +44 1947.602.058, www.magpiecafe.co.uk) in the seaside town of Whitby. It's in North Yorkshire about 250 miles from London.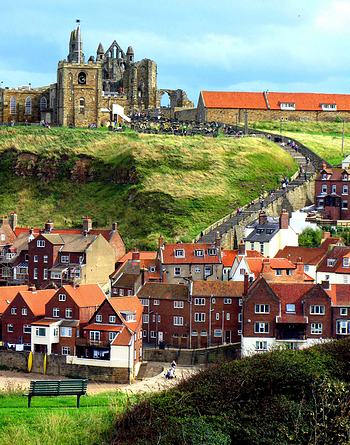 Whitby's long, sandy beach makes it a favorite destination for British vacationers. The ruins of a medieval abbey and an ancient graveyard perch high on a bluff and add atmosphere to the tidy town. A busy fishing fleet lends a lively sense of purpose—and guarantees plenty of fresh catch for lovers of fish and chips.
Duncan Robson's family has operated the Magpie Cafe for more than 50 years and he feels a great responsibility to uphold the standards of what he calls "a quintessentially British dish." Drawing a comparison that visitors from the United States are sure to appreciate, Robson calls fish and chips "the English equivalent of a hamburger—quick and easy."
Fast food, however, need not be slapdash. The Magpie always uses fresh fish, much of it from the local fleet. Once diners have settled in the 1750 building with windows looking out on the harbor, they are offered a choice of cod or haddock for their fish and chips. Cod is considered the "meatier" of the two fish and is served with skin and bones removed. The stronger-tasting haddock is served without the bones, but with the skin intact to boost the flavor. The fish is dipped in Magpie's secret-recipe batter. Both the fish and the thickly cut potatoes are deep-fried in beef tallow. Its high smoke point produces a crisper, more flavorful fry than vegetable oil.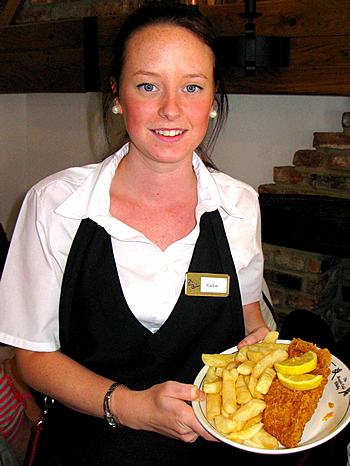 The Magpie offers "small" and "regular" portions, which is Yorkshire-speak for big and bigger. The small portion is more than enough for most diners, particularly when served with a side of mushy peas. Virtually unknown outside the British Isles, these "marrowfat peas" are a large-seeded version of the green garden pea that is allowed to fully mature before being dried. Mushy peas are made by soaking the peas overnight, then cooking them with seasoning until their texture more or less resembles oatmeal. They are admittedly something of an acquired taste, but nonetheless an indispensable accompaniment to a traditional fish and chips meal.
It's a good idea to leave a little room for dessert as the Magpie offers about 20 choices. One of the most popular is another British classic: sticky toffee pudding served with crème anglaise or a scoop of vanilla ice cream. Robson kindly shared the recipe that has been on the Magpie menu for more than 30 years.
STICKY TOFFEE PUDDING

Duncan Robson's father Ian tells with mock horror of a restaurateur whose idea of sticky toffee pudding was to slice up a Jamaican ginger cake and cover the slices with sauce. Says Robson, "There's no substitute for the genuine article."
9 servings
Ingredients

For the sponge cake (or "pudding")
1 1/2 cups pitted and chopped dates
1 teaspoon baking soda
1 1/4 cups boiling water
5 tablespoons butter
3/4 cup superfine sugar
2 eggs, beaten
2 teaspoons vanilla extract
1 3/4 cups all-purpose flour
1 teaspoon baking powder
For the toffee sauce
1 1/2 cups (firmly packed) dark brown sugar
10 tablespoons butter (1 stick + 2 tablespoons)
1 cup heavy cream
Directions

For the sponge cake, place dates and baking soda in a bowl and cover with boiling water.
Set oven to 375ºF.
In a separate bowl, mix together the butter and superfine sugar. Then beat in the eggs one at a time and add the vanilla extract. Beat in the flour and baking powder. Stir in the date mixture. (This will produce a very runny batter.)
Pour batter into a greased 8-inch-square ovenproof dish and bake at 375ºF for 40 minutes, or until the sponge cake springs back when pressed.
While the sponge cake is baking, make the toffee sauce. Place brown sugar, butter, and heavy cream in a heavy saucepan. Stirring well, bring to a boil for three minutes.
When the sponge cake is cooked, prick with a skewer several times, then pour the toffee sauce over the sponge cake. Serve immediately with crème anglaise, whipped cream, or ice cream. Serve any extra sauce on the side.