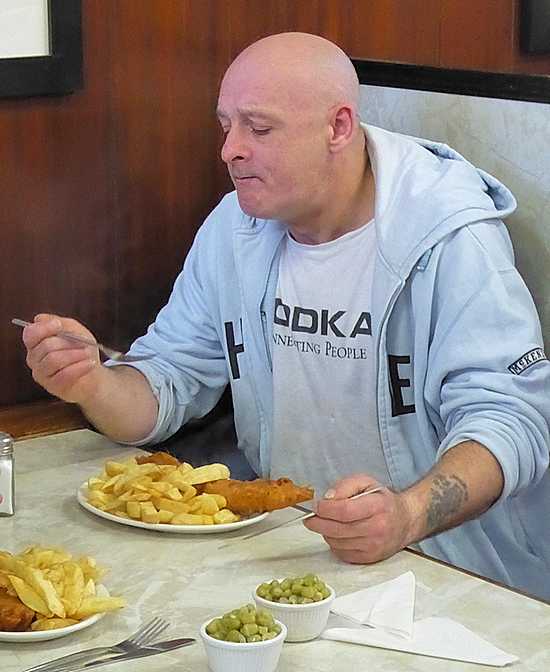 Owner John Copeland is fond of calling John Long's Fish & Chips (39 Athol Street, 028 9032 1848, www.johnlongs.com) one of the "seven wonders of Belfast." That puts his modest eatery right up there with Titanic Belfast (which relates the tale of the doomed ship built in the local shipyards) and the Crown Liquor Saloon (the 1820s bar known for its ornate decoration).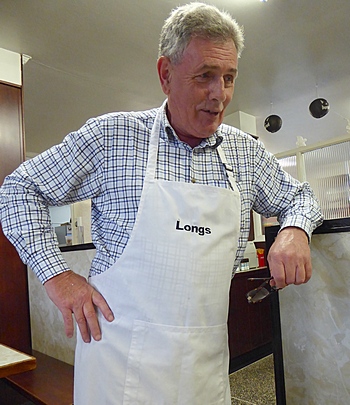 But Copeland is onto something. John Long's is a Belfast institution. Founded in 1914 by its namesake to serve fish and chips to the workers in the city's thriving linen mills, it's the city's longest established fish and chips shop. Located five blocks due west from City Hall, John Long's is a little off the beaten path. But we knew we had arrived when we spotted the tall red brick building with a white potato delivery van parked out front.
Copeland became owner in 1996, after first being a customer. "I used to come here 40 years ago. I would order two fish, chips, baked beans, and two glasses of milk," he told us. He was taking a break from preparing orders to stop and chat with diners seated at the rows of Formica booths. The seating was installed by the second owner when he moved the establishment a few yards down the street in the 1970s.
Upholding a tradition

Copeland takes his stewardship of John Long's fish and chips legacy seriously. "The fish comes in fresh every day," he said. "We use haddock from the Irish Sea all the time. It's all caught about 40 miles up the coast."
He's equally particular about the potatoes, preferring golden-skinned Maris Piper variety popular in England. "A lot of my spuds come out of England, where the soil is drier. Wet spuds don't fry the same," he explained.
Although the establishment serves a few other dishes—hamburgers, sausages, scalloped potatoes—the basic fish and chips are its raison d'être. The fish is flaky and rich, and the fried potatoes have a sweet earthiness than most fries lack. It's Irish comfort food at its best.
Although the Roman Catholic Church no longer decrees fish on Fridays, old habits die hard. "Friday is still a big day in Belfast for fish and chips," Copeland said. But he acknowledged that he always have room for more diners. "I would love to talk to the Pope to bring it back again."