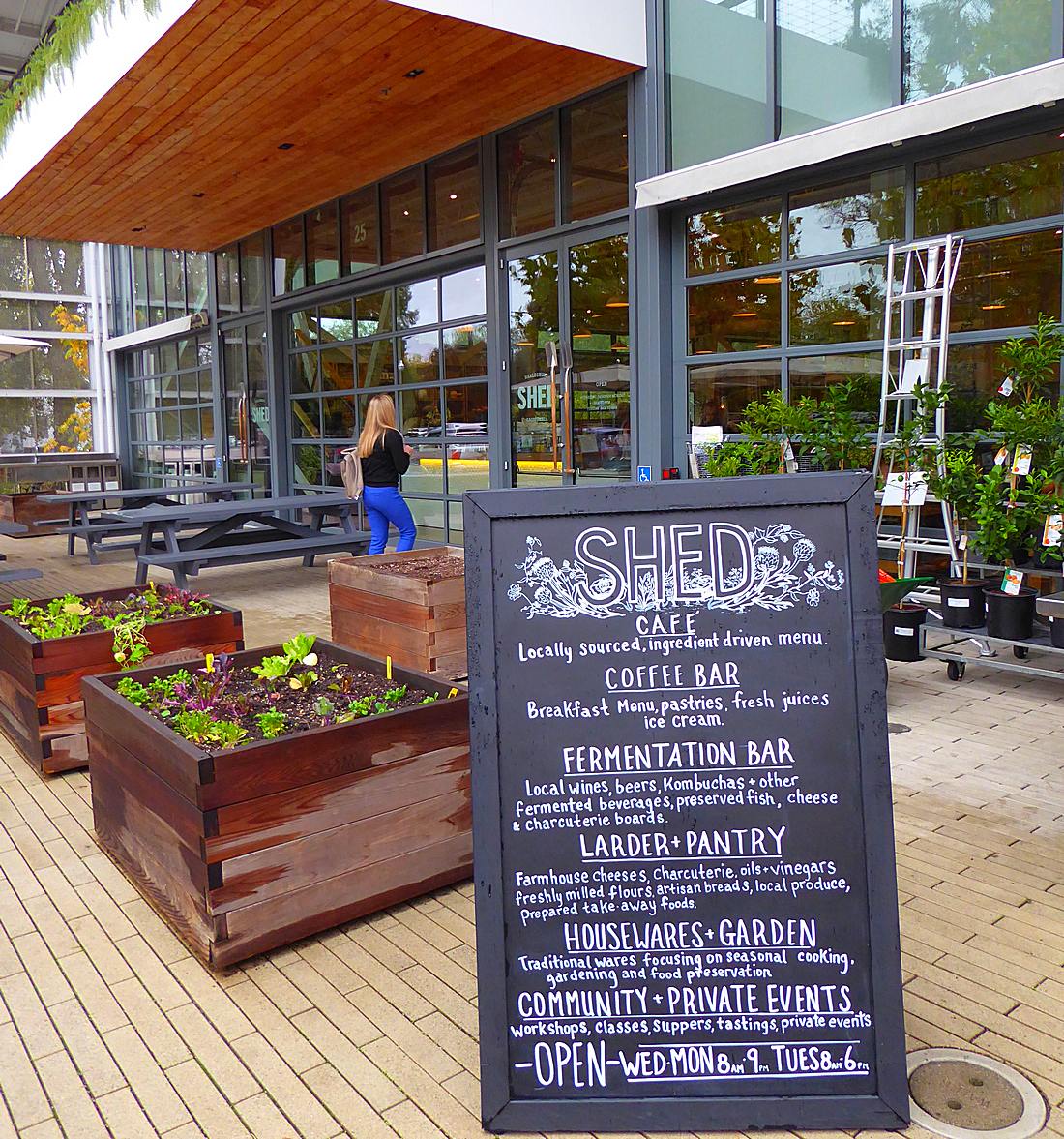 "This is a chef's dream," Perry Hoffman said as he surveyed the busy scene in SHED (25 North Street, Healdsburg, 707-431-7433, healdsburgshed.com), the self-described "market, cafe, and community gathering space" that opened in Healdsburg in 2013.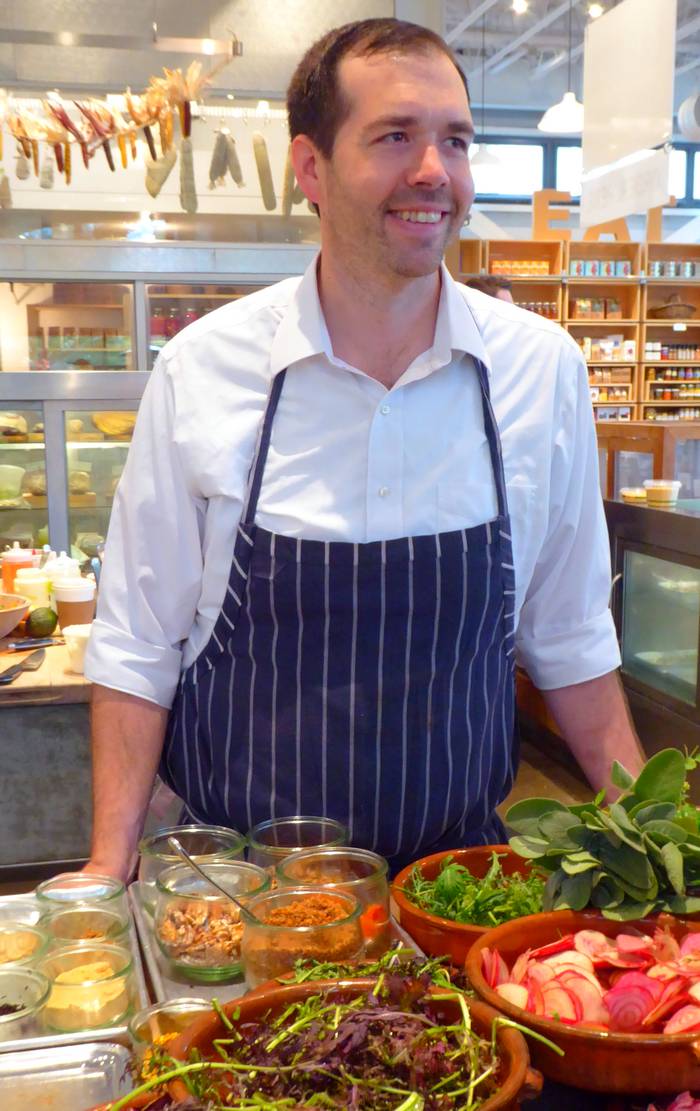 Hoffman knows what he's talking about. His grandparents founded The French Laundry restaurant in Yountville. Hoffman grew up working beside his grandparents and parents in the family business. After Thomas Keller purchased the restaurant in 1994, Hoffman worked in several other kitchens until he became chef at étoile restaurant at Domaine Chandon in Yountville in 2007. Three years later, he was awarded his first Michelin star. When étoile closed in 2014, SHED was just gathering steam. Hoffman jumped at the chance to embrace the more casual side of California cuisine.
That same year, the James Beard Foundation honored SHED with an award for restaurant design. Much has been made of the architect's use of steel and glass to create the dramatic, light-filled space and of the clever use of denim as insulation. But design is only a starting point. Within those glass walls, SHED celebrates all things edible and the power of food to bring people together.
DIY or chef-made food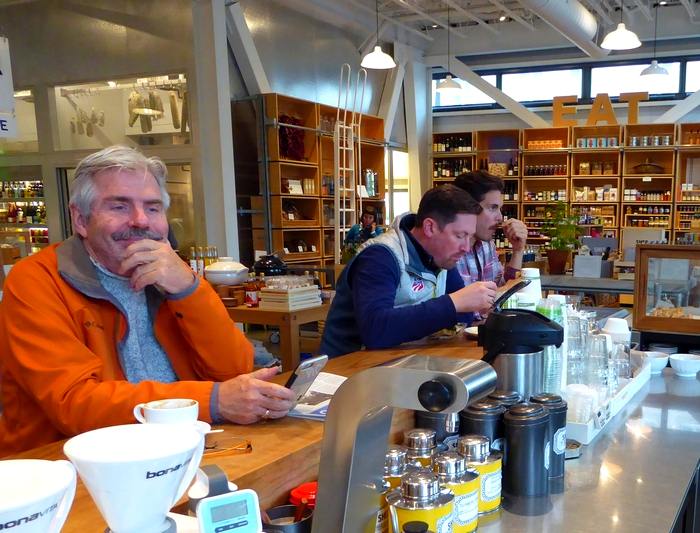 It's safe to say that a foodie can find everything he or she could need or want at SHED. There's a coffee and juice bar (right), produce from 20 farms, a pantry with products from about 600 makers, a small flour mill, a bakery, a housewares department, and a larder with cheeses, smoked fish, charcuterie, and housemade pickles. Cooking classes and other events take place on the second floor.
We weren't able to sign up for a cooking class, but we got plenty of new ideas simply by grabbing a table in the cafe and ordering lunch. Food is prepared in a big open kitchen with a wood-fired oven. The menu changes daily and always emphasizes the best of the season. In mid-November, that meant such dishes as Brussel Sprout Gratin with pickled cauliflower; Golden Acorn Squash Salad with cranberries, bee pollen and honey; and Petrale Sole with shiitake mushrooms, eggplant and greens.
"This is different from fine dining," Hoffman acknowledged, "but we can do good food." That's an understatement.
Hoffman kindly shared the recipe for one of our favorite dishes, Wood Oven Roasted San Marzano Tomatoes with goat cheese, rosemary, and roasted oranges. (The recipe calls for tangerines, but a thin-skinned sweet orange like Cara Cara also works.) Now we have to find an acceptable substitute for the dense, crusty olive bread that was served on the side. You can order the olive powder—a favorite vegan umami punch—from SHED Pantry. Or you can make your own by dehydrating well-drained Kalamata or Niçoise olives on a baking sheet in a 250°F oven. It takes three hours or a little more for the olives to become dry, crispy, and ready for pulverizing.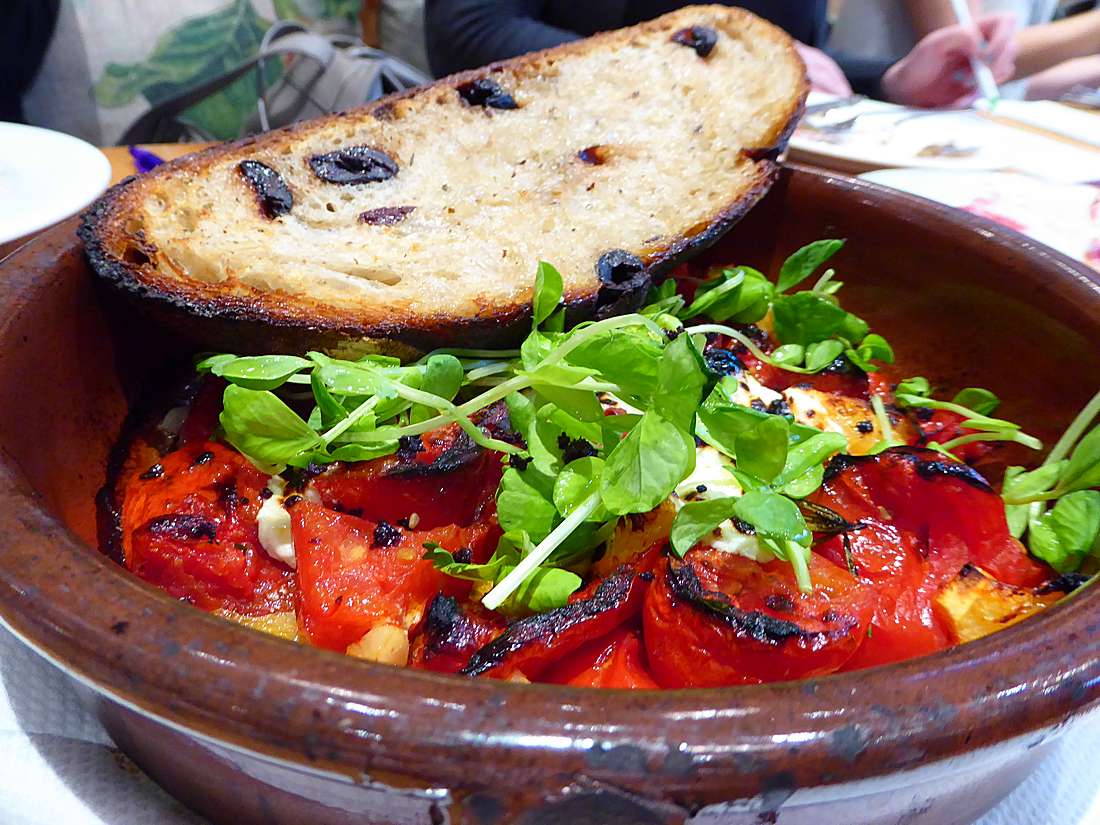 ROASTED SAN MARZANO TOMATOES
WITH TANGERINES AND DRIED OLIVES

Serves 6
Ingredients

2 lbs fresh San Marzano tomatoes, each cut into 3 rounds
4 tangerines, seeded and sliced into half moons retaining skin
10 cloves garlic, sliced thin
2 cups of chopped yellow onions
2 tablespoons fresh rosemary
4 bay leaves
1 cup olive oil
salt and pepper to taste
1 cup of goat cheese
1 tablespoon olive powder (from SHED Pantry or homemade)
sweet alyssum and fennel flowers to garnish
Directions

Set oven to 450°F.
In an ovenproof dish (SHED uses ceramic cazuelas), add tomatoes, tangerines, garlic, onions, rosemary, bay leaves, and olive oil. Season with salt and pepper.
Bake 40 minutes.
Remove from oven and sprinkle with goat cheese, Return to oven and bake for another 5 minutes.
Remove from oven and garnish with olive powder, sweet alyssum, and fennel flowers and serve with toasted bread!