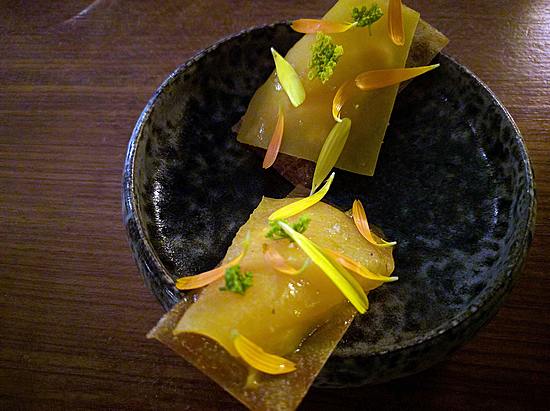 We weren't surprised to eat foie gras and truffles at OX in Belfast, which won its first Michelin star last spring after opening in March 2013. (It's one of two starred restaurants in Belfast.) Restaurateurs believe that foie gras and truffles must appear on a menu before Michelin will award even one star. No doubt there are exceptions, but we haven't encountered them. What was a delightful surprise was that such highfalutin ingredients were the exception rather than the rule at OX (1 Oxford Street, 28 9031 4121, oxbelfast.com).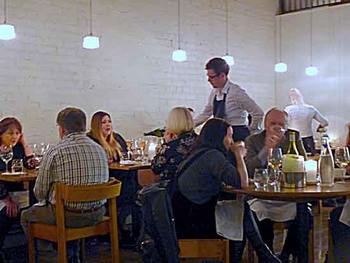 The truly defining moments in the spectacular autumn tasting menu were those dishes where humble, local ingredients sang. OX aims to serve brilliantly conceived, highly seasonal food. The price is low for fine dining (£50 for the tasting menu) and the dishes are easily understood. There's no need to brush up on the precepts of Structuralism before making a reservation. Just bring a hearty appetite, an appreciative eye, and an open-minded palate.
Picture perfect

Chef Stephen Toman's food looks as good as it tastes. The canapés shown at the top of this post were feats of legerdemain. The cracker is an onion galette. Mounted on it are a few dabs of fresh ricotta cheese freckled with fennel pollen. The "pastry" draped over the cheese is perfectly cooked, thinly sliced butternut squash. The whole plate is sprinkled with marigold petals. It is about as sunny looking and tasting a plate as you could find in gray November in Belfast—and it was all accomplished with local ingredients.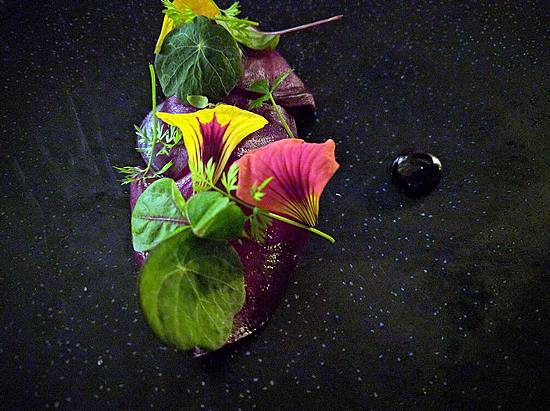 Flowers are one of Toman's tools to make the dark foods of winter look brighter. After a great celeriac soup (more on that later), Toman lit up a dark dish with pansy blossoms. Called "beetroot, wild venison, fermented kohlrabi, black garlic," it combined several elements we rarely use at home and often avoid when we go out. We shouldn't have worried. The beet was rich and sweet, the venison was butter-tender and savory, and the kohlrabi was a truly inspired pickle. It was the ideal foil to the unctuousness of the other ingredients. A glass of pinot noir from Germany's Baden region (on the border with Alsace) had the austerity and spiciness to bring out the best in the food.
Nuanced wine list

The synergy between the owners—Belfast native Toman and Brittany-born Alain Kerloc'h—gives OX an international sensibility that places it directly between classical French dining and the New Nordic cuisine emanating from Copenhagen. Kerloc'h manages the restaurant and often serves as maitre d' but his background is as a sommelier. A handful of wines on the list are there for big spenders, but most are food friendly choices from all over Europe, often without regard for prestige appellations. We tasted six with the dinner, and each was a surprise.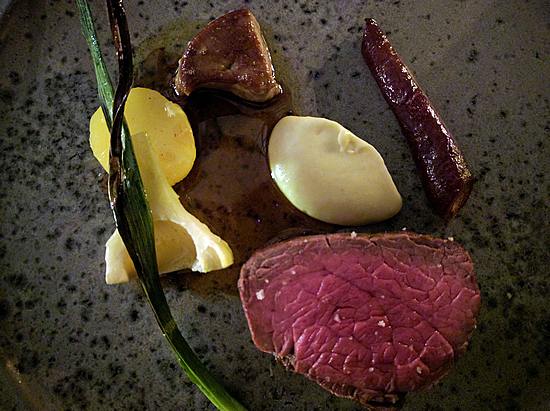 Foie gras appeared in a supporting role in the most classic dish of the night—a slice of Chateaubriand served with foie gras, artichoke, and hop shoot. The dish seemed to be Toman's nod to his lineage as a classically trained chef who worked extensively in Paris, including at the legendary Taillevent. The accompanying wine—a 2013 Faugères—was fruit-forward and uncomplicated. The inclusion of a small percentage of Syrah gave the Grenache-dominated red a spicy finish. The wine made the steak and liver course actually seem light!
Like Toman, we often exalt vegetables over proteins when we're cooking at home. We thought we could best replicate his celeriac soup—minus the swirl of black trumpet mushrooms and generous shavings of truffle. (The inspiration is pictured below.) The recipe that follows is our adaptation of a French standard with the addition of diced apple at the bottom—a trick we learned at OX. It's more rustic than Toman's version, but it's a cinch to make at home. If you feel it needs some extra oomph (lacking truffle), try stirring in some crumbled pieces of bacon.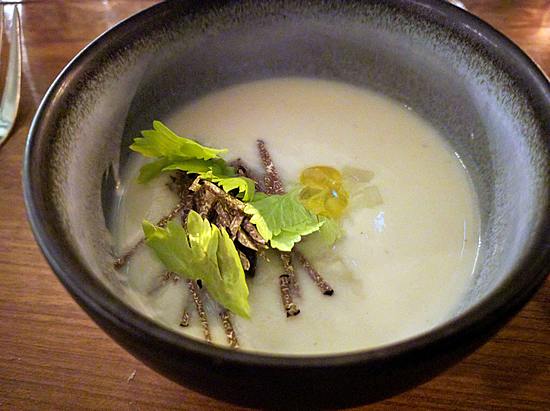 CELERIAC SOUP AND DICED APPLE

Ingredients
2 tablespoons butter
3 tablespoons olive oil
2 leeks, cleaned and thinly sliced
sea salt
4 cloves garlic, peeled and thinly sliced
3 pounds celery root, peeled and cut in 1/2-inch cubes
6 cups chicken or mild vegetable stock
1 teaspoon freshly ground pepper
1 large apple, peeled, cored, and cut in 1/4-inch dice
crumbled bacon (optional)
extra virgin olive oil to garnish
Directions
In large soup pot over medium heat, melt butter and add 2 tablespoons olive oil. Add sliced leeks and a pinch of salt. Stir and cook until leeks begin to soften. Add garlic and another pinch of salt. Cook slowly until leeks and garlic are soft but not brown. Add celery root, stock, and ground pepper. Bring to a boil and reduce to a simmer. Cook about 45 minutes until celery is very soft. Using an immersion blender, purée until creamy and smooth, adding extra stock if necessary.
To serve, cover bottom of each bowl with diced apple. Pour in celeriac soup, and add optional bacon. Garnish with a few drops of extra virgin olive oil.