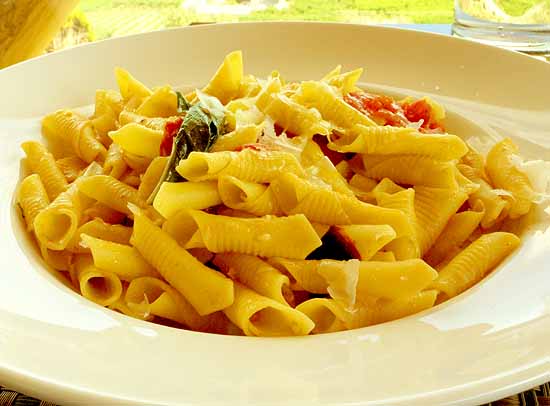 One of the most deceptively simple tomato dishes we enjoyed in the Okanagan Valley was served at Miradoro, the glass-walled restaurant hanging off a hillside at Tinhorn Creek Vineyards along the Golden Mile in Oliver, British Columbia. Winemaker Sandra Oldfield makes some terrific wines from the steep vineyards, but the folks at Tinhorn Creek sensibly went into business with restaurateur Manuel Ferreira, who also operates the celebrated Le Gavroche in Vancouver. Executive chef Jeff Van Geest's menus mate perfectly with Sandra Oldfield's wines.
Pat was looking for a light dish at lunch and Manuel suggested that she try the garganelli with charred heirloom tomato, basil, lemon, and asiago. It was … a revelation. It's hard to believe that such simple ingredients could create such a sophisticated dish. As Manuel explained, the tomatoes are quickly roasted in a hot oven, then topped with fresh hot pasta, a few basil leaves, a squeeze of lemon, and some shavings of Asiago cheese. It really doesn't need a printed recipe.
The diner gets to participate in completing the dish. Pulling the skin off the tomatoes creates a sauce that coats the pasta. We've been trying it with various pastas and various tomatoes. A firm-fleshed, dead-ripe tomato works best, and a delicate pasta (no whole wheat!) lets the flavors sing. We enjoyed the dish at Miradoro with Sandra's Oldfield Series 2Bench Rosé, which she makes from 100 percent Cabernet Franc grapes. It's a real West Coast rosé, fresh and crisp with striking strawberry notes. At home we opt for a Pinot Grigio delle Venezie that's harvested a little early to preserve a bracing acidity.