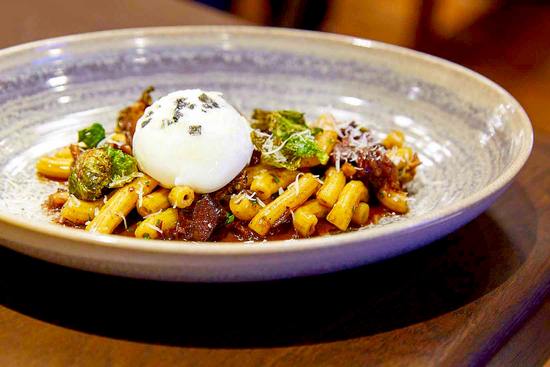 We wondered if the opening of State Street Provisions (255 State St., Boston; 617-863-8363; statestreetprovisions.com) during December's holiday blur was like Hollywood releasing its most promising films just before Christmas to make them eligible for award consideration. In that case, Provisions wins Best Boston Bistro of 2015. But that hardly makes the place out of date for 2016.
Readers of HungryTravelers know we rarely write about our home turf, but Provisions seems so representative of dining trends we're seeing in Europe and the U.S. alike that we couldn't resist. Also, we expect a lot of visitors to Boston this year, and we're happy to send them to this waterfront bistro/gastropub where they'll get good value (and great food and drink) for their money.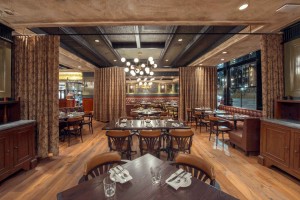 Executive chef Tom Borgia has piped a pitch-perfect menu for the location and probable clientele. The menu draws heavily on local suppliers—it is just steps from Boston Public Market, after all—and Borgia has used those local ingredients to assemble meal offerings that are somewhere between the simplicity of a Dublin gastropub and the heartiness of a neighborhood Parisian bistro. The backbone of the menu is the pantry of fresh breads, housemade sausages and preserves, pickles, cheeses, and charcuterie. The prepared dishes are inventive without being precious—chicken liver pâté with a cranberry mostarda, for example, or a grilled chicken sandwich with feta, roasted peppers, pancetta, and aioli.
The number of seafood options initially seems surprising, given that famed fish restaurant Legal Sea Foods is just around the corner, but Provisions does seafood differently. We loved starting with fried oysters served with ginger aioli, dashi broth, radish, and some flaked bonito. Fried oysters are usually more about the breading than the oysters, but the accompaniments brought out the succulence of the shellfish.
The dish that ultimately made us swoon was a pasta appetizer of rigatoni—those 2-inch long open tubes that are perfect with a thick sauce. (Provisions makes its own pasta and also offers a pasta of the day.) They were served with braised beef cheeks (a luscious dish on a cold night), and roasted mushrooms and Brussels sprouts. The recipe is below; the photo (courtesy of Provisions) is above.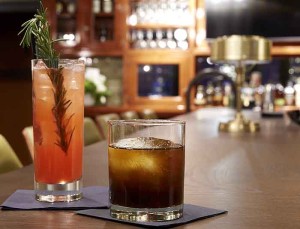 Desserts at Provisions are very bistro-ish as well—baked custards and the like. But the main after-dinner draw is the same as the main pre-dinner draw: the bar. In addition to a good craft beer list and some distinctive wines by the glass, Provisions has an active and inventive cocktail program. And you have to love a bar that has Amaro Lucano on tap.
PROVISIONS' RIGATONI & BRAISED BEEF CHEEKS

You could substitute a good grade of commercial pasta for the home-made rigatoni, especially if you don't have a machine to extrude pasta. But note that the Provisions pasta is made using only egg yolks instead of whole eggs—creating a silky, densely colored rigatoni. The optional poached egg creates a genuinely yummy sauce.
Makes 6 appetizer servings

Dough for rigatoni
1/4 lb. semolina flour (generous 3/4 cup)
1/4 lb. all purpose flour (generous 3/4 cup)
1/4 lb. egg yolks (6-7 large yolks)
1 Tablespoon water
Braised beef cheek
2 lb. beef cheek
3 Tablespoons canola oil
1 carrot peeled and rough chopped
1 stalk celery rough chopped
1/2 Spanish onion peeled and rough chopped
1/4 cup tomato paste
1/2 cup red wine
2 quarts chicken stock
salt and pepper to taste
Roasted oyster mushrooms
8 ounces oyster mushrooms (stems removed)
3 Tablespoons canola oil
1 teaspoon minced shallot
salt and pepper to taste
Roasted Brussels sprouts
8 ounces Brussels sprouts quartered
3 Tablespoons canola oil
salt and pepper to taste
Make the pasta:
Mix all ingredients together in a large mixer or food processor until it forms a uniform ball. Allow to rest for 10 minutes. Push through pasta extruder with hollow rigatoni attachment and cut into 2-inch lengths.
Cook the beef cheek:
Season beef cheeks with salt and pepper and then brown on high heat with canola oil in a thick bottomed stainless steel or cast iron pan. Remove beef cheeks and add rough chopped vegetables.
Lower heat to medium and brown vegetables slightly. Add tomato paste and allow to cook for 2 minutes on medium heat. Add browned beef cheeks back to pan and add red wine.
Allow red wine to reduce until thick. Add chicken stock, cover, and reduce heat to low and cook until beef cheeks are very tender (about 1 hour). Remove beef cheeks from the pan, strain braising liquid and reserve. Dice the beef cheeks and reserve.
Roast the mushrooms:
Toss all ingredients in a mixing bowl until mushrooms are well coated with oil, salt, and pepper. Spread seasoned mushrooms on a baking sheet and roast at 350° F for 8 minutes. Reserve.
Roast the Brussels sprouts:
Toss all ingredients in a mixing bowl until quartered Brussels sprouts are well coated with oil, salt, and pepper. Spread seasoned sprouts on a baking sheet and roast at 350° F for 12 minutes. Reserve.

To Plate:
Boil the rigatoni in heavily salted water until tender (2-3 minutes). Meanwhile, heat diced cheeks, mushrooms, and Brussels sprouts in the braising liquid. Add pasta and heat for an additional 1 minute. Place a small amount on each plate and garnish with chopped parsley and grated Pecorino Romano.
Optional:
Top each serving with a poached egg. Heat a small amount of salted water and vinegar to about 180°F. Stir and crack an egg into it. Keep water at 180°F for about 4 minutes. Remove the egg with a slotted spoon and place ever so gently on top of pasta. Then garnish with parsley and grated Pecorino Romano.