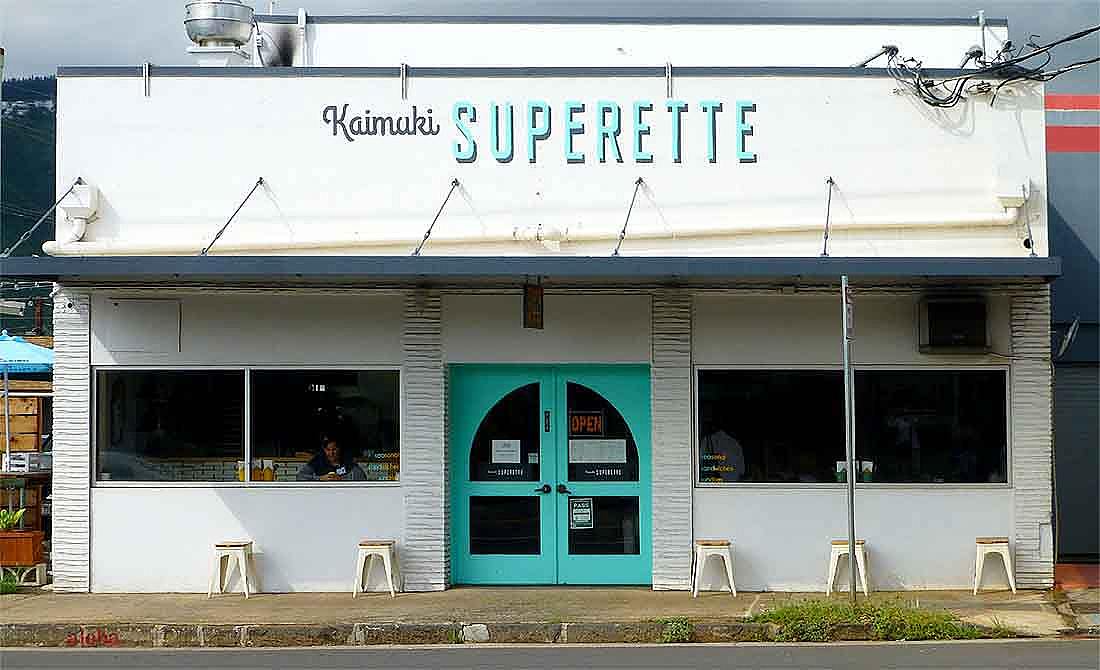 One of the great things about the Hawaii Food & Wine Festival is that the schedule allows plenty of free time to check out the rest of the local food scene. I was particularly curious about Kaimuki, a residential neighborhood north of Diamond Head and about two miles east of Waikiki Beach. Waialae Avenue and its side streets are full of a tantalizing mix of Chinese, Korean, Japanese, and Thai restaurants that provide the Asian zing to Hawaii, as well as a great ice cream shop Via Gelato (1142 12th Avenue, 808-732-2800, www.viagelatohawaii.com) that makes such fabulous flavors as green tea chocolate chip, black sesame, lilikoi, and guava.
Two chefs have made the greatest impact in turning the neighborhood into a dining destination. Ed Kenney has three eateries within hailing distance of each other. He first opened Town (3425 Waialae Avenue, 808-735-5900; www.townkaimuki.com) about ten years ago with a focus on San Francisco-style Italian dishes made with highly local ingredients. As Town evolved, it became ever more Hawaiian, but its Italian roots have always shown. Last summer, he branched out with Mud Hen Water (3452 Waialae Avenue, 808-737-6000, www.mudhenwater.com). It took food inspirations from around the world and executed them with a Hawaiian sensibility, demonstrating conclusively that the New Hawaiian culinary revolution has a new generation up-ending the status quo.
In between, Kenney launched the wonderfully old-fashioned Kaimuki Superette (3458 Waialae Avenue, 808-734-7800, www.kaimukisuperette.com) which serves very 21st century sandwiches such as poached octopus with celery seed and tarragon aioli or slow-roasted pork with fennel aioli and arugula. The Superette's grilled lemon lemonade can't be beat on a hot day—and the Superette's inventive salads, such as watermelon with chile-lime salt, cilantro, and jalapeño, are equally refreshing.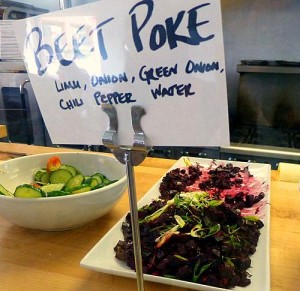 I was most taken with Kenney's Beet Poke, a colorful dish that he first created for Mud Hen Water and is so popular that it's also in the deli line-up at the Superette. As Kenney explained, it's a variation on the iconic Hawaiian dish usually made with seafood. It also seems to sum up his approach to bringing a modern touch to traditional dishes and local ingredients. Thanks to the seaweed, sesame, and wasabi, the flavor profiles are surprisingly like traditional poke—but with sweet, gingery beets in place of fish.
Kenney's Beet Poke has several steps and calls for a few ingredients not always readily available to mainlanders. But Kenney has suggested some simplifications and substitutions that still result in a delicious dish. For example, at the restaurants he roasts his beets "lawalu style" in the dying embers of a fire, but notes that most cooks will simply want to roast them in the oven. He also smokes the macadamia nuts, but again points out that even raw chopped nuts work fine.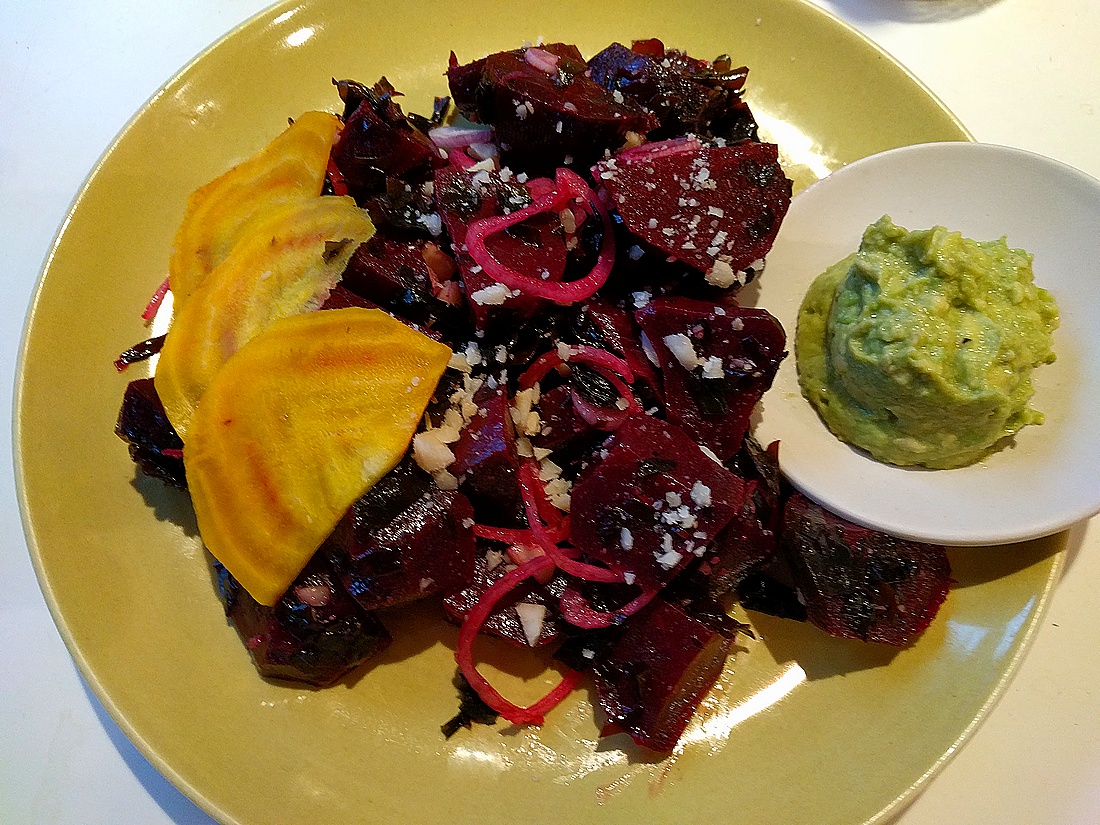 ED KENNEY'S BEET POKE

This dish (shown above) is essentially a roast beet salad where the beets are tossed with pickled seaweed, thinly sliced sweet onion, and some toasted sesame oil. A mash of avocado with wasabi and lemon juice is served on the side as a counterpoint. The recipe is given here in steps. Be sure to read through for all the ingredients. It's a good idea to roast the beets and pickle the seaweed the night before. Then it all goes together in a flash. I've given Kenney's directions for smoking the nuts, but I made the dish without smoking and found it was fine.

Roasted Beets
4 tennis-ball-sized red beets (whole, tops cut off, unpeeled)
1-inch finger of ginger (smashed or coarsely shredded)
1 orange
olive oil
salt and pepper to taste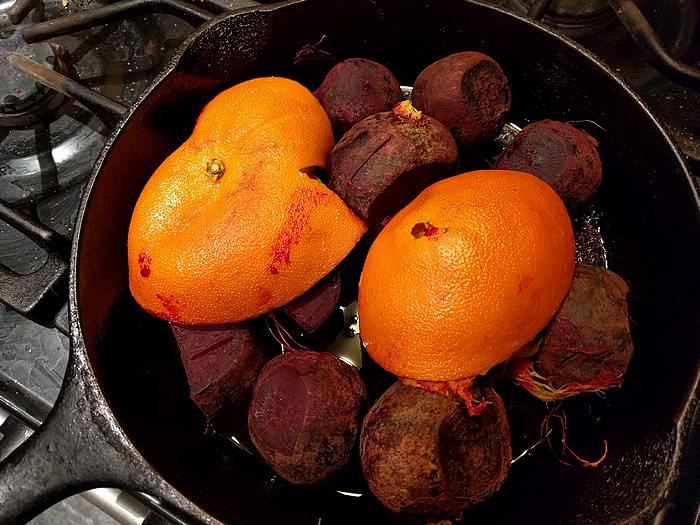 Preheat oven to 350° F.
Place beets and ginger in an oven proof dish. Cut the orange in half and squeeze the juice over the beets. Add the halves to the dish. Drizzle with olive oil and season with salt and pepper. Cover with foil. Roast in the oven for one hour or until a knife can be inserted into the beets without much effort. Don't overcook or they'll be like the awful beets served in grade school cafeterias.
Allow beets to cool. Peel the beets and cut into random 1/2 to 1 inch chunks.

Pickled Seaweed:
3/4 cup limu (fresh seaweed) or rehydrated hijiki or wakame (available at Asian grocery stores or most branches of Whole Foods)
1 tablespoon sea salt
1/2 cup rice wine vinegar
1/2 cup water
1/4 cup sugar
Rinse the seaweed well, then toss the seaweed with salt, place in a colander, and allow to sit and drain for one hour. Meanwhile, bring the remaining ingredients to a boil to make the brine. Allow the brine to cool for 5 minutes, then pour over the seaweed and place in the refrigerator. Seaweed will be ready to use in 2-3 hours and will keep for up to a week.

Mashed Wasabi Avocado:
1 teaspoon wasabi powder
1 teaspoon warm water
1 ripe avocado
1/4 teaspoon lemon juice
salt and pepper
Combine the wasabi powder with warm water and mix well until a thin paste is formed. Allow the wasabi to sit and bloom, covered, for ten minutes.
Mash the avocado in a bowl with a fork, add the wasabi paste, and lemon juice. Season with salt and pepper and mix well. Refrigerate.
Smoked Macadamia Nuts

1 cup macadamia nuts
wood chips
Place the nuts to one side of a deep pan. Place the wood chips in a small cast iron (or fire proof) bowl that will fit in the other side of the deep pan. Ignite the wood chips with a torch until they begin to smoke. Place the smoking wood chips in the deep pan with the nuts and cover tightly with plastic wrap. Allow the nuts to smoke for 30 minutes.
Repeat the process one more time with fresh chips for a total of one hour of smoking time. Chop the nuts roughly and reserve.
To Assemble:

1 tablespoon toasted sesame oil
1/2 cup sweet onion (shaved thin)
1/4 cup green onion tops (sliced thin)
1 striped or golden beet (raw, shaved thin) placed in iced water to crisp.
Place the beets in a bowl with the seaweed, 2 tablespoons of chopped macadamia nuts, sweet onion, and sesame oil. Toss with salt and pepper to taste.
Place a dollop of the avocado mixture on a plate and spoon the beet poke next to it. Garnish the poke with three wheels of shaved raw beet and sliced green onion tops.