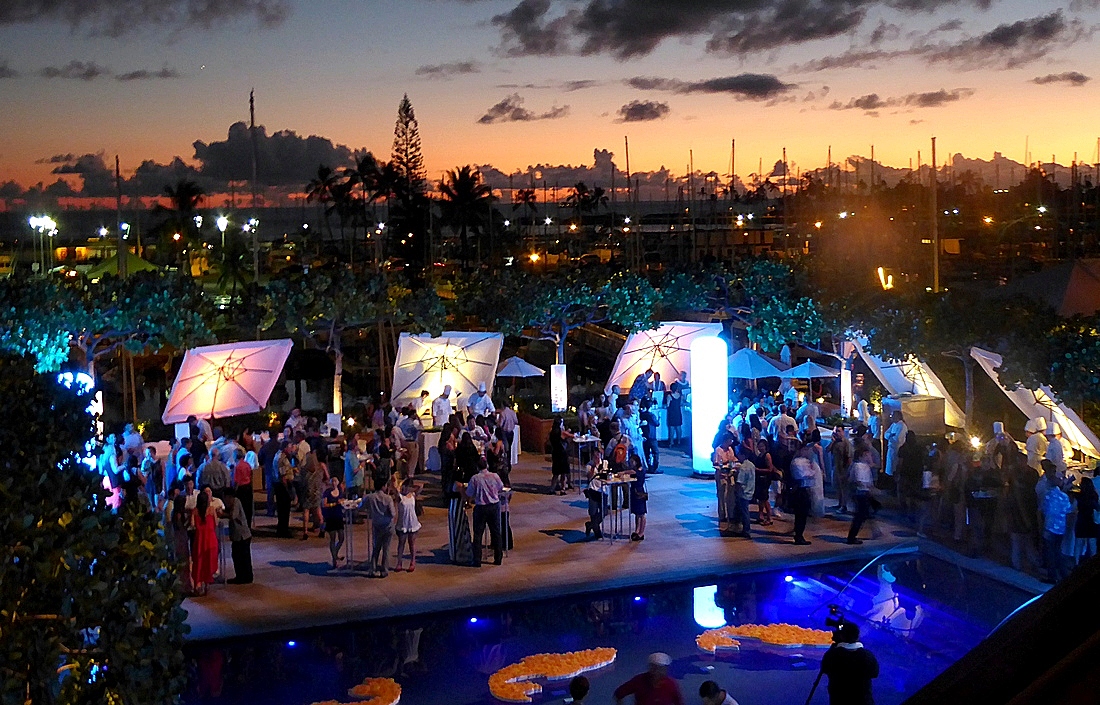 As the sun set over the water and the air began to cool, Mayor Kirk Caldwell toasted the fifth anniversary of the Hawaii Food & Wine Festival. "We started with spam and sausage and took it to a unique Pacific Hawaiian cuisine," he told the crowd assembled on the outdoor decks of the Modern hotel in Honolulu (above). "We're chop suey," the mayor said with a laugh. "We make great looking people and great food. We are proud of who we are as a people and we are proud of our food."
Started as a modest three-day event on Oahu, the festival (scheduled for October 14-30, 2016) now features events on the islands of Maui, Hawaii, and Oahu, with the bulk of activities in Honolulu. With an emphasis on local foodstuffs and talented chefs, the festival encourages creativity and even a sense of fun.
The festival is also a great springboard for exploring the unique cuisine that the mayor described in such memorable terms. For a taste of Pacific Hawaiian cuisine, I spent a few days sampling some of the festival events, searching out up-and-coming neighborhoods, visiting a farmers market and the fish auction, and dining at modest restaurants serving traditional dishes as well as those setting new standards in Hawaiian dining. Look for more in the upcoming posts.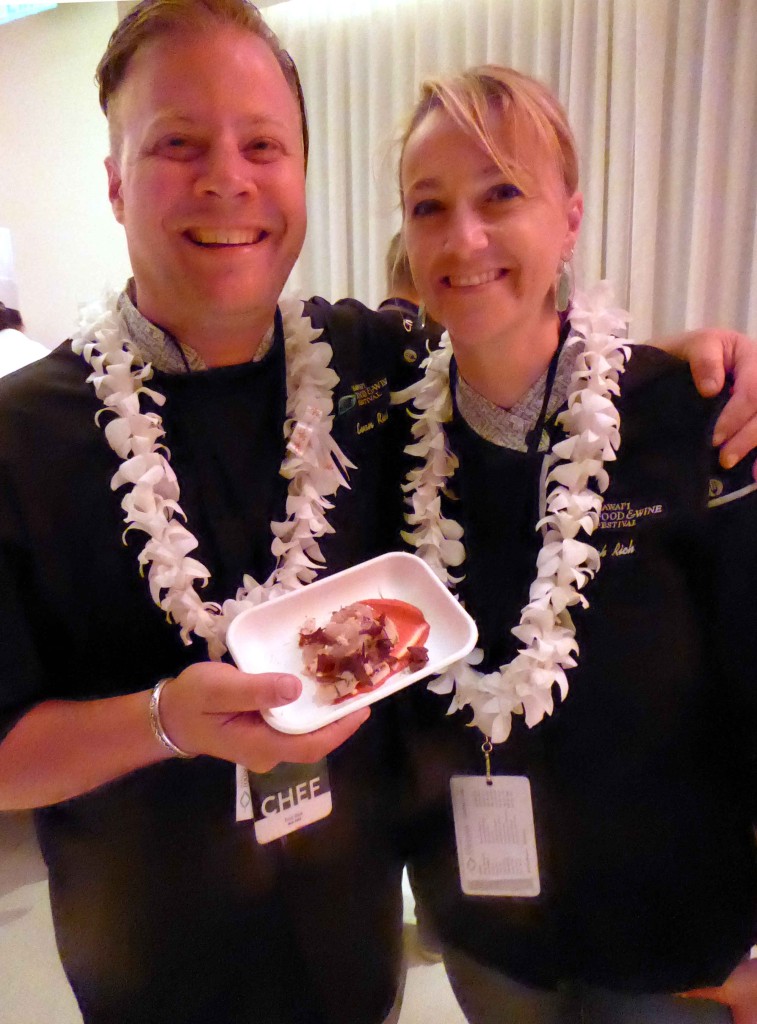 For the Chopstix & Cocktails event, where I met the mayor, 13 chefs from around the world created dishes inspired by Asian countries that use chopsticks. The challenge of balancing the morsels on chopsticks while weaving in and out of the crowd did not deter diners from sampling such goodies as grilled ono with guacamole and Romanesco sauce by chef Jonathan Waxman of Barbuto restaurant in New York and Top Chef Masters fame, Vietnamese beef tartare on a sesame cracker from chef Charles Phan of the Slanted Door in San Francisco, and kampachi with hearts of palm and bone marrow salsa verde from husband and wife chefs Sarah and Evan Rich from Rich Table, also in San Francisco (above). "They invited us and gave us a list of ingredients and told us to do our thing," said Sarah Rich.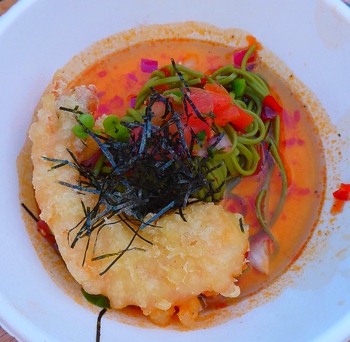 Local chefs were also well-represented, including two from the Modern, which usually hosts the opening event of the festival and is the hotel of choice for many of the visiting chefs. Executive chef Keith Pajinag created a lovely twist on a sweet treat with his foie gras macaron, while chef Masaharu Morimoto, who has one of his signature restaurants at the hotel, offered a lovely plate of cold green tea soba noodles with vegetables and a tempura shrimp garnish. Chef's Morimoto's dish was one of my favorites. It's also a good example of how a real culinary star can elevate a fairly simple concept. He simply cooks green tea noodles and steams some vegetables. The dish is topped with pico de gallo and a Thai fish sauce-based dipping sauce, then garnished with a tempura shrimp, micro greens, and shredded nori.
By the way, if you decide to dine at Morimoto Waikiki (808-943-5900, www.morimotowaikiki), schedule a table on the terrace or by a window on Friday night for a view of the fireworks over the beach.