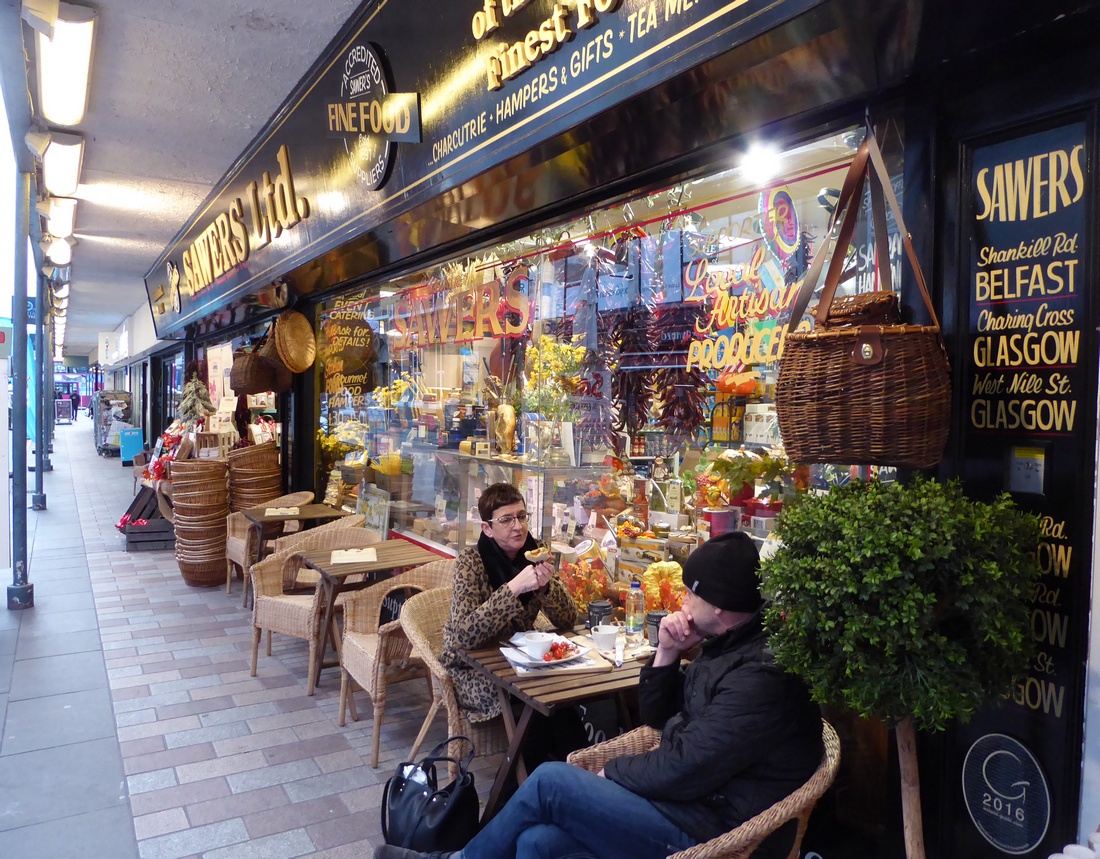 Sawers was established in 1897 to bring gourmet foods from around the globe to the people of Belfast. It is the oldest deli in Northern Ireland. The purveyor even provided the R.M.S. Titanic with game, seafood, cheese and other delicacies for its infamous maiden voyage. The people of Belfast can still rely on Sawers more than a century after that ship's larder full of caviar and pheasant ended up at the bottom of the Atlantic. They can stop by to shop for Spanish hams, Italian pastas, French pâté and escargot, Greek olives, and Turkish candies. At the holidays, the place buzzes with people filling gift "hampers" with exotic gourmet goodies.
But Sawers also cherishes great Irish foods, making it a must-stop for overseas gourmands. The cheese case alone includes more than 200 varieties, including some of the spectacular artisanal Irish cheeses that have arisen recently. The staff at Sawers seem to know the pedigree of every Irish cheese in the case (shown below). For a cheddar type, they introduced us to Banagher Bold. Introduced in fall 2015, it's made from pasteurized cow's milk, aged for three months, and washed in a Derry craft beer. Northbound Brewery's No. 26 helps impart the mouth-forward sharpness. For a blue cheese, it's hard to say enough about Young Buck. The raw-milk blue is made by Michael Thomson in Newtownards, about 10 miles east of Belfast, with milk from a single herd. He calls his company "Mike's Fancy Cheese."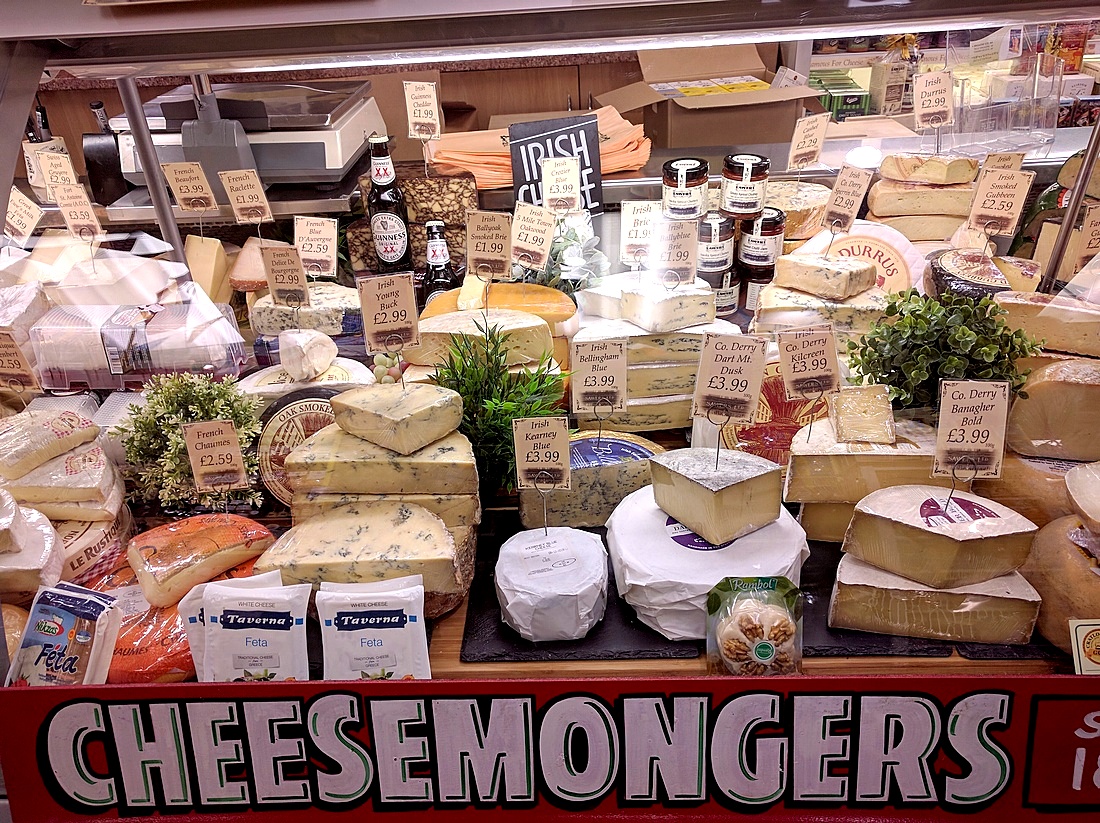 All manner of spreads

Sawers favors pairing some of these cheeses with jams and chutneys. The house brand Sweet Chilli Jam is especially popular. Like their English cousins, Belfast folk love preserves and condiments. Sawers' own line includes Belfast Preserve (raspberry and lime), Belfast Breakfast Marmalade (lemon, orange, and grapefruit), chutneys such as Indian Spiced Pineapple, Smoky Apricot, or the combination Mango, Chilli, and Lime chutney. Ditty's Oat Cakes (made with County Armagh oats) are the classic support for cheese and jam.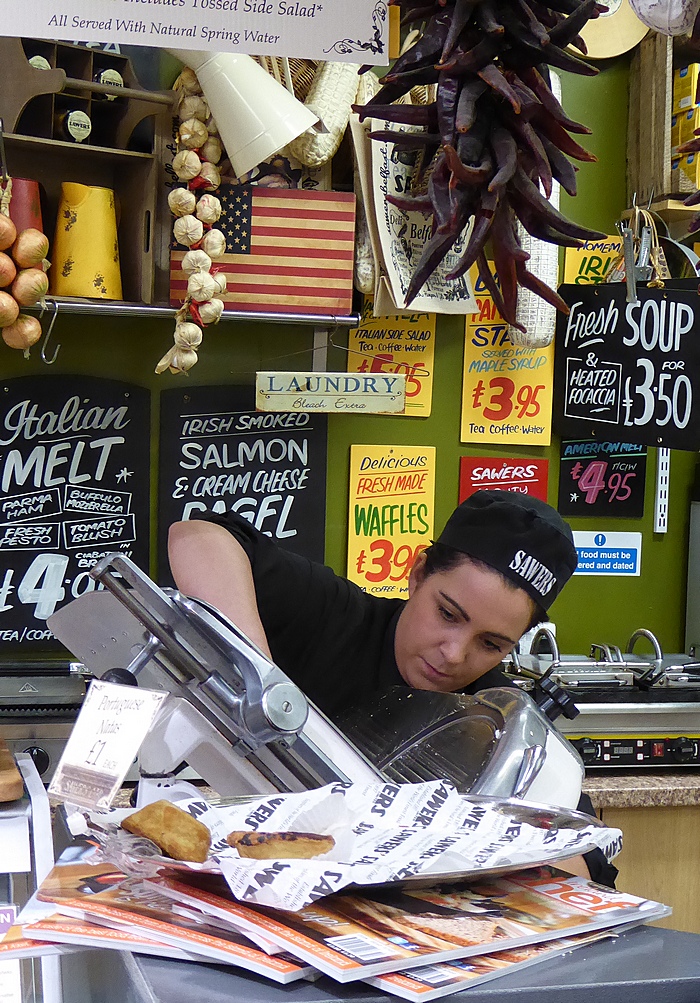 The Irish are big fans of fresh and smoked fish. Sawers smokes several species of fish, and sells smoked salmon from elsewhere in Ireland and from Scotland. The shop also sells the fish spread known as "patum pepperium" or "Gentlemen's Relish." Sawers has three versions. The traditional is made with anchovies. The Anglers' Finest Relish contains smoked mackerel and lemon zest. The milder Poacher's Relish has smoked salmon and lemon. Spread on crackers, they provide an instant hit of umami.
The charcuterie cases are piled high with a huge variety of sausages. The most popular seem to be imported French and Italian salamis and other hard sausages, along with Italian and Spanish hams.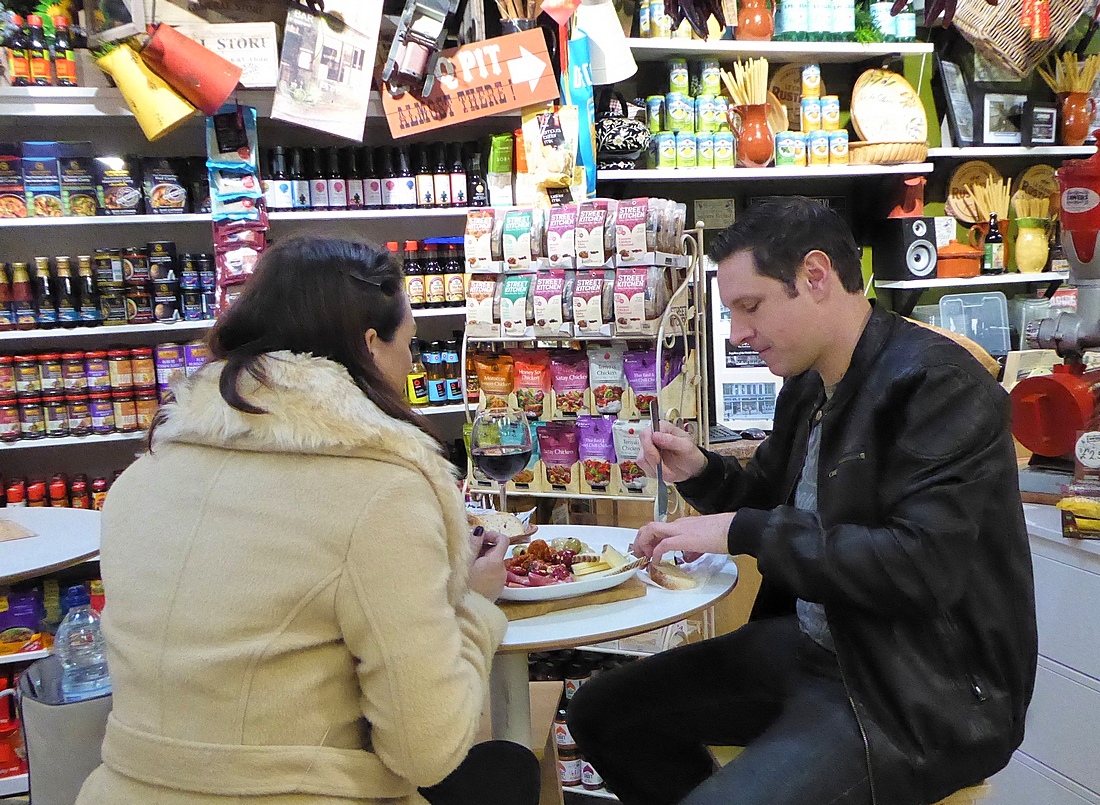 We were pleased to find a local "whisky salami." Traditionally, it's a garlicky pork sausage made with reduced Bushmills whiskey and whiskey-washed while curing. The salami is very firm and dry, so the Sawers staffer sliced it paper thin. Along with the cheeses, it lasted for days. We finished it off on the bus from Belfast to Dublin Airport, knowing we couldn't take it through U.S. Customs Preclearance there. (See "Bringing Food Through US Customs.") Other customers at the charcuterie counter weren't planning to fly. They elected to enjoy sausages, ham, cheese, and olives at the indoor cafe tables.

Sawers, 5–7 Fountain Centre, College Street, 028 9032 2021, www.sawersbelfast.com.