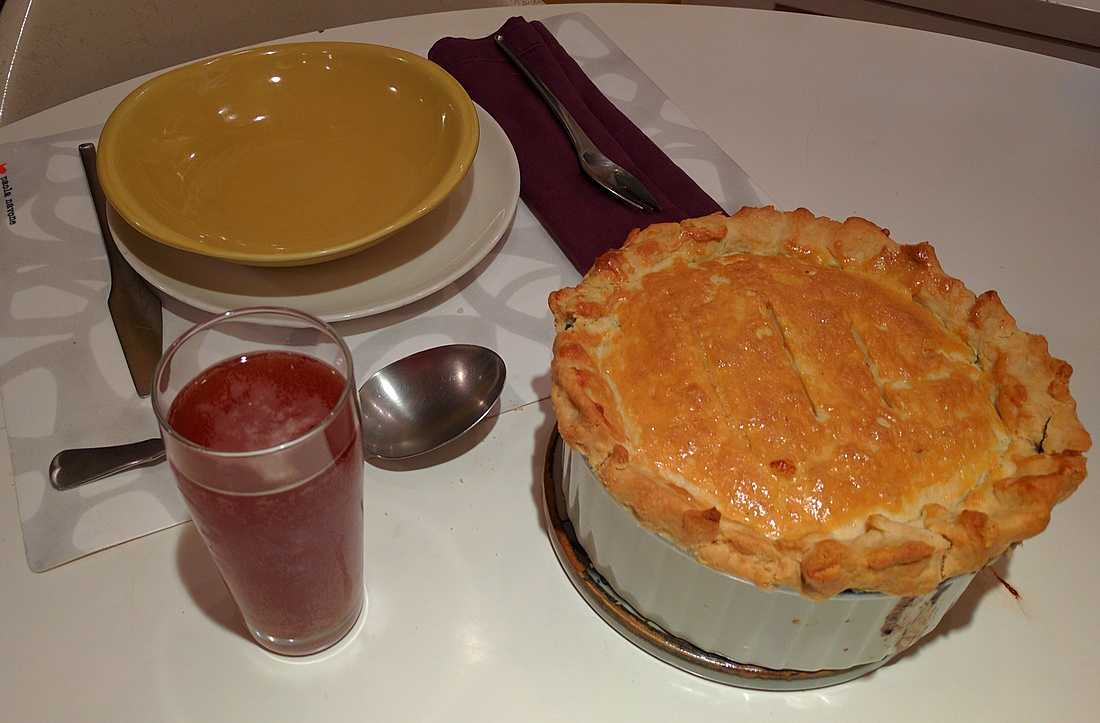 Pretty much wherever you go in Northern Ireland, chances are good that the pub has steak and Guinness pie on the menu. In recent years, many places have taken to plopping a piece of separately cooked puff pastry on top of the beef stew. This version is deliciously retrograde. It uses a classic butter pastry crust. The dish is traditional but every cook adds a personal touch. This version is adapted from several sources. Don't be surprised by the inclusion of sharp cheddar cheese. It makes a real difference in the flavor and the crust.
STEAK AND GUINNESS PIE
Ingredients

For Stew
4 tablespoons butter, divided
large red onion, chopped
6 cloves garlic, minced
3 carrots, peeled and chopped
3 ribs celery, chopped
8 oz. button mushrooms
2 pounds chuck shoulder or round, cut in bite-sized pieces
sea salt and freshly ground black pepper
2 tablespoons flour
1 teaspoon dried rosemary
3 cups (1 1/2 cans) Guinness or other stout
1 teaspoon Gravymaster
6 ounces coarsely grated sharp cheddar cheese, separated

For Pastry
1 1/2 cups all-purpose flour
2 1/4 teaspoons baking powder
1/4 teaspoon salt
1/2 cup (1 stick) very cold butter, diced
ice water
1 egg yolk, lightly beaten
Directions
Preheat oven to 375ºF.
In Dutch oven or cast-iron chicken cooker, heat 2 tablespoons of butter over medium-low heat. Add onions and garlic. Sauté until soft.
Add rest of butter, carrots, celery, and mushrooms. Stirring frequently, cook over medium heat until mushrooms darken and mixture loses its moisture.
Season beef lightly with salt and pepper, then toss with flour. Add meat and rosemary to pan and cook over high heat for about 5 minutes, stirring often to keep from sticking.
Add sufficient Guinness to submerge the beef and vegetables. Cover pan and place in oven for 2 1/2 hours. Check periodically and stir. If mixture is thin at end of cooking, reduce the liquid on stove top. Fold in half the cheese.
While stew is cooking, start making pastry since it needs to chill for a few hours. Place flour, baking powder, and salt into food processor. Pulse to blend. With motor running, add diced pieces of butter slowly. Process until mixture has the texture of coarse meal. Add ice water, a splash at a time, until a firm dough forms. Remove from food processor and wrap dough in plastic. Refrigerate for at least 2 hours.
When stew is done, spoon into souffle dish that is 2 inches deep and 8-inches in diameter. (An 8×8 baking pan can be substituted.) Sprinkle remaining cheese on top.
Remove dough from refrigerator and roll out to circle about 2 inches broader than circumference of cooking dish. Place dough over the stew and pinch the edges to seal. Make three wide slashes in top to vent. Paint the crust with egg yolk. Place dish on baking sheet and bake for 45 minutes, or until the pastry is puffy and golden.