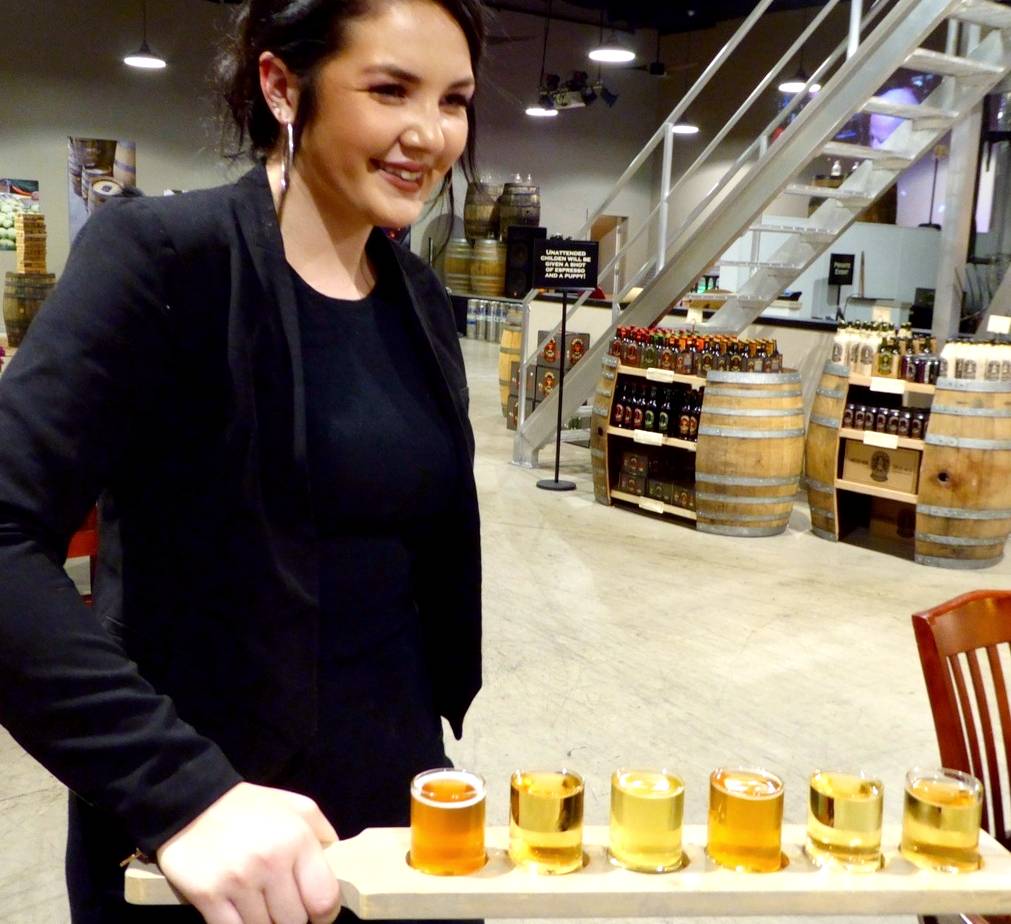 The 20 or so downtown wine-tasting rooms in Healdsburg are almost an embarrassment of riches. Sometimes there's just too much of a good thing. That's what the folks at Sonoma Cider thought when they opened Taproom (44F Mill Street, Healdsburg, 707-723-7018, sonomacider.com) in a former warehouse about a block south of the plaza last October.
There's a no-nonsense air to the building that houses several 3,000-gallon and 6,000-gallon fermentation tanks, a bar with a giant screen TV, and a casual restaurant. Father/son duo David and Robert Cordtz launched Sonoma Cider in 2013. They take their cider seriously, but Taproom is free of pretense.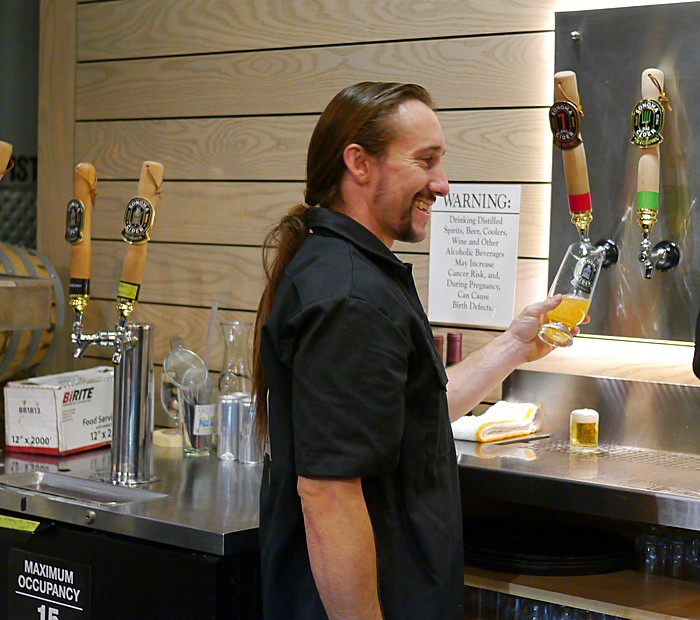 "This is less upscale than wine-tasting," says Taproom manager Kole Christen. "People can try something crisp and fresh. This is a place where people can cut loose. And," he adds with a smile, "we're open later than wine-tasting rooms."
Many customers opt for a six-cider flight (shown at top of post) from the multitude of choices. Sonoma Cider's basic hard cider starts with a blend of five apples grown organically in Washington State. Simply fermented, it's called The Hatchet. It's clean, refreshing, and apple-y. The same juice is blended with bourbon flavoring and fermented in bourbon barrels to produce The Anvil. It can also be sweetened with eucalyptus honey and fermented in whiskey barrels for six months to produce The Imperial. (At 10.3 percent alcohol, The Imperial could be classified as apple wine or apple mead.) The cider makers also blend the fermented juice with selected flavors (like blackberry juice) to create flavored ciders.

Delving into nuances
Hard cider is traditionally made from a blend of apples, but the folks at Sonoma Cider have been exploring the possibilities of single-varietal ciders. Their Gravenstein is tart and fresh, their Winter Banana light and spicy, and their Dry Golden Delicious bone dry and a little tart. With such distinct characters, they offer real potential for food pairings.
The single varietals are often made with Sonoma County apples. One of our favorites of this group was an old-fashioned orchard blend called Westcider. The orchard sits on Westside Road, southwest of Healdsburg. Fermented from a mix of Pink Permain, Winter Banana, Macintosh, Mystery, Crispin, and Baldwin Striped Gentlemen, Westcider has a balance of sweetness, fruitiness, and slightly ashen bitterness characteristic of good French ciders.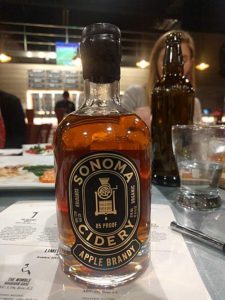 In addition to the taps of standard ciders, reserve ciders, and micro-releases, Taproom also crafts cocktails, many of them using Sonoma Cidery Apple Brandy. This 85 proof barrel-aged spirit is distilled from the same base blend of apples used in The Hatchet. Since the production facility had just received a fresh batch of juice, we did a taste test of juice, hard cider, and brandy—sort of vertical tasting of rising alcohol levels. The flavor is remarkably consistent in all three. It makes a good base spirit for cocktails, but it's also smooth enough to drink neat or on ice. Unlike "applejack," it has no added neutral spirit so the apple flavor is very pronounced.

Cider with food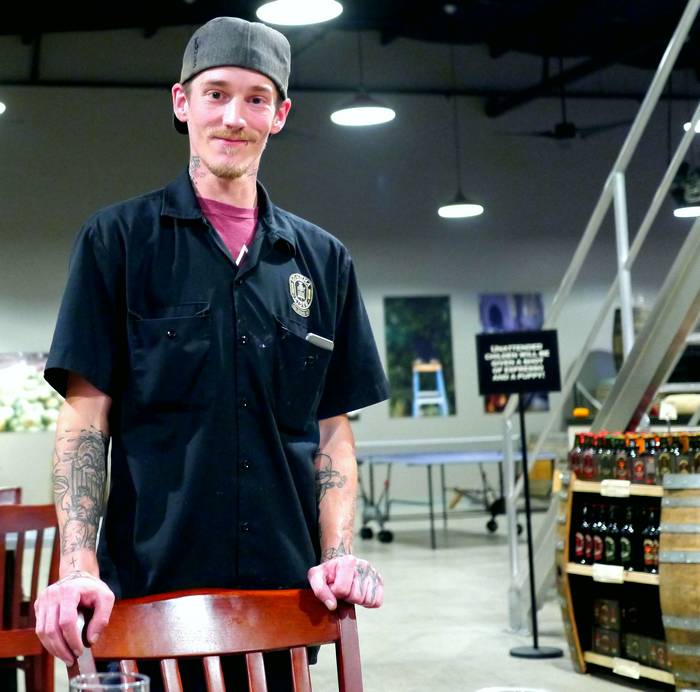 Executive chef Josh Schauert has devised a menu to complement the ciders. "When I'm designing dishes, I keep the ciders in mind," he says. "But this is not your typical bar food."
He points out that pairing cider with meals is new territory in the restaurant industry, but relishes the challenge. Compared to wine, he says, "cider has a broader flavor structure." That opens the door for more pairing options beyond the usual "red meat calls for red wine" mindset. Moreover, there are fewer preconceptions about what might be appropriate.
Schauert also finds lots of opportunity to cook with cider. "Cider has a very similar flavor profile to vinaigrette," he says. "That makes it easier to cook with."
His menu during our visit was Exhibit A. The seafood ceviche of shrimp, octopus, and salmon was marinated in Crowbar cider, which is flavored with habañero peppers and organic limes. The green beans accompanying baby back ribs are sauteed in garlic butter and deglazed with Apple Cider Brandy.
The brandy is also a key component in Schauert's take on French Onion Soup. He caramelizes the onions in butter, then deglazes the pan with brandy before adding a housemade bone-broth beef stock. The sweetness of the onions and the fruity richness of the brandy make this winter warmer an surprisingly elegant soup for a casual tavern. By substituting large croutons for the conventional toasted baguette slice on top, he makes the soup much easier to eat. Schauert generously shared the recipe.

SONOMA CIDER FRENCH ONION SOUP
Makes 1 gallon
Prep and cooking time 1 hour
Ingredients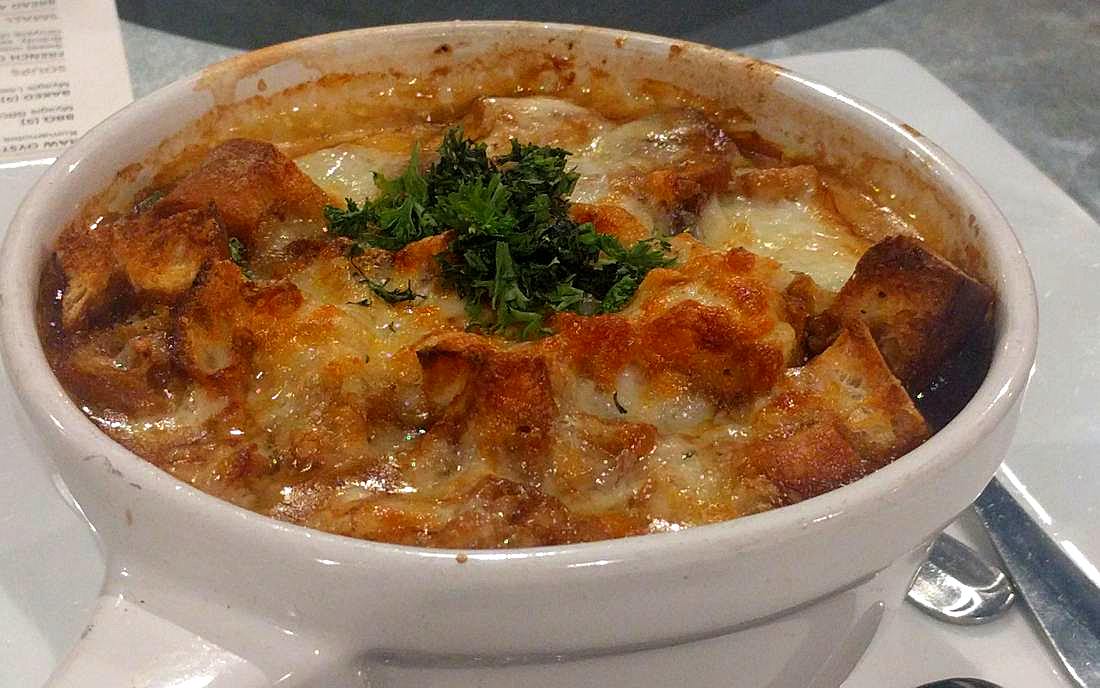 1/4 cup butter
3 lb yellow onions, sliced
4 cloves garlic, peeled/chopped
2 bay leaves
1 quart Sonoma Cider Apple Brandy
1 bunch fresh thyme
2 teaspoons dried oregano
3 teaspoons Worcestershire Sauce
2 quarts fresh beef stock
2 quarts water
salt/pepper to taste
croutons, toasted light brown in 425°F oven
2 cups mixed shredded Gruyère, cheddar, and jack cheese
Directions
Melt butter in stock pot. Add sliced onions and cook down to caramelize (about 15 minutes). Add garlic and bay leaf, cook until aromatic.
Deglaze pot with Sonoma Cider Apple Brandy, scraping fond (black bits) off of bottom of pot. Add herbs and cook until aromatic. Add Worcestershire sauce, beef stock, and water. Bring to low boil, then reduce heat and simmer for 30-45 minutes until reduced about 20 percent.
Season to taste with salt and pepper. Serve with toasted croutons topped with mixed cheeses. Enjoy!