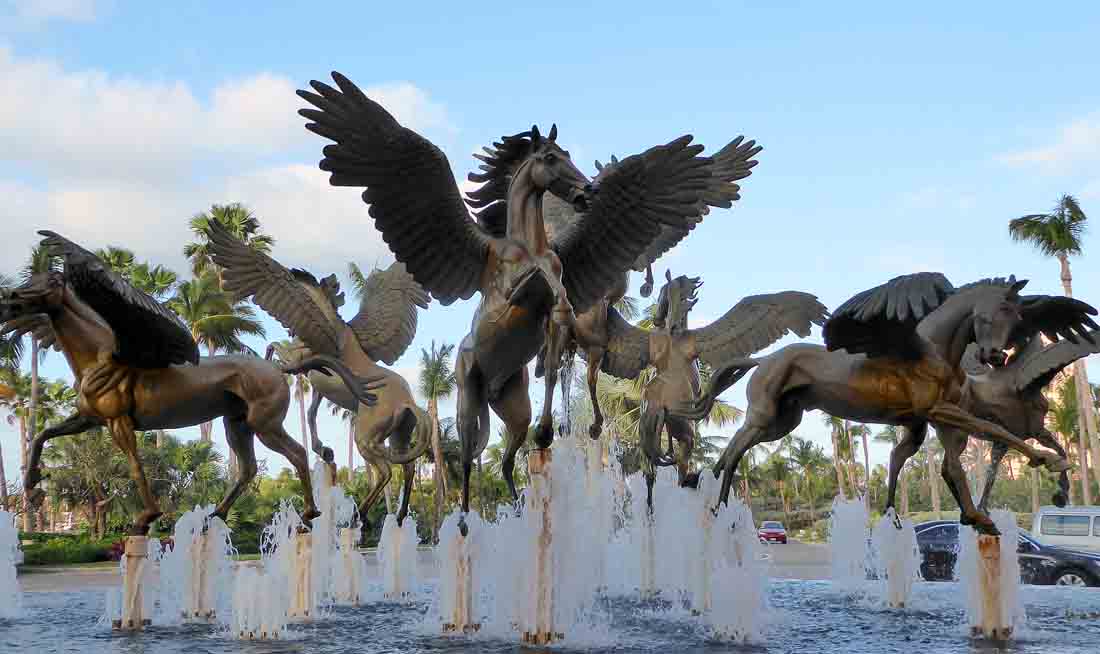 It takes a certain audacity to create a resort themed to the lost city of Atlantis. Royal Towers was the first hotel built on the 171-acre property of Atlantis (atlantisbahamas.com) on Paradise Island in the Bahamas. It still embodies that fanciful vision of lost glory. Much has been written about Atlantis since it opened more than 20 years ago, but you do have to see it to believe it. It's so over-the-top that it is almost impossible not to be caught up in the tale of the drowned city first related by Plato.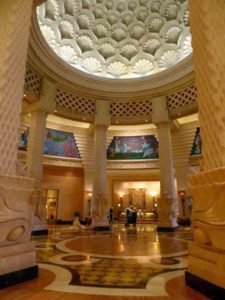 The sunny Bahamian weather certainly doesn't hurt, but it was the artwork that drew me in. As soon as I stepped out of a taxi, I was greeted by a gigantic fountain with leaping bronze figures of Pegasus (above). I walked past the winged horses to giant green doors flanked by larger-than-life relief sculptures of stylized seahorses and whales. But I was still unprepared for the soaring Great Hall (the Atlantis version of a hotel lobby). Eight enormous murals tell the fictional story of Atlantis from its creation until it sank into the sea. The scale of the aptly named space is enough to make a visitor feel either insignificant or fortunate to be the momentary ruler of all that towers above.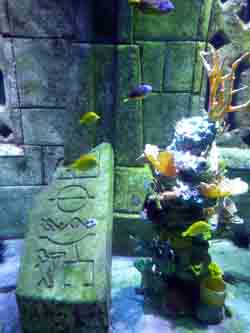 As they say on late-night television—wait, there's more! In the Dig on the lower level, I wandered through an imaginary version of the walkways and tunnels of the sunken city, all the while surrounded by tanks of fish that might float through the watery grave. Among the lionfish, piranhas, moray eels, clownfish, and seahorses were grouper and spiny lobster—species that might make their way to the dinner plate.
In a place that thinks so big, it's not surprising that Atlantis boasts 21 restaurants that range from ultra-casual to ultra-swanky dining. And that's not counting the 19 bars and lounges. It's an almost overwhelming number of choices. Many world cuisines are represented, but given my short visit, I decided to focus on local foods and flavors.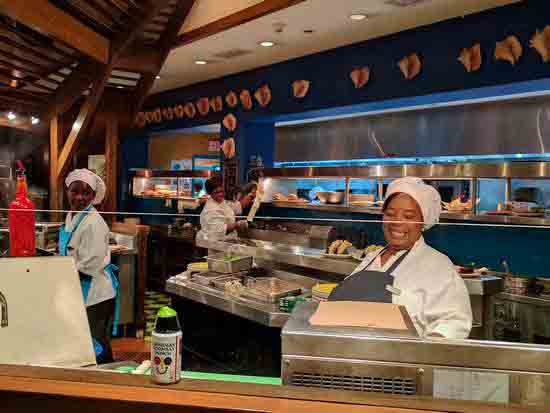 Colorful, casual Bimini Road is perhaps the best place to start. The bright murals on the walls almost distracted me from the open kitchen (above) and the displays of local fish and shellfish on ice, including snapper, lobster tail, and the Bahamian "national food," conch. This spiral-shaped whelk is common to the Bahamas and the Caribbean. The meat is firm and chewy like calamari, though Bahamians consider it more flavorful. It's also very versatile. Bimini Road serves several variations of conch favored by islanders. Conch salad, similar to ceviche, features minced raw conch with peppers, onion, and citrus juices. Cracked conch is deep-fried and served with a dipping sauce. Bimini Road also serves conch fritters, and for good measure, conch nachos.
But I settled on another island classic, conch chowder. The chowder was thick with pepper and tomato and was served with a wedge of johnny cake, the island's signature baking-powder bread that was perfect for sopping up the last of the broth.
Johnny cake is ubiquitous and it's always good. It made a delightfully simple accompaniment to chowder, especially at Atlantis, which is otherwise a temple of the unrestrained imagination. The johnny cake recipe below is courtesy of Nassau Paradise Island Promotion Board.
JOHNNY CAKE
Ingredients
3 cups flour
1 tablespoon baking powder
1 teaspoon salt
1/4 cup sugar
1/2 cup cold butter, cut into small cubes
2/3 cup milk
Directions
Mix all the dry ingredients together in a large bowl. Cut in butter using a pastry cutter or your hands, working the mixture until it resembles coarse meal. Add milk and combine until you have a soft dough consistency.
Knead on a floured surface until smooth. Let the dough rest for 10 minutes, then transfer into a greased 9×9-inch pan.
Bake at 350°F for 20-25 minutes, until the edges of the cake begin to turn a light golden brown. Let cool on a wire rack before serving.