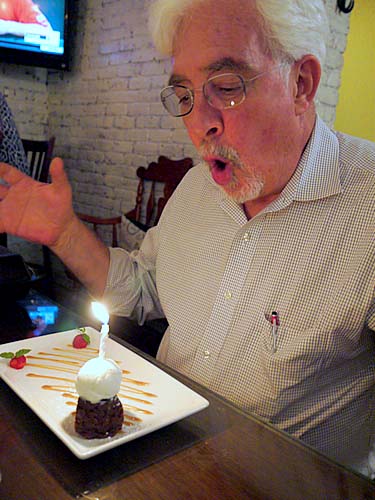 Lexingtonians have been heading to the brick building at the corner of East Main Street and South Ashland to dine for decades. The spot opened in 1938 as The Stirrup Cup, adding the iconic murals of English hunt scenes—complete with a blessing of the hounds—in 1949. A succession of restaurants have occupied the space, but none more felicitously than current occupant, Coles 735 Main (735 East Main St., Lexington; 859-266-9000; coles735main.com).
More than six decades after they were painted, those murals still lend a sense of occasion to the pretty dining room. And, as you might expect, executive chef Cole Arimes concocts a sophisticated mix of local and global tastes just right for a big night out. He might add truffle-infused lobster cream to a bowl of shrimp and grits (made, of course, with grits from Weisenberger Mill) or coat Scottish salmon with a bourbon-maple glaze and slowly smoke it to perfection.
Bourbon also features in the dessert that's perfect for a candle in the middle and a round of "Happy Birthday." In a witty play on the local popular bourbon ball candies, Arimes elevates the now-familiar flourless chocolate torte with bourbon-soaked pecans and then serves each slice with Woodford Reserve gelato and housemade caramel. Here is his recipe for the torte—as he reeled it off the top of his head. (We tested and tweaked it a little.)
BOURBON BALL FLOURLESS CHOCOLATE TORTE

Makes one 9-inch torte
Ingredients
1 cup bourbon
2 cups pecans, coarsely chopped
12 oz. semisweet chocolate
1 1/3 cups granulated sugar
1/2 cup water
1/2 lb. (2 sticks) unsalted butter, room temperature
6 eggs
Directions
Pour bourbon over pecans and let soak at least 1 hour. Place in a small saucepan, and cook off bourbon from pecans until dry. Transfer to mixing bowl.
Chop chocolate in 10-cup or larger food processor.
In a second saucepan, combine sugar and water and bring to a boil over medium heat. Once boiling, count to 90 and then drizzle into chocolate as food processor is running. Add butter, small portions at a time, until fully incorporated. Add all 6 eggs at once. Once incorporated, scrape sides and run for another 20 seconds.
Combine chocolate mixture with pecans in mixing bowl. Scrape into a 9-inch buttered springform baking pan. Bake at 350 degrees for 45-50 minutes, rotating every 15 minutes or so. (Cake should spring back when touched in the center and not stick to a cake tester or toothpick inserted in the middle.)
Let cake cool to room temperature before releasing from pan. Then chill before serving.